Kia Sportage Engine Problems and Repair Histories
257 TrueDelta members own a 2000 or newer Kia Sportage. 24 of these members (9.3%) have reported engine repairs for their car. A total of 27 engine repairs to Kia Sportages--an average of 0.1 per vehicle--have been reported.
See our lemon odds and nada odds page for more details. To see how frequently Kia Sportage problems occur, check out our car reliability stats.
Want to read about specific problems behind these stats? Jump to the Kia Sportage problem descriptions below.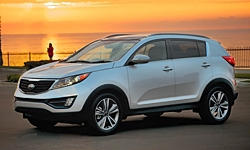 Don't infer Kia Sportage problem frequency from what you see on this page. Many lucky owners have had no repairs, and their cars are not shown.
21% of the Kia Sportage repairs were to the engine, 6% to the transmission, 13% to the brakes, 15% to the suspension, 31% to the electrical or air-conditioning systems, 9% to the body and trim, and 4% to other areas of the vehicle.
Chart based on 128 repairs.
Non-members can see only ten
Kia Sportage Engine problems and repair histories
.
Log in
or
join us
to see them all.
Repair costs are in local units.
2011 Kia Sportage 4dr SUV
176-horsepower 2.4L I4 6-speed shiftable automatic AWD
Kia Sportage in Pennsylvania, United States
Date
Odometer
(in miles)
Cost
Problem/Repair Description
Feb 2011
3000
6000
0
Engine start button started intermittently not working
20000
2008 Kia Sportage 4dr SUV
turbocharged 138hp 2.0L I4 Diesel 6-speed manual AWD
Kia Sportage in Great Britain
Date
Odometer
(in miles)
Cost
Problem/Repair Description
Feb 2010
23000
28000
0
EGR Valve found to be dirty - stripped & cleaned and hesitation cured
52000
0
EGR valve sticking and replaced under warranty
61000
2008 Kia Sportage 4dr SUV
turbocharged 138hp 2.0L I4 Diesel 4-speed shiftable automatic AWD
Kia Sportage in Trinidad and Tobago
Date
Odometer
(in miles)
Cost
Problem/Repair Description
Sep 2010
18600
23600
1
Vehicle still under 3year warranty.1st engine job-Changed out all connecting rods bearings valve guide seals, crank shaft bearings,oil seals.This was done August 2010. This month back for engine job No2 -2qts oil/mth.
29760
0
On this last trip the complete cylinder head and all parts on it were replaced. received the vehicle today the 4 / 01/ 11.
124000
2007 Kia Sportage
Engine not specified
Kia Sportage in Arizona, United States
Date
Odometer
(in miles)
Cost
Problem/Repair Description
Jul 2011
52000
56000
0
Car was in and out of dealership (mostly in) from Mat 23rd to July 28. It was shutting of engine intermittantly while in motion.
60000
2007 Kia Sportage 4dr SUV
173-horsepower 2.7L V6 4-speed shiftable automatic AWD
Kia Sportage in Washington, United States
Date
Odometer
(in miles)
Cost
Problem/Repair Description
May 2008
15000
32000
0
Fuel gauge does not go to full after filling the tank. This was the 4th time the car has been returned for this. I have to return again in September for the same problem, Trip number 5 for the same problem.
33000
0
Fuel gauge does not go to full after filling. This has been a problem since the car was new. This is the 5th time in for repair.
57000
2006 Kia Sportage 4dr SUV
173-horsepower 2.7L V6 4-speed shiftable automatic FWD
Kia Sportage in North Carolina, United States
Date
Odometer
(in miles)
Cost
Problem/Repair Description
Apr 2008
23000
32500
0
Oxygen sensor was replaced under warranty.
60000
2006 Kia Sportage 4dr SUV
140-horsepower 2.0L I4 5-speed manual FWD
Kia Sportage in Iowa, United States
Date
Odometer
(in miles)
Cost
Problem/Repair Description
Oct 2006
2000
52000
0
Radiator cracked. replaced. Thermostat replaced.
145300
280
Leaking oil from bottom of engine- oil pan gasket replaced. Problem not resolved. Still looking for leak. Losing a quart every 1000 miles, but car still running fine.
152000
895
Oil still leaking from previous repair- husband realized it was rear mainseal from research. Seal replaced. Clutch also replaced as it was 150,000 miles old and was convient to do so with this repair.
185000
2005.5 Kia Sportage 4dr SUV
140-horsepower 2.0L I4 4-speed shiftable automatic FWD
Kia Sportage in Belgium
Date
Odometer
(in miles)
Cost
Problem/Repair Description
Oct 2006
11780
18300
0
Update motor management program,High fuel consumption 10 l diesel /100km. Promised fuel consumption 8.5 l /100km
25460
0
Result update motor management program . The fuel consumption is now, mixt use- city and highway 9.5 l/100km
48360
0
Timing belt was wobbling. Replacement of: tensioner timing belt, tensioner assy pulley, Idler assy timing belt. The ball bearing of the Timing belt tensioner was bad needed replacement part number 2441027000.
76260
2005 Kia Sportage 4dr SUV
turbocharged 111hp 2.0L I4 Diesel 5-speed manual AWD
Kia Sportage in Belgium
Date
Odometer
(in miles)
Cost
Problem/Repair Description
Nov 2009
33480
34720
375
2 Bad Diesel Fuel Injectors - dealer recommends trying cleaner in fuel tank first before replacement.
51460
300
Replace Water Pump
2005 Kia Sportage 4dr SUV
173-horsepower 2.7L V6 4-speed shiftable automatic AWD
Kia Sportage in New Jersey, United States
Date
Odometer
(in miles)
Cost
Problem/Repair Description
Oct 2010
54000
79000
0
Intake hose was lose causing air to leak in and car to stutter.
92000