Mitsubishi Lancer Reliability
You won't find Mitsubishi Lancer reliability information like this anywhere else. Actual repair frequencies, not just vague dots. So you can tell how much the Mitsubishi Lancer truly differs from competing car models in reliability.
These stats are promptly updated four times a year, to much more closely track Mitsubishi Lancer reliability as the cars age. Others tell you how reliable the Mitsubishi Lancer was a year ago, when the cars were a year younger and had 12,000 fewer miles on them. Only TrueDelta tells you how reliable the Mitsubishi Lancer has been recently.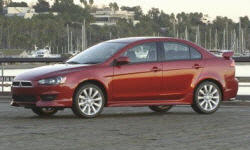 See only powertrain and chassis results
Year
Make/Model
Repair Frequency

successful repair trips per 100 cars per year

Compared to all models for the same year
2011
Mitsubishi Lancer
see reported repairs
2010
Mitsubishi Lancer
16 Lancers, 9.3 months of data per Lancer, average 55100 miles

* Small sample size. Join or 16 Lancers, 9.3 months of data per Lancer, average 55100 miles

* Small sample size. sign in to view
see reported repairs
2009
Mitsubishi Lancer
27 Lancers, 10.0 months of data per Lancer, average 63200 miles27

Fewest Trips Most Trips

see reported repairs
2008
Mitsubishi Lancer
18 Lancers, 9.9 months of data per Lancer, average 71100 miles

* Small sample size. Join or 18 Lancers, 9.9 months of data per Lancer, average 71100 miles

* Small sample size. sign in to view
see reported repairs
2006
Mitsubishi Lancer
11 Lancers, 8.8 months of data per Lancer, average 79700 miles

* Very small sample size. Join or 11 Lancers, 8.8 months of data per Lancer, average 79700 miles

* Very small sample size. sign in to view
see reported repairs
What People Are Saying about Reliability and the Mitsubishi Lancer
blog comments powered by Disqus
What Our Members Are Saying about Mitsubishi Lancer Reliability and Durability
Reliability and Durability of the Mitsubishi Lancer: Pros
Year
Body/Powertrain
Comment
2011
4dr Sedan 148-horsepower 2.0L I4
6-speed shiftable CVT FWD
Was sold on this feature. Seems to have a decent Module history. Not enough experience to rate directly at this time.
2010
4dr Sedan 168-horsepower 2.4L I4
6-speed shiftable CVT FWD
More solid off the lot than the Civic SI. Car feels built very well. Very impressed with Mitsubishi and still amazed that this car is only 22k.
2010
4dr Sedan 168-horsepower 2.4L I4
6-speed shiftable CVT FWD
This car has been a track and autocross beast from day 1 because hey, free car. It's seen many long trips, including an Austin to Seattle loop via as many scenic roads we could fit in. And it just doesn't break. Maintain it well and it will run like a charm.
2009
4dr Sedan 168-horsepower 2.4L I4
6-speed shiftable CVT FWD
I have owned my lancer for almost three years now,it has 59k miles and I have had 0 issues, I am still using the same bulbs, brakes and rotors that came with the car. my friends 08 328i has already had his window motor go out at 65k amongst other things
2008
4dr Sedan 152-horsepower 2.0L I4
CVT FWD
10 year warranty and over 25 years of rally competitions, need I say more. To give that kind of warranty proves that Mitsubishi stands behind their vehicles.
2008
4dr Sedan 152-horsepower 2.0L I4
6-speed shiftable CVT FWD
Has run flawlessly so far in the 15,000km of ownership. Servicing costs are minimal, 15,000km service interval. Use of timing chain, means no expensive timing belt changes.
2005
4dr Sedan 120-horsepower 2.0L I4
5-speed manual FWD
I have had the car for more than 5 years with 130,000 km on it and have never had to do any work to the car, other than routine maintenance every 12,000 km.
Reliability and Durability of the Mitsubishi Lancer: Cons
Year
Body/Powertrain
Comment
2009
4dr Sedan 168-horsepower 2.4L I4
6-speed shiftable CVT FWD
Break Booster Recall SRS Sensor Recall 2 bearings and hubs 1 abs sensor 1 tire rod 1 rim. when i first got car it vibrated and tires had flat spot and sat so long oil was bad