Nissan Sentra Reliability
You won't find Nissan Sentra reliability information like this anywhere else. Actual repair frequencies, not just vague dots. So you can tell how much the Nissan Sentra truly differs from competing car models in reliability.
These stats are promptly updated four times a year, to much more closely track Nissan Sentra reliability as the cars age. Others tell you how reliable the Nissan Sentra was a year ago, when the cars were a year younger and had 12,000 fewer miles on them. Only TrueDelta tells you how reliable the Nissan Sentra has been recently.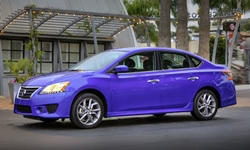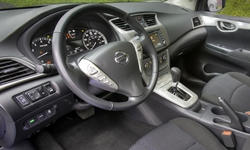 See reliability results for all
Sedans
.
See only powertrain and chassis results
Year
Make/Model
Repair Frequency

successful repair trips per 100 cars per year

Compared to all models for the same year
2011
Nissan Sentra
see reported repairs
2010
Nissan Sentra
12 Sentras, 9.3 months of data per Sentra, average 38700 miles

* Very small sample size. Join or 12 Sentras, 9.3 months of data per Sentra, average 38700 miles

* Very small sample size. sign in to view
see reported repairs
2008
Nissan Sentra
10 Sentras, 9.5 months of data per Sentra, average 75800 miles

* Very small sample size. Join or 10 Sentras, 9.5 months of data per Sentra, average 75800 miles

* Very small sample size. sign in to view
see reported repairs
2007
Nissan Sentra
11 Sentras, 8.8 months of data per Sentra, average 89400 miles

* Very small sample size. Join or 11 Sentras, 8.8 months of data per Sentra, average 89400 miles

* Very small sample size. sign in to view
see reported repairs
2005
Nissan Sentra
10 Sentras, 10.7 months of data per Sentra, average 94500 miles

* Very small sample size. Join or 10 Sentras, 10.7 months of data per Sentra, average 94500 miles

* Very small sample size. sign in to view
see reported repairs
2002
Nissan Sentra
11 Sentras, 10.0 months of data per Sentra, average 141200 miles

* Very small sample size. Join or 11 Sentras, 10.0 months of data per Sentra, average 141200 miles

* Very small sample size. sign in to view
see reported repairs
2001
Nissan Sentra
11 Sentras, 8.1 months of data per Sentra, average 147300 miles

* Very small sample size. Join or 11 Sentras, 8.1 months of data per Sentra, average 147300 miles

* Very small sample size. sign in to view
see reported repairs
What People Are Saying about Reliability and the Nissan Sentra
blog comments powered by Disqus
What Our Members Are Saying about Nissan Sentra Reliability and Durability
Reliability and Durability of the Nissan Sentra: Pros
Year
Body/Powertrain
Comment
2008
4dr Sedan 140-horsepower 2.0L I4
CVT FWD
Salesman said Nissans often need nothing but routine maintenance for over 100,000 miles
2007
4dr Sedan 140-horsepower 2.0L I4
CVT FWD
Owned many Nissan products & all have been pleasant. Tough little car
2007
4dr Sedan 140-horsepower 2.0L I4
6-speed manual FWD
Longest running Nissan model.
2004
4dr Sedan 175-horsepower 2.5L I4
6-speed manual FWD
Nissanīs legendary reliability and superb building.
Reliability and Durability of the Nissan Sentra: Cons
Year
Body/Powertrain
Comment
2007
4dr Sedan 140-horsepower 2.0L I4
CVT FWD
Recall on master brake cylinder. 4 wheel alignment (toe) was grossly out of spec from the factory. TPMS is not reliable.
2006
4dr Sedan 126-horsepower 1.8L I4
4-speed automatic FWD
The powertrain.
2004
4dr Sedan 126-horsepower 1.8L I4
4-speed automatic FWD
Entire car feels like a rattle trap. Transmission going bad after only 30,000 miles. Starts hard.
2003
4dr Sedan 165-horsepower 2.5L I4
4-speed automatic FWD
This car was in the shop more days then I actually drove it. Worst vehicle I have ever owned.
2002
4dr Sedan 175-horsepower 2.5L I4
6-speed manual FWD
1. Paint poor in 1st year, chips off 2. Engine sensors die often (recalls galore) 3. Pre-Catalytic converter disintegrates and particles are sucked into engine and kill it. 4.Butterfly valve screws and plate fall into engine from intake manifold. & mo
2002
4dr Sedan 165-horsepower 2.5L I4
5-speed manual FWD
Lots of problems reported