Saturn ION Reliability
You won't find Saturn ION reliability information like this anywhere else. Actual repair frequencies, not just vague dots. So you can tell how much the Saturn ION truly differs from competing car models in reliability.
These stats are promptly updated four times a year, to much more closely track Saturn ION reliability as the cars age. Others tell you how reliable the Saturn ION was a year ago, when the cars were a year younger and had 12,000 fewer miles on them. Only TrueDelta tells you how reliable the Saturn ION has been recently.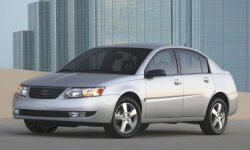 See only powertrain and chassis results
Year
Make/Model
Repair Frequency

successful repair trips per 100 cars per year

Compared to all models for the same year
2007
Saturn ION

25 IONs, 9.0 months of data per ION, average 77500 miles

85

Fewest Trips

Most Trips

see reported repairs
2006
Saturn ION
see reported repairs
2005
Saturn ION
15 IONs, 8.2 months of data per ION, average 115000 miles

* Small sample size. Join or 15 IONs, 8.2 months of data per ION, average 115000 miles

* Small sample size. sign in to view
see reported repairs
2004
Saturn ION
13 IONs, 10.0 months of data per ION, average 93100 miles

* Very small sample size. Join or 13 IONs, 10.0 months of data per ION, average 93100 miles

* Very small sample size. sign in to view
see reported repairs
2003
Saturn ION
10 IONs, 9.1 months of data per ION, average 108200 miles

* Very small sample size. Join or 10 IONs, 9.1 months of data per ION, average 108200 miles

* Very small sample size. sign in to view
see reported repairs
What People Are Saying about Reliability and the Saturn ION
blog comments powered by Disqus
What Our Members Are Saying about Saturn ION Reliability and Durability
Reliability and Durability of the Saturn ION: Pros
Year
Body/Powertrain
Comment
2007
4dr Coupe 145-horsepower 2.2L I4
4-speed automatic FWD
Very durable engine, but sub par interior materials.
2007
4dr Coupe 145-horsepower 2.2L I4
4-speed automatic FWD
We have only owned the Ion for a few months so I cannot comment on the reliablilty yet.
2007
4dr Sedan 145-horsepower 2.2L I4
5-speed manual FWD
Low maintenance required just oil changes and rotate tires. No damage to the car that I know of from hitting a tire and rim @ 65mph on the hwy. Had to purchase new rim, hubcap and tire.
2007
4dr Sedan 175-horsepower 2.4L I4
5-speed manual FWD
Plastic panels mean no rust and no fear for dents.
2007
4dr Coupe 175-horsepower 2.4L I4
4-speed automatic FWD
Dependable.
2007
4dr Coupe 145-horsepower 2.2L I4
5-speed manual FWD
Just that -- a car I can get into and know it will start and reliably get me from a to b.
2006
4dr Sedan 140-horsepower 2.2L I4
5-speed manual FWD
This car starts even in the coldest weather (Chicago area) and runs smoothly, even after almost a quarter MILLION miles of driving it on bumpy Illinois roads! I sure wish they still made Saturn's so I could buy another one.
2006
4dr Coupe 170-horsepower 2.4L I4
4-speed automatic FWD
good product
2006
4dr Sedan 140-horsepower 2.2L I4
4-speed automatic FWD
I have onlu owed the car for a few months but have not had any problems with it yet.
2003
4dr Coupe 140-horsepower 2.2L I4
5-speed manual FWD
In 5 years and 68,000 miles, I have only had less than a handful of problems, which 95% of them were taken care of by the warranty.
Reliability and Durability of the Saturn ION: Cons
Year
Body/Powertrain
Comment
2004
4dr Coupe 140-horsepower 2.2L I4
5-speed manual FWD
The ignition switch went out at 33,000!! (SERIOUSLY?) Trunk release at 36k (not a fuse issue) At 29k radio would stick and no functions would work (had it fixed several times still having issues at 62k. Wheel bearings and struts out at 52k.
2003
4dr Sedan 140-horsepower 2.2L I4
5-speed automatic FWD
Front suspension fails has been replaced 3x