Subaru Forester (2015) vs. Subaru Outback (2015) Features
Can I get heated seats? Do I have to get a sunroof? Find out what you need to know about Subaru Forester and Subaru Outback features right here.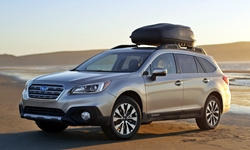 Features Comparison: Subaru Forester vs. Subaru Outback
Model Year
2015
2015
2015
Model
Forester
Forester
Forester
Trim
2.5i
2.5i Premium
2.0XT Premium
Engines (show)
Transmissions (show)
Drivetrains (show)
Tires (show)
Audio Systems (show)
Accessories (show)
Brakes, Airbags, and Other Safety (show)
Cargo Management (show)
Climate Control and Infotainment (show)
Exterior (show)
Instruments, Lights, and Mirrors (show)
Powertrain (show)
Seats and Interior Trim (show)
Suspension, Wheels, and Tires (show)
Option Package Contents
Eyesight Driver Assist System
Features
Radar- or camera-based collision preparation system
Lane departure warning system
Automatic braking, low-speed
Automatic braking, high-speed
Forward collision alert
Lane sway warning system
Lead vehicle start alert
Pedestrian detection
Adaptive cruise control
Navigation system
Features
Navigation system
Satellite radio
Voice control for nav and audio
SMS text-to-speech reader
Traffic + travel information
App support
All Weather Package
Features
Heated mirrors
Heated front seats
Wiper de-icer
What Our Members Are Saying about the Available Features of the 2015 Subaru Forester
None of our members have yet commented on the available features of the 2015 Subaru Forester.
What Our Members Are Saying about the Available Features of the 2015 Subaru Outback
2015 Subaru Outback Available Features: Cons
Year
Body/Powertrain
Comment
2014
4dr Wagon 173-horsepower 2.5L H4
6-speed manual AWD
My biggest complaint with the Premium is that you can't get a backup camera unless you also get the sunroof. I can't take the sunroof-- as I need the headroom it takes away. Also, the sunroof isn't that great, even if it didn't steal over an inch of headroom-- it is rather small. The one on the Forrester is much nicer.