Subaru Legacy Electrical and AC Problems and Repair Histories
778 TrueDelta members own a 2000 or newer Subaru Legacy. 163 of these members (21%) have reported electrical and air conditioning repairs for their car. A total of 160 electrical and air conditioning repairs to Subaru Legacys--an average of 0.2 per vehicle--have been reported.
See our lemon odds and nada odds page for more details. To see how frequently Subaru Legacy problems occur, check out our car reliability stats.
Want to read about specific problems behind these stats? Jump to the Subaru Legacy problem descriptions below.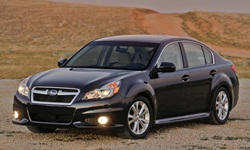 Don't infer Subaru Legacy problem frequency from what you see on this page. Many lucky owners have had no repairs, and their cars are not shown.
Select a problem area
Electrical and Air Conditioning
31% of the Subaru Legacy repairs were to the engine, 10% to the transmission, 9% to the brakes, 18% to the suspension, 17% to the electrical or air-conditioning systems, 11% to the body and trim, and 4% to other areas of the vehicle.
Chart based on 941 repairs.
Of the Subaru Legacy electrical and air conditioning repairs that were not covered by warranty and were not do-it-yourself repairs, 26% cost less than $100, 53% between $100 and $499, 10% between $500 and $999, 8% between $1000 and $2499, and 3% more than $2500.
Chart based on 92 repair trips. The repair cost chart excludes repairs made under warranty, do-it-yourself repairs, and repair trips that include maintenance.
Non-members can see only ten
Subaru Legacy Electrical and Air Conditioning problems and repair histories
.
Log in
or
join us
to see them all.
Repair costs are in local units.
2008 Subaru Legacy 4dr Sedan
turbocharged 243hp 2.5L H4 5-speed shiftable automatic AWD
Subaru Legacy in Maine, United States
Date
Odometer
(in miles)
Cost
Problem/Repair Description
Dec 2007
7000
7000
0
Radio and climate unit would periodically go blank, yet still function to an extent. To fix it the car would need to be shut off and restarted. Radio was replaced under warranty.
2008 Subaru Legacy 4dr Sedan
turbocharged 243hp 2.5L H4 5-speed manual AWD
Subaru Legacy in Ontario, Canada
Date
Odometer
(in miles)
Cost
Problem/Repair Description
Jan 2008
0
620
0
Starter failed and was replaced (with 200km's on a brand new car!!).
69440
100
AC drain tube was clogged and draining into interior of car. Drain tube was cleared and re-installed.
94400
400
A/C drain hose was blocked and drain water was entering in passenger foot well. 2nd time this has happened. Subaru repaired it free of charge.
127100
2006 Subaru Legacy 4dr Wagon
175-horsepower 2.5L H4 5-speed manual AWD
Subaru Legacy in California, United States
Date
Odometer
(in miles)
Cost
Problem/Repair Description
May 2007
7000
11000
0
Occasional speaker buzz, inspected and fixed by dealer at no charge.
77000
2006 Subaru Legacy 4dr Sedan
175-horsepower 2.5L H4 5-speed manual AWD
Subaru Legacy in Pennsylvania, United States
Date
Odometer
(in miles)
Cost
Problem/Repair Description
Oct 2007
14000
22000
0
Not blowing cold air. System checked and was properly filled and normal working order. My son,s 2005 Legacy gt has colder air than mine. I was told this is normal
22400
0
Open blocked ac drain tube
70000
2005 Subaru Legacy 4dr Wagon
turbocharged 250hp 2.5L H4 5-speed manual AWD
Subaru Legacy in Washington, United States
Date
Odometer
(in miles)
Cost
Problem/Repair Description
Apr 2006
9000
26000
0
Burnt out headlight- replaced both headlights at no charge.
57000
150
Window motor for driver's door stopped working and was replaced.
80000
20
Replaced left low beam headlight.
93000
15
Replaced passenger low-beam headlight.
97000
Subaru Legacy in Indiana, United States
Date
Odometer
(in miles)
Cost
Problem/Repair Description
Jul 2006
23000
29000
0
TSB for Key Fob sensitivity. Case and buttons were replaced to prevent accidental activation.
88000
2005 Subaru Legacy 4dr Wagon
168-horsepower 2.5L H4 5-speed manual AWD
Subaru Legacy in Minnesota, United States
Date
Odometer
(in miles)
Cost
Problem/Repair Description
Sep 2006
20000
28000
0
Air Cond Condenser leak
29000
0
Air conditioning condenser failure.
59000
278
AC failed to cool, dealer evacuated & recharged. Can't find leak.
62000
650
On original trip, dealer could not find leak. On latest trip, dealer found leak in condenser and replaced condenser.
96000
2005 Subaru Legacy 4dr Sedan
turbocharged 250hp 2.5L H4 5-speed manual AWD
Subaru Legacy in Georgia, United States
Date
Odometer
(in miles)
Cost
Problem/Repair Description
Jul 2007
28000
29000
0
6-CD changer would get stuck on one track and constantly repeat or just act like it's playing with no sound. Problem was worse with brand new CD's often locking up by the 3rd track. It would happen often on hot days, but I live in GA so every day is hot.
34000
0
Front drivers side headlight burned out for the 2nd time in 18 months. Replaced by dealer under warranty.
103000
2005 Subaru Legacy 4dr Sedan
168-horsepower 2.5L H4 5-speed manual AWD
Subaru Legacy in Ontario, Canada
Date
Odometer
(in miles)
Cost
Problem/Repair Description
Nov 2006
11160
16120
0
The alarm sound and overhead indicator for the passenger seat belt not used, is actve whether there is a person sitting at the seat or not. The dealer says Subaru is working on the problem
17980
0
Replaced headlight and no charge do to delay in fixing problem number one.
22320
0
The four way flashers did not work. Dealer discovered the problem and fixed no charge.
24180
0
Driver side headlight keeps failing usually in less than a month. Dealer fixed and put in long life bulbs.
96720