Chrysler Partners with Carhartt, Journalists Scratch Heads
Thursday, March 21st, 2013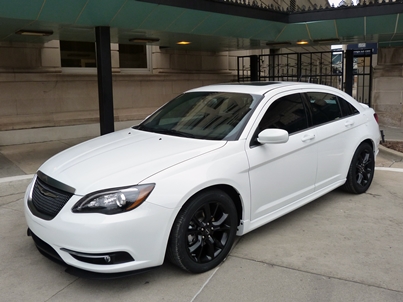 I attended my first lunch today as a member of the Detroit-based Automotive Press Association. Saad Chehab, CEO of the Chrysler and Lancia brands, presented a new Chrysler 200 S Special Edition, a collaboration between Mopar and Carhartt. Then $28,870 car has been modified with a clean air intake, performance exhaust, sport suspension, black grille, black wheels, and black Carhartt fabric with the firm's signature triple stitching in gray. Chehab also talked about some other special edition models, including a John Varvatos Special Edition 300C, which includes many intriguing details specified by the designer himself, and a Motown Special Edition 300.
Asked how Carhartt, a manufacturer of sturdy blue collar work clothes, was a better fit for semi-upscale Chrysler than Dodge or Ram, Chehab explained that "Detroit" was Chrysler's thing, and Carhartt was a Detroit-based company. Also, Chrysler is the brand for hard working people who want nice things without paying a premium price for them, and Carhartt is also about hard work. As is Detroit in the American public mind, apparently.
The journalists in attendance seemed less than convinced. In contrast, the partnership with Varvatos, also approached because he is from Detroit, occasioned no head-scratching.