Car reliability stats now cover through the end of 2012
Monday, March 4th, 2013
We recently updated the stats from TrueDelta's Car Reliability Survey to include all of 2012. Unless the car in question is a 2010 model, information on how it has been holding up since last April isn't available anywhere else. Put another way, we're currently eight months ahead.
With surprisingly few exceptions, cars have been holding up well, and often very well. Here are the fairly new models that received red "sad faces" this time around (out of a total of over 400 results):
2013 – Ford Escape
2012 – None
2011 – None
2010 – Jaguar XF, Mercedes GLK, Hyundai Genesis, GM large crossovers, Ford Taurus
2009 – Cadillac CTS, Jaguar XF, Ford Flex
2008 – GM large crossovers, BMW 335i
2007 – Nissan Murano
Another thing to consider: even among the cars in this bunch, none had a repair frequency score in the triple digits. Even the least reliable models for which we had sufficient data averaged under one repair trip per car last year. (Though if four more owners of the 2008 Mercedes GL-Class reported in, I wouldn't be able to say this. If you're concerned about reliability, you don't want one of these.)
Also consider that we count all problems, minor as well as major, and most reported problems are minor. The 2013 Ford Escape is in the "dirty dozen" because of common problems with door and hatch alignments. The 2010 Ford Taurus is here because, even after three years of replacements, the chrome trim keeps peeling off the tail lights of enough cars.
The 2010 Hyundai Genesis has had moderately serious problems with its fuel pump (V8 engine), plus the power tilt adjuster for the steering column and the power seat controls. To avoid a sad face with the 2009 CTS, skip the sunroof. The 2007 Nissan Murano commonly has problems with its front suspension (as does the 2006).
We could move the goalposts to force more models into the sad group, but we don't want to put a sad face on cars whose owners are usually quite happy. For 2011 and newer cars, the dividing lines between a
and a

and then between a

and a

are around 30 and 60 repair trips per 100 cars per year, respectively. Most newish cars are under 30 per 100, and consequently get happy faces.
At the other end of the scale, we have some models for which absolutely no repairs were reported last year: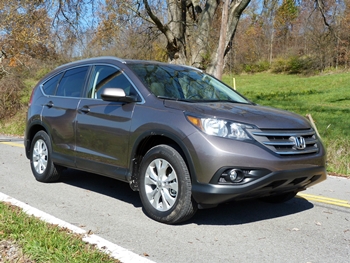 2013 – Audi A4 et al. (29 cars)
2012 – Honda CR-V (58 cars), Subaru Forester (33), Toyota Prius c (30)
2010 – Lexus RX (30 cars)
The 2013 Audi isn't a fluke–both the 2011 and 2012 have also been faring well. Some other models came close to perfect records. If one more 2012 Rogue owner had responded and reported no repairs, the Nissan would be in this group. Only a single repair was reported for the 2013 Focus, 2012 C-Class, 2012 LEAF, 2012 Prius, 2012 Sienna, 2011 GM large SUVs, 2010 Corolla, 2009 Rogue, and 2008 IS.
Among notable new models, the 2013 Mazda CX-5 barely lost its former happy face due to multiple reports of fluttering hoods, rattling dashes, and vibrating mirrors, while the 2013 Toyobaru FRZ and 2012 FIAT 500 are deep in the yellow. The former has common problems with a chirping fuel pump and tail lamp condensation, while the latter has common problems with defective manifold bolts that cause oil leaks and an iffy Bluetooth module.
On the one hand, a single problem that affects most cars will mean the difference between a great score and a bad one. On the other, manufacturers are doing a very good job of catching and fixing problems before they can become common. Failures are exceptions, not the rule.
To view the stats for a model, and the specific repairs behind the stats: