Who will buy the 2014 GM pickups? Does it matter?
Thursday, December 13th, 2012
I haven't reviewed a full-size pickup in years because I assume that my tastes are so different from those of the typical pickup buyer. My review simply wouldn't be relevant to them. Or so I thought. I might be wrong.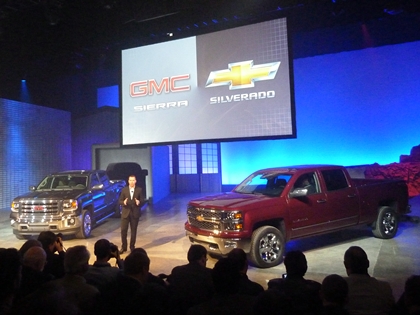 Today I attended the reveal for GM's redesigned full-size pickups, the Chevrolet Silverado and GMC Sierra, which will launch next spring as early 2014 models. For the most part the presentations were the usual "more of everything." Whatever people might want in a truck, these new pickups will have more of it. In particular, they'll have more power (the actual specs to be revealed next year) and better fuel economy courtesy of a combination of direct injection (enabling high compression), variable cam timing (with a single cam still in the block), and seamless cylinder deactivation (both the 4.3-liter V6 and the 5.3-liter and 6.2-liter V8s will cruise on only four cylinders). They have more functionality courtesy of bigger, easier to used knobs and switches, more interior storage spaces than ever, steps built into the rear bumper, and LEDs built into the bed (to assist when loading and unloading in the dark). A torsion rod built into the tailgate makes for easy, slam-free opening and closing. The rear doors on the extended cab are now, as on the RAM, forward-hinged, for easier entry and exit They have more comfort in the front seats via dense, higher quality foam. (Likely for cost reasons, the rear seats remain relatively soggy.) They have more luxury in thoroughly upholstered door panels and stitching on the instrument panel. The "aluminum" trim in the GMC is actually aluminum. The superior quietness of these trucks was stressed more than anything else during the presentations.