2013 Cadillac ATS Price Analysis
Tuesday, July 17th, 2012
Cadillac has tried to develop a BMW 3-Series competitor before. But this time they're serious. Unlike earlier attempts, the 2013 Cadillac CTS closely resembles the BMW in exterior dimensions, curb weight, and driven wheels (RWD standard, AWD optional). My driving impressions will have to wait until the 23rd. After spending the big bucks to develop and manufacturer a legitimate 3-Series competitor, how much does Cadillac have to charge for it?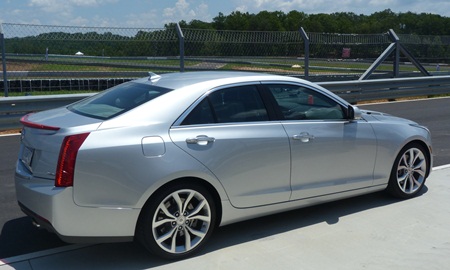 The Cadillac ATS starts at $33,990, but its base engine, a 201-horsepower 2.5-liter four-cylinder, isn't a match for BMW's 240-horsepower turbocharged 2.0-liter. Add $1,805 for the ATS's own 2.0-liter turbo, officially good for 272 horsepower, and you're at $35,795. A 2012 BMW 328i starts at nearly the same place, $35,795, but includes less standard equipment. Add power seats, BMW Assist (roughly equivalent to Cadillac's Onstar), satellite radio, and metallic paint, and the BMW lists for $2,545 more. But the BMW has some features that the base ATS does not. Adjust for these and the price difference is a mere $1,290. Of course, if you can get by with the ATS's base engine, add another $1,805.
Load both cars up, and the Cadillac's sticker price advantage becomes more substantial, $47,440 vs. the BMW's $52,310 (for a difference of $4,870). The adjustment for feature differences is negligible, only $180 in the BMW's favor.
Compared to the Mercedes-Benz C250 Sport, the base ATS is about $2,000 less…until you adjust for feature differences, which virtually eliminate this difference. Step up to loaded V6-powered sedans, and the Cadillac is about $4,500 lower before adjusting for feature differences and about $2,200 less afterwards.
For the past decade, the Infiniti G has been positioned as a 3-Series competitor with more rear legroom and a much lower price. Comparing loaded V6-powered sedans, the ATS costs a little over $6,000 more before adjusting for feature differences, and about $1,600 more afterwards. Compare minimally equipped V6-powered cars, and the Infiniti's advantage is $5,290 before adjusting for feature differences and about $2,700 afterwards.
Some competition for the ATS can be found within the same showroom. Compared to the larger CTS, the ATS starts $4,195 lower, but with a four-cylinder instead of a six-cylinder engine. Equip both with a 3.6-liter V6 and load them up, and the smaller car is only $1,845 less, $50,250 vs. $52,095. Adjust for features not available on the aging CTS, and the gap widens to nearly $4,000. Still, with the second-generation CTS near the end of its life cycle, incentives and discounts could make it cheaper to buy than the ATS even after adjusting for these feature differences.
Overall, the Cadillac ATS doesn't appear positioned to sell based on price. It's only significantly less than the Germans when the cars are heavily equipped. Cadillac's options aren't inexpensive, but they are cheap compared to what the Germans tend to charge. The Infiniti G37 retains its position as the value choice.