Looking over our updated car reliability stats, some cars did especially well or especially poorly.
For some models with 25 or more responses, no owner reported a repair in the past year:
2013 Ford F-150
2013 Hyundai Elantra
2013 Subaru Impreza
2012 Toyota Prius c
2011 Mazda CX-9
2010 Lexus RX
2010 Toyota Tundra
For quite a few more the repair frequency is at most one repair trip for every ten cars:
2013 Honda CR-V
2013 VW Golf / JSW TDI
2013 FIAT 500
2012 Honda CR-V
2012 Honda Fit
2012 Subaru Forester
2012 Toyota Highlander
2012 Chevrolet Equinox / GMC Terrain
2012 Mazda3
2012 Toyota Prius
2012 Audi A4
2012 Honda Accord
2012 Hyundai Accent
2012 Mazda5
2012 Toyota Prius v
2012 Toyota Camry
2012 Kia Soul
2012 Nissan LEAF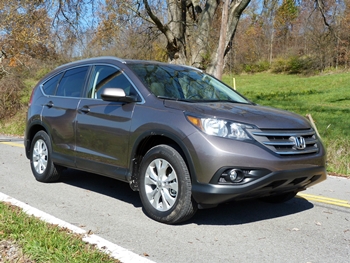 2011 Honda Civic
2011 Honda CR-V
2011 Nissan LEAF
2011 Honda Fit
2011 Kia Forte
2010 MazdaSpeed3
2010 Acura MDX
2010 Toyota Camry
2010 Toyota Corolla
2010 Honda CR-V
2010 Toyota Yaris
2009 Honda CR-V
The Honda CR-V has been the most consistently highly reliable model in the survey. Nearly every model year has a very low repair frequency. (The 2002 is an exception.)
We have a much smaller number of models with sad faces:
2013 Nissan Altima
2013 Ford C-MAX
2013 Hyundai Santa Fe Sport
2013 Audi Q5 (the only one in this group of four that wasn't redesigned for 2013)
2012 FIAT 500
2011 Hyundai Sonata
2011 MINI Cooper
2010 Mercedes-Benz GLK
2010 Hyundai Genesis
2010 BMW 5-Series (the 2011+ 5-Series is much more reliable)
2009 Jaguar XF
An important note: even the least reliable cars listed average less than one repair per car. In some cases, one common problem was enough. For example, the 2011 Sonata is here because of a faulty brake light switch (that can make the car difficult to start). The Kia Sorento almost landed on this list for the same bad part.
What's more amazing, that some cars require virtually no repairs, or that so few often required repairs?