With the Prius, Toyota has demonstrated that hybrids (and, by extension, electric cars) can be highly reliable. And at first the Chevrolet Volt and Nissan Leaf required few repairs. With the 2013s, though, both suffer from new common problems, the Volt with its charge port and the Leaf with its battery charging system.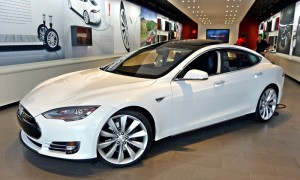 The Tesla Model S has scored reasonably well on at least one prominent reliability survey. In TrueDelta's latest stats, though, it has the worst score of any 2013 by a wide margin, 109 repair trips per 100 cars per year, about four times the average. The sample size was a few cars below the usual minimum, but this score is so high that even a sample size twice as large could not have yielded a satisfactory score. In Tesla's defense, nearly all of the reported problems were minor–wind noise, rattles, a click in the steering–and owners report outstanding service quality. For these reasons it is not surprising that the car has scored much better on surveys that ask owners to only report "problems you considered serious."
These problems with the Model S could only affect early cars, and even these only during the first year of ownership. With prompt, quarterly updates, TrueDelta's Car Reliability Survey will track the Model S and other car models closely as they age. When a car company reacts quickly, the reliability of its products can improve dramatically in well under a year.