Acura MDX Reliability
You won't find Acura MDX reliability information like this anywhere else. Actual repair frequencies, not just vague dots. So you can tell how much the Acura MDX truly differs from competing car models in reliability.
These stats are promptly updated four times a year, to much more closely track Acura MDX reliability as the cars age. Others tell you how reliable the Acura MDX was a year ago, when the cars were a year younger and had 12,000 fewer miles on them. Only TrueDelta tells you how reliable the Acura MDX has been recently.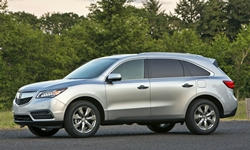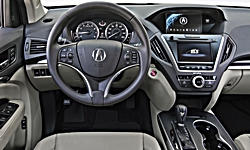 See reliability results for all
SUVs
.
See only powertrain and chassis results
Year
Make/Model
Repair Frequency

successful repair trips per 100 cars per year

Compared to all models for the same year
2014
Acura MDX
50 MDXs, 8.3 months of data per MDX, average 8200 miles

Redesigned. Voice control system problem in early cars addressed with revised head unit. Also multiple reports of a grinding noise caused by misaligned drive belt pulleys, a non-functioning rain sensor for wipers, and squeaks.66

Fewest Trips

Most Trips

see reported repairs
2013
Acura MDX
see reported repairs
2012
Acura MDX
39 MDXs, 9.8 months of data per MDX, average 30100 miles22

Fewest Trips Most Trips

see reported repairs
2011
Acura MDX
29 MDXs, 8.2 months of data per MDX, average 41500 miles30

Fewest Trips Most Trips

see reported repairs
2010
Acura MDX
33 MDXs, 9.9 months of data per MDX, average 50500 miles11

Fewest Trips Most Trips

see reported repairs
2009
Acura MDX
24 MDXs, 9.3 months of data per MDX, average 65100 miles

* Small sample size. Join or 24 MDXs, 9.3 months of data per MDX, average 65100 miles

* Small sample size. sign in to view
see reported repairs
2008
Acura MDX
47 MDXs, 10.2 months of data per MDX, average 89600 miles43

Fewest Trips Most Trips

see reported repairs
2007
Acura MDX
53 MDXs, 9.4 months of data per MDX, average 89200 miles

First model year of second-generation MDX.62

Fewest Trips Most Trips

see reported repairs
2006
Acura MDX
24 MDXs, 9.8 months of data per MDX, average 105400 miles

* Small sample size. Join or 24 MDXs, 9.8 months of data per MDX, average 105400 miles

* Small sample size. sign in to view
see reported repairs
2005
Acura MDX
26 MDXs, 8.5 months of data per MDX, average 134700 miles27

Fewest Trips Most Trips

see reported repairs
2004
Acura MDX
29 MDXs, 11.1 months of data per MDX, average 141800 miles

Refreshed for this model year. Past common problem with engine mounts.56

Fewest Trips Most Trips

see reported repairs
2003
Acura MDX
26 MDXs, 7.7 months of data per MDX, average 144300 miles78

Fewest Trips Most Trips

see reported repairs
2002
Acura MDX
17 MDXs, 9.8 months of data per MDX, average 148800 miles

* Small sample size. Join or 17 MDXs, 9.8 months of data per MDX, average 148800 miles

* Small sample size. sign in to view
see reported repairs
2001
Acura MDX
18 MDXs, 7.3 months of data per MDX, average 137700 miles

* Small sample size. Join or 18 MDXs, 7.3 months of data per MDX, average 137700 miles

* Small sample size. sign in to view
see reported repairs
What People Are Saying about Reliability and the Acura MDX
blog comments powered by Disqus
What Our Members Are Saying about the Reliability and Durability of the Acura MDX
Acura MDX Reliability and Durability: Pros
Year
Body/Powertrain
Comment
2012
4dr SUV 300-horsepower 3.7L V6
6-speed shiftable automatic AWD
We've owned several Acura's over the past 13 years, this is the first SUV. The past has proven their reliability as long as you maintain them. I mean the basic prescribed routine care every 5,000 miles. I've driven many different American made vehicles supplied by my Company over the span of the last 35 years and none can compare with how Acura's hold up or perform, even with the same routine care and still offer the resale value that they do.
2009
4dr SUV 300-horsepower 3.7L V6
6-speed shiftable automatic AWD
I am not worried about breaking down or about expensive repairs. This is a vehicle I can keep with no worries.
2008
4dr SUV 300-horsepower 3.7L V6
6-speed shiftable automatic AWD
Initial fit is not there
2008
4dr SUV 300-horsepower 3.7L V6
6-speed shiftable automatic AWD
expecting it to be above average.
2007
4dr SUV 300-horsepower 3.7L V6
6-speed shiftable automatic AWD
No real reliability or durability issues in 15K miles.
2007
4dr SUV 300-horsepower 3.7L V6
6-speed shiftable automatic AWD
Hve friends who have owned MDX for over 10 years and had no issues
2007
4dr SUV 300-horsepower 3.7L V6
6-speed shiftable automatic AWD
My last Acura Legend went 262 thousand miles with nothing but oil changes and tires. That is reliability!
2007
4dr SUV 300-horsepower 3.7L V6
6-speed shiftable automatic AWD
brand reputation, online reviews and ranking
2007
4dr SUV 300-horsepower 3.7L V6
6-speed shiftable automatic AWD
i have owned several acura passenger vehicles and the reliability is unbeatable in my opinion. as it turned out i did have some front end thunks in my MDX. at no time did the dealer ever admit defeat (they all do that) and always made me feel welcome.
2007
4dr SUV 300-horsepower 3.7L V6
6-speed shiftable automatic AWD
rated highly by Consumer reports
Acura MDX Reliability and Durability: Cons
Year
Body/Powertrain
Comment
2007
4dr SUV 300-horsepower 3.7L V6
6-speed shiftable automatic AWD
Multiple trips to shop
2007
4dr SUV 300-horsepower 3.7L V6
6-speed shiftable automatic AWD
Had to make 4 trips to the dealer for warranty issues in 18 months of ownership.
2003
4dr SUV 300-horsepower 3.7L V6
6-speed shiftable automatic AWD
This SUV is a dog! Engine mounts, transmission, AC, alternator, cooling fan have all failed catastrophically. I will not buy an Acura again