Honda Pilot Reliability
You won't find Honda Pilot reliability information like this anywhere else. Actual repair frequencies, not just vague dots. So you can tell how much the Honda Pilot truly differs from competing car models in reliability.
These stats are promptly updated four times a year, to much more closely track Honda Pilot reliability as the cars age. Others tell you how reliable the Honda Pilot was a year ago, when the cars were a year younger and had 12,000 fewer miles on them. Only TrueDelta tells you how reliable the Honda Pilot has been recently.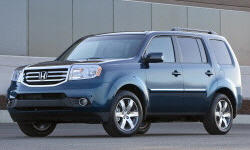 See reliability results for all
SUVs
.
See only powertrain and chassis results
Year
Make/Model
Repair Frequency

successful repair trips per 100 cars per year

Compared to all models for the same year
2014
Honda Pilot
see reported repairs
2013
Honda Pilot
31 Pilots, 8.1 months of data per Pilot, average 13700 miles24

Fewest Trips Most Trips

see reported repairs
2012
Honda Pilot
43 Pilots, 8.8 months of data per Pilot, average 25600 miles16

Fewest Trips Most Trips

see reported repairs
2011
Honda Pilot
40 Pilots, 9.1 months of data per Pilot, average 44800 miles40

Fewest Trips Most Trips

see reported repairs
2010
Honda Pilot
29 Pilots, 9.1 months of data per Pilot, average 59500 miles45

Fewest Trips Most Trips

see reported repairs
2009
Honda Pilot
55 Pilots, 9.2 months of data per Pilot, average 73700 miles

Redesigned for this model year.43

Fewest Trips Most Trips

see reported repairs
2008
Honda Pilot
28 Pilots, 8.9 months of data per Pilot, average 82200 miles39

Fewest Trips Most Trips

see reported repairs
2007
Honda Pilot
38 Pilots, 9.4 months of data per Pilot, average 91100 miles13

Fewest Trips Most Trips

see reported repairs
2006
Honda Pilot
52 Pilots, 9.4 months of data per Pilot, average 99900 miles

Refreshed. Common problems with alternator and radiator leaks.57

Fewest Trips Most Trips

see reported repairs
2005
Honda Pilot
39 Pilots, 9.5 months of data per Pilot, average 122900 miles26

Fewest Trips Most Trips

see reported repairs
2004
Honda Pilot
40 Pilots, 9.5 months of data per Pilot, average 134500 miles44

Fewest Trips Most Trips

see reported repairs
2003
Honda Pilot
40 Pilots, 8.9 months of data per Pilot, average 138800 miles

First model year.78

Fewest Trips Most Trips

see reported repairs
What People Are Saying about Reliability and the Honda Pilot
blog comments powered by Disqus
What Our Members Are Saying about the Reliability and Durability of the Honda Pilot
Honda Pilot Reliability and Durability: Pros
Year
Body/Powertrain
Comment
2011
4dr SUV 250-horsepower 3.5L V6
5-speed automatic AWD
Consumer reports show excellent reliability, and resale value is high.
2011
4dr SUV 250-horsepower 3.5L V6
5-speed automatic AWD
Personal history & research
2009
4dr SUV 250-horsepower 3.5L V6
5-speed automatic AWD
The previous style has been around for 5 years and the results are strong, so the new one should be just as reliable and dependable.
2009
4dr SUV 250-horsepower 3.5L V6
5-speed automatic AWD
honda quality and resale value.
2009
4dr SUV 250-horsepower 3.5L V6
5-speed automatic FWD
THis suv is an excellent driving auto. There is a ton of room and perfect for my family of 4. The 3rd row seats are an excellent addition so family and friends can go in one car. THe interior is well thought out and ergonomic. Its an excellent suv.
2009
4dr SUV 250-horsepower 3.5L V6
5-speed automatic FWD
HOnda just has a good rep
2009
4dr SUV 250-horsepower 3.5L V6
5-speed automatic AWD
Honda offers very reliable vehicles and I know first had as I typically do many of the maintenance items.
2008
4dr SUV 244-horsepower 3.5L V6 w/DoD
5-speed automatic FWD
Bulletptoof when compared to the majority of the market offerrings.
2008
4dr SUV 244-horsepower 3.5L V6 w/DoD
5-speed automatic FWD
Rated highest by CU family member works in maintance and claimed that repairs were very low.
2008
4dr SUV 244-horsepower 3.5L V6
5-speed automatic AWD
Its a Honda, they are always rated very high in all the publications i subscribe to