Hyundai Genesis Reliability
You won't find Hyundai Genesis reliability information like this anywhere else. Actual repair frequencies, not just vague dots. So you can tell how much the Hyundai Genesis truly differs from competing car models in reliability.
These stats are promptly updated four times a year, to much more closely track Hyundai Genesis reliability as the cars age. Others tell you how reliable the Hyundai Genesis was a year ago, when the cars were a year younger and had 12,000 fewer miles on them. Only TrueDelta tells you how reliable the Hyundai Genesis has been recently.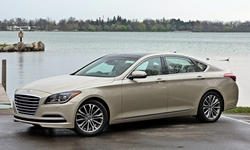 See reliability results for all
Sedans
.
See only powertrain and chassis results
Year
Make/Model
Repair Frequency

successful repair trips per 100 cars per year

Compared to all models for the same year
2015
Hyundai Genesis
39 Genesiss, 3.1 months of data per Genesis, average 3700 miles

Redesigned. Outstanding start.10

Fewest Trips

Most Trips

see reported repairs
2013
Hyundai Genesis

28 Genesiss, 8.3 months of data per Genesis, average 14100 miles

10

Fewest Trips

Most Trips

see reported repairs
2012
Hyundai Genesis
65 Genesiss, 9.2 months of data per Genesis, average 27900 miles

Refresh with new engines and transmissions.30

Fewest Trips

Most Trips

see reported repairs
2011
Hyundai Genesis
36 Genesiss, 9.8 months of data per Genesis, average 46200 miles

Third model year much more reliable than the first two.20

Fewest Trips

Most Trips

see reported repairs
2010
Hyundai Genesis
26 Genesiss, 10.3 months of data per Genesis, average 53100 miles

Common problems with the fuel pump, power adjuster for the steering wheel, power seat controls, and rearview camera.36

Fewest Trips

Most Trips

see reported repairs
2009
Hyundai Genesis
47 Genesiss, 9.6 months of data per Genesis, average 63400 miles

Common problem with power adjuster for the steering column.45

Fewest Trips

Most Trips

see reported repairs
What People Are Saying about Reliability and the Hyundai Genesis
blog comments powered by

Disqus
What Our Members Are Saying about the Reliability and Durability of the Hyundai Genesis
Hyundai Genesis Reliability and Durability: Pros
Year
Body/Powertrain
Comment
2012
4dr Sedan 333-horsepower 3.8L V6
8-speed shiftable automatic RWD
I put 65,000 miles on my last Genesis and have 15,000 on this one. They are tight and never rattle. They are reliable, smooth, powerful and comfortable.
2010
4dr Sedan 375-horsepower 4.6L V8
6-speed shiftable automatic RWD
best warranty available from a manufacturer. Indicates good reliability.
2010
4dr Sedan 290-horsepower 3.8L V6
6-speed shiftable automatic RWD
Few repairs
2009
4dr Sedan 290-horsepower 3.8L V6
6-speed shiftable automatic RWD
Nice warranty.
2009
4dr Sedan 290-horsepower 3.8L V6
6-speed shiftable automatic RWD
Reliability reported as excellent.
2009
4dr Sedan 290-horsepower 3.8L V6
6-speed shiftable automatic RWD
Hyundai is a rock solid car
Hyundai Genesis Reliability and Durability: Cons
Year
Body/Powertrain
Comment
2010
4dr Sedan 375-horsepower 4.6L V8
6-speed shiftable automatic RWD
so far mixed.. purchased Certified Pre-Owned at 35,000; at 39,000 miles had the drivetrain assembly replaced, s front proximity sensor replaced, and moulding from the moonroof fell off..Long term reliability remains to be seen. Glad I have their warranty