Hyundai Tucson Reliability
You won't find Hyundai Tucson reliability information like this anywhere else. Actual repair frequencies, not just vague dots. So you can tell how much the Hyundai Tucson truly differs from competing car models in reliability.
These stats are promptly updated four times a year, to much more closely track Hyundai Tucson reliability as the cars age. Others tell you how reliable the Hyundai Tucson was a year ago, when the cars were a year younger and had 12,000 fewer miles on them. Only TrueDelta tells you how reliable the Hyundai Tucson has been recently.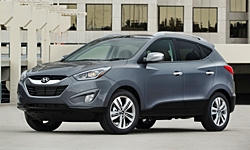 See reliability results for all
SUVs
.
See only powertrain and chassis results
Year
Make/Model
Repair Frequency

successful repair trips per 100 cars per year

Compared to all models for the same year
2012
Hyundai Tucson
see reported repairs
2011
Hyundai Tucson
19 Tucsons, 10.9 months of data per Tucson, average 39900 miles

* Small sample size. Join or 19 Tucsons, 10.9 months of data per Tucson, average 39900 miles

* Small sample size. sign in to view
see reported repairs
2010
Hyundai Tucson
14 Tucsons, 8.9 months of data per Tucson, average 45900 miles

* Very small sample size. Join or 14 Tucsons, 8.9 months of data per Tucson, average 45900 miles

* Very small sample size. sign in to view
see reported repairs
2008
Hyundai Tucson
13 Tucsons, 8.2 months of data per Tucson, average 61400 miles

* Very small sample size. Join or 13 Tucsons, 8.2 months of data per Tucson, average 61400 miles

* Very small sample size. sign in to view
see reported repairs
2007
Hyundai Tucson
13 Tucsons, 9.1 months of data per Tucson, average 80900 miles

* Very small sample size. Join or 13 Tucsons, 9.1 months of data per Tucson, average 80900 miles

* Very small sample size. sign in to view
see reported repairs
2006
Hyundai Tucson
20 Tucsons, 8.7 months of data per Tucson, average 106100 miles

* Small sample size. Join or 20 Tucsons, 8.7 months of data per Tucson, average 106100 miles

* Small sample size. sign in to view
see reported repairs
2005
Hyundai Tucson
11 Tucsons, 9.4 months of data per Tucson, average 90900 miles

* Very small sample size. Join or 11 Tucsons, 9.4 months of data per Tucson, average 90900 miles

* Very small sample size. sign in to view
see reported repairs
What People Are Saying about Reliability and the Hyundai Tucson
blog comments powered by Disqus
What Our Members Are Saying about the Reliability and Durability of the Hyundai Tucson
Hyundai Tucson Reliability and Durability: Pros
Year
Body/Powertrain
Comment
2007
4dr SUV 140-horsepower 2.0L I4
5-speed manual FWD
no trouble at all during the 3 years I own it
2006
4dr SUV 140-horsepower 2.0L I4
4-speed shiftable automatic AWD
Good reliability.
2005
4dr SUV 173-horsepower 2.7L V6
4-speed shiftable automatic AWD
very reliable, one problem in 3 years
2005
4dr SUV 140-horsepower 2.0L I4
4-speed shiftable automatic AWD
After 3 years and 41,000 Km no problems.
2005
4dr SUV turbocharged 111hp 2.0L I4 Diesel
5-speed manual AWD
I was sold on the 5 year warranty, which was the best in the UK at the time. Since buying, the vehicle has proved to be very reliable
2005
4dr SUV 173-horsepower 2.7L V6
4-speed shiftable automatic FWD
The 5/60 10/100 warranty and reputation for reliability