Hyundai Veloster (2015) vs. Chevrolet Cruze (2015) Features
Can I get heated seats? Do I have to get a sunroof? Find out what you need to know about Hyundai Veloster and Chevrolet Cruze features right here.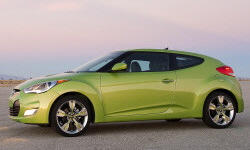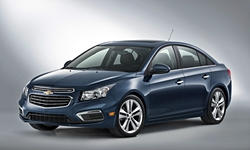 Features Comparison: Hyundai Veloster vs. Chevrolet Cruze
Model Year
2015
2015
2015
2015
2015
2015
Model
Veloster
Veloster
Veloster
Cruze
Cruze
Cruze
Trim
Base
Turbo R-Spec
Turbo
L
LS
LT
Engines (show)
Transmissions (show)
Drivetrains (show)
Tires (show)
Audio Systems (show)
Accessories (show)
Brakes, Airbags, and Other Safety (show)
Cargo Management (show)
Climate Control and Infotainment (show)
Exterior (show)
Instruments, Lights, and Mirrors (show)
Powertrain (show)
Seats and Interior Trim (show)
Suspension, Wheels, and Tires (show)
Option Package Contents
Style Package
Features
Leather-wrapped steering wheel
Panoramic sunroof
Special exterior trim
Synthetic leather seating surfaces
Metal pedals
Dimension, 450W, 8 speakers (with subwoofer)
215/40VR18 tires
Tech Package
Features
Alloy wheels, optional design
Proximity key
Tech Package
Features
Panoramic sunroof
Sun and Sound Package
Features
Sunroof
Pioneer, 250W, 9 speakers (with subwoofer)
Enhanced Safety Package
Features
Obstacle detection, rear
Blind spot warning system
Rear cross-traffic detection
Technology Package
MyLink / Intellilink
Features
Voice control for external devices
SMS text-to-speech reader
Bluetooth audio streaming
App support
Voice control for audio system
Siri Eyes Free support
RS Package
Features
Sport suspension (upgrade)
Fog lights
Body kit
Upgraded instruments
Driver Convenience Package
Features
Heated mirrors
Auto-dimming rearview mirror
What Our Members Are Saying about the Available Features of the 2015 Hyundai Veloster
2015 Hyundai Veloster Available Features: Cons
Year
Body/Powertrain
Comment
2014
3dr Hatch turbocharged 201hp 1.6L I4
6-speed manual FWD
The only core choice you get to make when you buy the R-Spec is the color. It's only available as a 6MT Turbo, and all other options (save for the dealer add-ons like wheel locks, cargo nets and the like) are unavailable without stepping up to the 'standard' Veloster Turbo. The R-Spec is fairly well-equipped for the $21K asking price, regardless.
What Our Members Are Saying about the Available Features of the 2015 Chevrolet Cruze
None of our members have yet commented on the available features of the 2015 Chevrolet Cruze.