2012 Hyundai Veloster Problems and Repair Histories
49 TrueDelta members own a 2012 Hyundai Veloster. 19 of these members (38.8%) have reported repairs for their car. A total of 34 repairs to 2012 Hyundai Velosters--an average of 0.7 per vehicle--have been reported.
See our lemon odds and nada odds page for more details. To see how frequently 2012 Hyundai Veloster problems occur, check out our car reliability stats.
Want to read about specific problems behind these stats? Jump to the 2012 Hyundai Veloster problem descriptions below.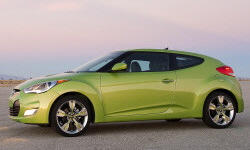 Don't infer 2012 Hyundai Veloster problem frequency from what you see on this page. Many lucky owners have had no repairs, and their cars are not shown.
Select a problem area
6% of the 2012 Hyundai Veloster repairs were to the engine, 9% to the transmission, 15% to the brakes, 47% to the electrical or air-conditioning systems, 21% to the body and trim, and 3% to other areas of the vehicle.
Chart based on 34 repairs.
Non-members can see only ten
2012 Hyundai Veloster problems and repair histories
.
Log in
or
join us
to see them all.
Repair costs are in local units.
2012 Hyundai Veloster 3dr Hatch
138-horsepower 1.6L I4 6-speed manual FWD
Hyundai Veloster in British Columbia, Canada
Date
Odometer
(in miles)
Cost
Problem/Repair Description
Aug 2011
620
1420
0
DRLs would sometimes not turn back on after temporarily turning off during an active turn signal. Did not affect headlights, safety or visibility. Recall notice was issued, software reflashed and problem solved.
7440
0
Gauge cluster had a needle which was stuck for the first 10 seconds on a cold start. (tach) Cluster was replaced under warranty.
27280
Hyundai Veloster in Pennsylvania, United States
Date
Odometer
(in miles)
Cost
Problem/Repair Description
Aug 2011
0
3000
0
ECM unit reflash required.
2012 Hyundai Veloster 3dr Hatch
138-horsepower 1.6L I4 6-speed automated manual FWD
Hyundai Veloster in Texas, United States
Date
Odometer
(in miles)
Cost
Problem/Repair Description
Feb 2012
0
13000
30
XM radio drops radio ID. Service couldn't replicate problem. Nothing was done. Passenger window won't roll down sometimes. Service could not reproduce problem. Nothing done to fix it. Hesitation when shifting between 1st & 2nd gear. Nothing done to replace it, they said it was "performing as designed"
14000
0
Replaced antenna to fix previous radio issue.
15000
0
Replaced head unit.
30000
Hyundai Veloster in New Jersey, United States
Date
Odometer
(in miles)
Cost
Problem/Repair Description
Oct 2011
0
24000
0
noise coming from transmission dual-clutch was damaged, replaced throw out bearing damaged, replaced flywheel damaged, replaced axle seal broken, replaced all caused by a flaw in the dual-clutch.
44000
0
crank pulley
Hyundai Veloster in Maryland, United States
Date
Odometer
(in miles)
Cost
Problem/Repair Description
Oct 2011
0
15300
0
Had rattle coming from windshield (outside) plastic cowl on the drivers' side. Dealer confirmed the rattle when driven over bumps or imperfections in road. Dealer applied a "rattle kit" to the underside of the cowl, which solved the issue.
29700
0
Sunroof began to squeak when closed & driving. Annoying... Tech sprayed "Hyundai Silicon Spray" around circumference of rubber seals of sunroof, and this solved the problem. Took all of 5 minutes of his time.
31000
Hyundai Veloster in New York, United States
Date
Odometer
(in miles)
Cost
Problem/Repair Description
Apr 2012
0
5000
0
Driver door rattle
10000
Hyundai Veloster in California, United States
Date
Odometer
(in miles)
Cost
Problem/Repair Description
Feb 2012
3000
6000
0
passenger window was not working
9000
Hyundai Veloster in Washington, United States
Date
Odometer
(in miles)
Cost
Problem/Repair Description
Aug 2012
0
Diagnosed non-working touchscreen on car's audio head unit. Could not fix; had to order replacement heat unit.
8000
0
Left rear brake caliper failed, sticking/dragging on rotor. Had to be replaced under warranty with new caliper.
10000
0
Stereo head unit was replaced due to faulty touchscreen.
22000
Hyundai Veloster in Ohio, United States
Date
Odometer
(in miles)
Cost
Problem/Repair Description
Feb 2012
6000
7000
0
tire pressure issue
10000
31
steering wheel was pealing.Repalced at no cost.
24000
2012 Hyundai Veloster
4-cylinder automated manual 2WD
Hyundai Veloster in Wisconsin, United States
Date
Odometer
(in miles)
Cost
Problem/Repair Description
Oct 2011
0
1000
0
Nav system was giving incorrect directions. Re-booted the system then re-set the parameters.
15000
0
Rear rotors replaced under recall