Toyota Tundra Reliability
You won't find Toyota Tundra reliability information like this anywhere else. Actual repair frequencies, not just vague dots. So you can tell how much the Toyota Tundra truly differs from competing car models in reliability.
These stats are promptly updated four times a year, to much more closely track Toyota Tundra reliability as the cars age. Others tell you how reliable the Toyota Tundra was a year ago, when the cars were a year younger and had 12,000 fewer miles on them. Only TrueDelta tells you how reliable the Toyota Tundra has been recently.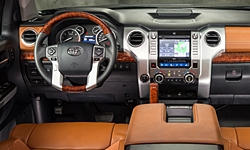 See reliability results for all
Pickups
.
See only powertrain and chassis results
Year
Make/Model
Repair Frequency

successful repair trips per 100 cars per year

Compared to all models for the same year
2012
Toyota Tundra
see reported repairs
2011
Toyota Tundra
16 Tundras, 11.4 months of data per Tundra, average 39100 miles

* Small sample size. Join or 16 Tundras, 11.4 months of data per Tundra, average 39100 miles

* Small sample size. sign in to view
see reported repairs
2010
Toyota Tundra
28 Tundras, 9.8 months of data per Tundra, average 48900 miles9

Fewest Trips Most Trips

see reported repairs
2008
Toyota Tundra
39 Tundras, 8.9 months of data per Tundra, average 75400 miles31

Fewest Trips Most Trips

see reported repairs
2007
Toyota Tundra
50 Tundras, 9.6 months of data per Tundra, average 90200 miles

Redesigned.18

Fewest Trips Most Trips

see reported repairs
2006
Toyota Tundra
19 Tundras, 8.5 months of data per Tundra, average 94900 miles

* Small sample size. Join or 19 Tundras, 8.5 months of data per Tundra, average 94900 miles

* Small sample size. sign in to view
see reported repairs
2005
Toyota Tundra
27 Tundras, 9.6 months of data per Tundra, average 88900 miles5

Fewest Trips Most Trips

see reported repairs
2003
Toyota Tundra
10 Tundras, 11.1 months of data per Tundra, average 117600 miles

* Very small sample size. Join or 10 Tundras, 11.1 months of data per Tundra, average 117600 miles

* Very small sample size. sign in to view
see reported repairs
2002
Toyota Tundra
14 Tundras, 9.3 months of data per Tundra, average 129000 miles

* Very small sample size. Join or 14 Tundras, 9.3 months of data per Tundra, average 129000 miles

* Very small sample size. sign in to view
see reported repairs
2000
Toyota Tundra
20 Tundras, 9.0 months of data per Tundra, average 121100 miles

* Small sample size. Join or 20 Tundras, 9.0 months of data per Tundra, average 121100 miles

* Small sample size. sign in to view
see reported repairs
What People Are Saying about Reliability and the Toyota Tundra
blog comments powered by Disqus
What Our Members Are Saying about the Reliability and Durability of the Toyota Tundra
Toyota Tundra Reliability and Durability: Pros
Year
Body/Powertrain
Comment
2011
4dr Crew Cab 5.5ft bed 381-horsepower 5.7L V8
6-speed shiftable automatic 4WD, part-time w/low range
No issues on the warranty
2008
4dr Crew Cab 5.5ft bed 381-horsepower 5.7L V8
6-speed automatic RWD
I put lots of miles on a truck and this one will last.
2008
4dr Extended Cab 6.5ft bed 381-horsepower 5.7L V8
6-speed automatic 4WD, part-time w/low range
cost to own and seldom in the shop other than general maintenance routine stuff such as oil, tires and brakes
2007
4dr Crew Cab 5.5ft bed 381-horsepower 5.7L V8
6-speed automatic 4WD, part-time w/low range
Truck can handle just about anything I would put it through.
2007
4dr Extended Cab 6.5ft bed 271-horsepower 4.7L V8
5-speed automatic 4WD, part-time w/low range
Toyota reputation for longevity
2007
4dr Crew Cab 5.5ft bed 381-horsepower 5.7L V8
6-speed automatic RWD
Because you know this truck will last and that feeling is priceless.
2007
4dr Extended Cab 6.5ft bed 381-horsepower 5.7L V8
6-speed automatic 4WD, part-time w/low range
You can't own a better truck for reliability or durability.
2005
2dr Regular Cab 8ft bed 282-horsepower 4.7L V8
5-speed automatic 4WD, part-time w/low range
Zero problems so far. It tows and carries a slide-in camper without complaint.
2005
4dr Extended Cab 6ft bed 282-horsepower 4.7L V8
5-speed automatic RWD
zero problems in four years.
2005
4dr Crew Cab 6ft bed 282-horsepower 4.7L V8
5-speed automatic RWD
V8 is proven reliable
Toyota Tundra Reliability and Durability: Cons
Year
Body/Powertrain
Comment
2011
4dr Extended Cab 6.5ft bed 310-horsepower 4.6L V8
6-speed shiftable automatic 4WD, part-time w/low range
Quite a few known issues and many of them costly to fix - eg air pump corrosion issues - google it!
2008
4dr Extended Cab 6.5ft bed 381-horsepower 5.7L V8
6-speed automatic 4WD, part-time w/low range
shoddy materials
2007
2dr Regular Cab 6.5ft bed 381-horsepower 5.7L V8
6-speed automatic 4WD, part-time w/low range
Tundra has been awful