Volkswagen Passat Lemon Odds and Nada Odds
Other sources of Volkswagen Passat reliability information provide only averages, which can conceal as much as they reveal. So we also report the percentage of Volkswagen Passats with no repairs at all in the past year and the percentage of Volkswagen Passats that are lemons (required three or more repair trips in the past year). These figures might surprise you.
These stats are promptly updated four times a year, to closely track Volkswagen Passat lemon odds as the cars age. Others can be over a year behind. Only TrueDelta tells you how reliable the Volkswagen Passat has been recently.
To see how frequently Volkswagen Passat problems occur, check out our car reliability stats.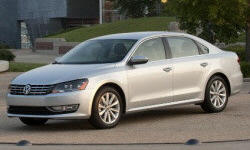 See only powertrain and chassis results
Year
Make/Model
Nada Odds per 100 Cars
Lemon Odds per 100 Cars

52 vehicles, 11.5 months per vehicle, 20200 miles driven

2013
see reported repairs
50 vehicles, 11.5 months per vehicle, 36700 miles driven2012
Volkswagen Passat
see reported repairs
39 vehicles, 11.2 months per vehicle, 69200 miles driven2008
Volkswagen Passat
see reported repairs
27 vehicles, 11.6 months per vehicle, 98100 miles driven2007
Volkswagen Passat
Join or sign in to view
see reported repairs
25 vehicles, 11.3 months per vehicle, 117000 miles driven2002
Volkswagen Passat
Join or sign in to view
see reported repairs
What Our Members Are Saying about Brand Reputation and the Volkswagen Passat
Brand Reputation of the Volkswagen Passat: Pros
Year
Body/Powertrain
Comment
2012
4dr Sedan 170-horsepower 2.5L I5
6-speed shiftable automatic FWD
Only one problem in 45000 miles - steering wheel internal issue. Well engineered and built. Excellent fuel economy 22 city 35 hwy. Lots of room; quiet, controlled ride; excellent handling. Even more impressed with this car after buying 2010 BMW 328i, also a great car. Much better than any American make, and have owned dozens of those.
2009
4dr Sedan turbocharged 140hp 2.0L I4 Diesel
6-speed manual FWD
well know mark
2006
4dr Sedan turbocharged 200hp 2.0L I4
6-speed shiftable automatic FWD
Solid brand reputation, reliable and solid feeling.
2005
4dr Sedan turbocharged 170hp 1.8L I4
5-speed manual AWD
Excellent German car, cheaper than the others, but still drive comparable
2004
4dr Wagon 270-horsepower 4.0L W8
5-speed shiftable automatic AWD
Very good, popular car.
Brand Reputation of the Volkswagen Passat: Cons
Year
Body/Powertrain
Comment
2002
4dr Wagon 190-horsepower 2.8L V6
5-speed shiftable automatic FWD
recall recall recall