BMW X3 Reliability
You won't find BMW X3 reliability information like this anywhere else. Actual repair frequencies, not just vague dots. So you can tell how much the BMW X3 truly differs from competing car models in reliability.
These stats are promptly updated four times a year, to much more closely track BMW X3 reliability as the cars age. Others tell you how reliable the BMW X3 was a year ago, when the cars were a year younger and had 12,000 fewer miles on them. Only TrueDelta tells you how reliable the BMW X3 has been recently.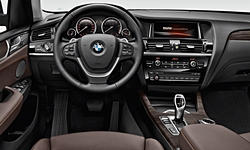 See reliability results for all
SUVs
.
See only powertrain and chassis results
Year
Make/Model
Repair Frequency

successful repair trips per 100 cars per year

Compared to all models for the same year
2014
BMW X3
see reported repairs
2013
BMW X3
28 X3s, 9.3 months of data per X3, average 20000 miles23

Fewest Trips Most Trips

see reported repairs
2012
BMW X3
18 X3s, 9.7 months of data per X3, average 26900 miles

* Small sample size. Join or 18 X3s, 9.7 months of data per X3, average 26900 miles

* Small sample size. sign in to view
see reported repairs
2011
BMW X3
28 X3s, 8.6 months of data per X3, average 32900 miles

Redesigned for this model year.25

Fewest Trips Most Trips

see reported repairs
2008
BMW X3
13 X3s, 8.2 months of data per X3, average 60700 miles

* Very small sample size. Join or 13 X3s, 8.2 months of data per X3, average 60700 miles

* Very small sample size. sign in to view
see reported repairs
2007
BMW X3
28 X3s, 9.4 months of data per X3, average 82900 miles96

Fewest Trips Most Trips

see reported repairs
2006
BMW X3
13 X3s, 9.6 months of data per X3, average 101100 miles

* Very small sample size. Join or 13 X3s, 9.6 months of data per X3, average 101100 miles

* Very small sample size. sign in to view
see reported repairs
2005
BMW X3
12 X3s, 6.2 months of data per X3, average 111900 miles

* Very small sample size. Join or 12 X3s, 6.2 months of data per X3, average 111900 miles

* Very small sample size. sign in to view
see reported repairs
2004
BMW X3
14 X3s, 6.4 months of data per X3, average 123900 miles

* Very small sample size. Join or 14 X3s, 6.4 months of data per X3, average 123900 miles

* Very small sample size. sign in to view
see reported repairs
What People Are Saying about Reliability and the BMW X3
blog comments powered by Disqus
What Our Members Are Saying about the Reliability and Durability of the BMW X3
BMW X3 Reliability and Durability: Pros
Year
Body/Powertrain
Comment
2008
4dr SUV 260-horsepower 3.0L I6
6-speed shiftable automatic AWD
Not a single issue in over three years of ownership. SA at BMW store stated X3s have much fewer problems than most other BMW vehicles.
2006
4dr SUV 225-horsepower 3.0L I6
5-speed shiftable automatic AWD
Iíve only encountered the most minor problems Ė a bad airbag sensor in a seat and a bad Sirius radio tuner. Otherwise, itís been problem-free driving for almost 30K miles.
2006
4dr SUV 225-horsepower 3.0L I6
5-speed shiftable automatic AWD
not lots of gizmos and trinkets to break - interior simple and well made - even at high mileage it looks new! switches, buttons all high quality
BMW X3 Reliability and Durability: Cons
Year
Body/Powertrain
Comment
2009
4dr SUV 260-horsepower 3.0L I6
6-speed shiftable automatic AWD
Ride qualities have necessitated two visits to the dealership along with one two-night stay in the first month of ownership. The tailgate latch has begun to stick where it will neither open or close completely.
2008
4dr SUV 260-horsepower 3.0L I6
6-speed shiftable automatic AWD
After a long trip, a downshift in the driveway from 2nd to 1st was missed accompanied by slippage and loud noises. In test drive around the neighborhood it continued. Next morning was ok. Dealer unable to find any computer log of event.
2004
4dr SUV 225-horsepower 3.0L I6
6-speed manual AWD
Frequent expensive repairs from past experiance