2002 Chrysler PT Cruiser Repair Histories
80 TrueDelta members own (or used to own) a 2002 Chrysler PT Cruiser. 35 of these members (43.8%) have reported repairs for their car. A total of 142 repairs to 2002 Chrysler PT Cruisers--an average of 1.8 per vehicle--have been reported.
See our lemon odds and nada odds page to see vehicles with no repairs or vehicles with more than three repairs. To see how frequently 2002 Chrysler PT Cruiser problems occur, check out our car reliability stats.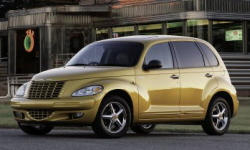 Chart based on 142 repairs.
Chart based on 82 repair trips. The repair cost chart excludes repairs made under warranty, do-it-yourself repairs, and repair trips that include maintenance.
Non-members can see only ten
2002 Chrysler PT Cruiser repair histories
.
Log in
or
join us
to see them all.
2002 Chrysler PT Cruiser 4dr Wagon
150-horsepower 2.4L I4 4-speed automatic FWD
Chrysler PT Cruiser in Ontario, Canada
Jan 2009 - Dec 2014
43400 mi
C $250
Front wheel bearing
67580
servo for cruise control
78120
lower control arm bushing, reprogramed flash memory
97340
replaced both front sway bar links
106200
growling noise from wheel bearing
117800
car would vibrate at 85 km/h to 100km/h, tire balancing and rotation did not stop problem, worn right axle CV joint found - solved the problem
Chrysler PT Cruiser in Connecticut, United States
Feb 2008 - Oct 2013
92000 mi
Faulty Starter. I would have paid to have it replaced but the dealer (my father) fixed it for me and did not charge me anything.
94000
US $325
Radiator Started to gush coolant after a slow leak was detected and not further identified.
109000
EGR solenoid control circuit malfunction, Part ordered will report price once fixed
109229
EGR solenoid control circuit malfunction, Part replaced.
110000
Timing belt broke while on the highway. Car was un-drivable. Timing belt kit was installed. Also sway bar links, front brake pads and rotors.
130000
Exhaust Manifold disconnected from the muffler.
Chrysler PT Cruiser in Alaska, United States
Mar 2002 - Apr 2010
200 mi
Faulty A/C fixed. Apparently an "O" ring was installed wrong which let the refrigerant escape.
300
Unknown component of steering system replaced. Car was gradually pulling more and more to the right. Dealer claimed there was a defective part. Car was at dealership for approximately one week (mostly waiting for parts).
600
Windshield replaced. Weather strip around glass would curl away from car when below freezing. This allowed gravel(!) to collect. Dealer asked if rear window was leaking at the time, which it was not.
1700
Approximate date and mileage. Instrument cluster replaced while trying to determine source of electrical drain that kills battery. The battery was replaced around the same time.
2200
US $100
Approximate date and mileage. Factory cruise control was added by the dealer. Required computer update. Install and performance are as if the car came with it from the factory.
2400
Approximate date and mileage. Rear left window regulator replaced due to squeeling sound while window is being lowered in warm weather. Other users reported that both rear windows do this, but the dealer wouldn't replace both because the right window was
30000
Checking in. Six years of ownership. Need to take car in for multiple warranty repairs. A/C hasn't worked for years. Strange exterior rattle from right rear wheel. Some indications of rust under paint, not that this can be fixed. (Road salt is rare in thi
36000
Bad "O" ring on high pressure inlet. Used dye in system to locate leak after two weeks of running A/C. Right rear window regulator replaced due to squeaking and creaking sounds. Still makes same noises. Rear shocks rattling like cans in a bag. Replaced and noise is mostly corrected.
36000
What was thought to be rattling shocks during previous warranty repair turned out to be rattling rear brake pads. Replaced pads and cheap, warped rotors. Finally smooth stopping and no rattling. Did the repair myself...out of warranty.
42000
Replaced MAP sensor. Original sensor had been failing, causing engine to surge when warm.
Chrysler PT Cruiser in Texas, United States
Dec 2008 - Jul 2010
147000 mi
Electric fan motor not working -- checked and is burned out. Also had to have plug reattached under car. Connector is broken -- original connector, 6 years old.
167000
US $300
cooling fan had to be replaced. $150 labor plus parts
173000
new cooling fan failed and had to be replaced. Fan was covered under the LLR warranty from Advance Auto Parts, but had to get replacement from NAPA in DFW area. Labor may have been covered, but too complicated to file for it.
Chrysler PT Cruiser in Ontario, Canada
Feb 2008 - Jun 2011
51460 mi
C $60
Front electric windows intermittently not working; replaced with part from junkyard.
57660
Clunk from front suspension; 1 lower ball joint plus front shocks replaced.
Chrysler PT Cruiser in Nova Scotia, Canada
Feb 2008 - Mar 2010
90520 mi
C $1100
Dealer diagnosed catalytic converter failure. Would not cover under emmissions warranty (over milage) Dealer price was way too high, so I took it to an independent mechanic. Replaced the catalytic converter and had a performance cat-back exhaust system installed for the same price the Dealer wanted to replace just the catalytic converter.
97340
Transmission completely blown, got it rebuilt from scratch. Engine mount replaced and sepertine belt Front control arm bushings replaced.
Chrysler PT Cruiser in Alabama, United States
Feb 2008 - Dec 2014
88000 mi
US $1200
Timing belt broke while exiting the interstate. No other damage was reported. Timing belt, idler pully, tensioner, and tensioner arm were replaced. The idler pully, tensioner and tensioner arm were replaced as routine maintenance.
120000
TCM was defective and replaced. Dealer had to do it since it had to be programmed for the vehicle.
132000
Replaced radiator fan. Bought the housing and fan assembly. The high speed part of the fan quit working causing the car to overheat when sitting idle. Problem was resolved by replacing the radiator fan.
139000
Upper torque strut was completely broken. The owner ordered a new one and replaced it. Believe that this also caused the exhaust manifold to crack. It was also replaced.
146300
Power steering high pressure line o-ring failed. Owner also found a stabalizer bar bushing had failed and was also replaced. The work was done at a local shop.
147000
Scrubbing sound coming from rear driver side wheel. The self adjuster for the drum brake broke and the spring was scraping the drum. New self adjuster kit was installed by a local shop.
165300
Shift cable broke, the sleeve closest to the cable. Moisture might have gotten in and caused it to rust or gunk up. Increasingly hard to shift, then stuck. Also noticed that both upper and lower motor mounts were broken again.
168000
The PCM went out. Car died while driving it, and it would not start. I thought the timing belt had broken, but it was fine. The computer was around $700 and the labor to program and install the computer was around $300.
170000
Tensioner Pulley seized up and the serpentine belt broke because of it.
Chrysler PT Cruiser in Wisconsin, United States
Feb 2008 - Jun 2009
62000 mi
US $178
Lower right ball joint worn.
63000
Right front sway bar bushings replaced and right front wheel bearing(s) replaced.
66000
Spark plugs replaced / Throttle body cleaned
Chrysler PT Cruiser in Michigan, United States
Feb 2006 - Sep 2011
52237 mi
US $509
Replaced all four chrome alloy wheels because corrosion around the valve stems caused them to lose 5-7 PSI per day. Chrysler picked up half of the tab.
53186
Torque converter fails, taking the transmission pump with it.
61427
Front calipers (because pads very unevenly worn). Front control arm bushings.
69000
Front left wheel bearing replaced. Horn was not working. Replaced horn. Transmission solenoid pack was leaking fluid, had to be replaced. After returning from the previous repair trip, the suspension was making a loud popping noise around turns, which continued to get worse. Shop found loose bolt in suspenion, supposedly unrelated to wheel bearing repair.
71000
Replaced radiator cap because seal not working, and coolant low. Right front wheel bearing replaced.
71722
Recharged A/C.
75000
Warning light came on again, indicating coolant was sometimes low. Shop found small crack in thermostat housing, replaced housing and (as preventative maintenance) the thermostat. The thermostat is difficult to access; most of the cost was for labor.
79139
Replaced both outer tie-rod ends. A/C not blowing cold. No freon. Shop charged with freon, with dye. Will take it back later to locate leak.
84000
Pads and rotors, all four wheels.
88821
One front stabilizer bar link broken, other one badly bent. Replaced links on both sides.
92000
Horn replaced for the second time. Recharged AC. Included dye to identify leak. Wheels replaced three years ago have corroded like those before them. Shop cleaned up corrosion, which slowed but did not stop air leaks around the tire bead.
93000
A/C hose assembly leaking, replaced. Part fairly expensive because only OEM available.
93000
A/C not working again. Compressor not coming on. Found corroded limit switch and cleaned it. Also recharged freon.
2002 Chrysler PT Cruiser 4-door
4-cylinder manual 2WD
Chrysler PT Cruiser in Great Britain
Feb 2008 - Jun 2011
74000 mi
£250
Track rod end on the steering rack badly worn Bushes on the front suspension wishbones badly worn and were "knocking" Have replaced all the bushes on the car with polyurethane upgrades
78000
Both rear shock absorbers had failed, leaking fluid badly and offered no resistance to shocks at all. Replaced with new gas ones
89000
Ball joint on the front suspension wishbone had failed, replaced with a new one