Ford Fusion Lemon Odds and Nada Odds
Other sources of Ford Fusion reliability information provide only averages, which can conceal as much as they reveal. So we also report the percentage of Ford Fusions with no repairs at all in the past year and the percentage of Ford Fusions that are lemons (required three or more repair trips in the past year). These figures might surprise you.
These stats are promptly updated four times a year, to closely track Ford Fusion lemon odds as the cars age. Others can be over a year behind. Only TrueDelta tells you how reliable the Ford Fusion has been recently.
To see how frequently Ford Fusion problems occur, check out our car reliability stats.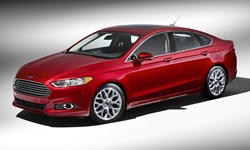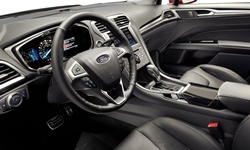 See only powertrain and chassis results
Year
Make/Model
Nada Odds per 100 Cars
Lemon Odds per 100 Cars

61 vehicles, 11.3 months per vehicle, 17000 miles driven

2013
see reported repairs
47 vehicles, 11.4 months per vehicle, 24300 miles driven2012
Ford Fusion
see reported repairs
39 vehicles, 11.3 months per vehicle, 45000 miles driven2011
Ford Fusion
see reported repairs
85 vehicles, 11.5 months per vehicle, 61100 miles driven2010
Ford Fusion
see reported repairs
39 vehicles, 11.4 months per vehicle, 74400 miles driven2008
Ford Fusion
see reported repairs
37 vehicles, 11.1 months per vehicle, 101000 miles driven2007
Ford Fusion
see reported repairs
32 vehicles, 11.5 months per vehicle, 105600 miles driven2006
Ford Fusion
Join or sign in to view
see reported repairs
What Our Members Are Saying about Brand Reputation and the Ford Fusion
Brand Reputation of the Ford Fusion: Pros
Year
Body/Powertrain
Comment
2010
4dr Sedan 156-horsepower 2.5L I4 Hybrid
CVT FWD
I have purchased Fords for most of my 45 yrs of driving and have always marveled by their reliablity. I never get rid of a car with under 100K miles and the Fords I have owned have never had any major problems in this range.
2007
4dr Sedan 221-horsepower 3.0L V6
6-speed automatic FWD
Their working on it .
Brand Reputation of the Ford Fusion: Cons
Year
Body/Powertrain
Comment
2010
4dr Sedan 175-horsepower 2.5L I4
6-speed manual FWD
worried about long term reliability
2008
4dr Sedan 160-horsepower 2.3L I4
5-speed automatic FWD
Not "Fusion" but, "Ford". Most of the time when I tell people what I drive, they cringe, make jokes, or both.
2007
4dr Sedan 160-horsepower 2.3L I4
5-speed manual FWD
I bought it because it shares a lot with mazda6, else i would never considered it