Honda Civic Reliability
You won't find Honda Civic reliability information like this anywhere else. Actual repair frequencies, not just vague dots. So you can tell how much the Honda Civic truly differs from competing car models in reliability.
These stats are promptly updated four times a year, to much more closely track Honda Civic reliability as the cars age. Others tell you how reliable the Honda Civic was a year ago, when the cars were a year younger and had 12,000 fewer miles on them. Only TrueDelta tells you how reliable the Honda Civic has been recently.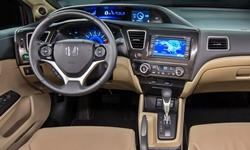 See only powertrain and chassis results
Year
Make/Model
Repair Frequency

successful repair trips per 100 cars per year

Compared to all models for the same year
2013
Honda Civic

47 Civics, 9.0 months of data per Civic, average 6700 miles

14

Fewest Trips

Most Trips

see reported repairs
2012
Honda Civic
81 Civics, 9.6 months of data per Civic, average 26500 miles

Redesigned for this model year.12

Fewest Trips

Most Trips

see reported repairs
2011
Honda Civic
see reported repairs
2010
Honda Civic
40 Civics, 9.0 months of data per Civic, average 43300 miles13

Fewest Trips Most Trips

see reported repairs
2009
Honda Civic
64 Civics, 8.8 months of data per Civic, average 56000 miles11

Fewest Trips Most Trips

see reported repairs
2008
Honda Civic
87 Civics, 8.7 months of data per Civic, average 77300 miles32

Fewest Trips Most Trips

see reported repairs
2007
Honda Civic
70 Civics, 9.3 months of data per Civic, average 88200 miles42

Fewest Trips Most Trips

see reported repairs
2006
Honda Civic
67 Civics, 8.8 months of data per Civic, average 110100 miles

Redesigned for this model year.47

Fewest Trips Most Trips

see reported repairs
2005
Honda Civic
29 Civics, 8.7 months of data per Civic, average 102200 miles33

Fewest Trips Most Trips

see reported repairs
2004
Honda Civic
43 Civics, 8.7 months of data per Civic, average 133500 miles45

Fewest Trips Most Trips

see reported repairs
2003
Honda Civic
43 Civics, 7.0 months of data per Civic, average 124500 miles51

Fewest Trips Most Trips

see reported repairs
2002
Honda Civic
48 Civics, 8.3 months of data per Civic, average 138300 miles69

Fewest Trips Most Trips

see reported repairs
2001
Honda Civic
32 Civics, 8.9 months of data per Civic, average 159400 miles

Redesigned for this model year.76

Fewest Trips Most Trips

see reported repairs
2000
Honda Civic
28 Civics, 8.6 months of data per Civic, average 136500 miles50

Fewest Trips Most Trips

see reported repairs
1999
Honda Civic
25 Civics, 7.9 months of data per Civic, average 163200 miles55

Fewest Trips Most Trips

see reported repairs
What People Are Saying about Reliability and the Honda Civic
blog comments powered by Disqus
What Our Members Are Saying about Honda Civic Reliability and Durability
Reliability and Durability of the Honda Civic: Pros
Year
Body/Powertrain
Comment
2011
4dr Sedan 197-horsepower 2.0L I4
6-speed manual FWD
This is my fourth Civic and they have proven reliability.
2011
4dr Sedan 140-horsepower 1.8L I4
5-speed automatic FWD
no problems
2010
2dr Coupe 140-horsepower 1.8L I4
5-speed automatic FWD
bulletproof reliability
2009
4dr Sedan 140-horsepower 1.8L I4
5-speed automatic FWD
Remains to be seen. Bought on basis of good reputation for this car.
2009
4dr Sedan 140-horsepower 1.8L I4
5-speed automatic FWD
excellent
2008
4dr Sedan 140-horsepower 1.8L I4
5-speed manual FWD
There are many good cars in this regard, but Honda is again one of the leaders, as well as having the least expensive parts for maintenance and repair, according to a CAA Survey a couple of years ago.
2008
4dr Sedan 140-horsepower 1.8L I4
5-speed automatic FWD
I have put over 33,000 miles on it in the last 15 months, no maintenance beyond oil/filter changes & a set of new tires.
2008
4dr Sedan 140-horsepower 1.8L I4
5-speed automatic FWD
They have a well-deserved excellent reputation. I had one several years ago and it just kept going. Sold it with 134k with the original clutch. Replaced the water pump, a dash switch, and the horn in eleven years.
2008
4dr Sedan 110-horsepower 1.3L I4 Hybrid
CVT FWD
does what it is supposed to do
2008
2dr Coupe 197-horsepower 2.0L I4
6-speed manual FWD
It is a low maintenance, low cost to own, and long lasting small vehicle that can be driven "worry free".
Reliability and Durability of the Honda Civic: Cons
Year
Body/Powertrain
Comment
2008
4dr Sedan 197-horsepower 2.0L I4
6-speed manual FWD
clutch should not go out in 9k miles
2007
4dr Sedan 197-horsepower 2.0L I4
6-speed manual FWD
little things go wrong
2007
4dr Sedan 140-horsepower 1.8L I4
5-speed automatic FWD
Had an oil leak at 27,000 miles that required warranty work. It was a known problem. On returning home I found the engine grounding strap had not been reattached.
2007
2dr Coupe 197-horsepower 2.0L I4
6-speed manual FWD
Came off the lot with many rattles and squeaks. Had to have both rear bearings replaced and had a third gear issue. Had to have transmission rebuilt to repair 3rd gear.
2006
2dr Coupe 140-horsepower 1.8L I4
5-speed manual FWD
Major rear suspension problems that Honda refused to correct under Warranty. Definately my last Honda. I had to replace the rear control arms out of my own pocket