Hyundai Santa Fe Lemon Odds and Nada Odds
Other sources of Hyundai Santa Fe reliability information provide only averages, which can conceal as much as they reveal. So we also report the percentage of Hyundai Santa Fes with no repairs at all in the past year and the percentage of Hyundai Santa Fes that are lemons (required three or more repair trips in the past year). These figures might surprise you.
These stats are promptly updated four times a year, to closely track Hyundai Santa Fe lemon odds as the cars age. Others can be over a year behind. Only TrueDelta tells you how reliable the Hyundai Santa Fe has been recently.
To see how frequently Hyundai Santa Fe problems occur, check out our car reliability stats.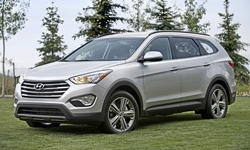 See only powertrain and chassis results
What Our Members Are Saying about Brand Reputation and the Hyundai Santa Fe
Brand Reputation of the Hyundai Santa Fe: Pros
Year
Body/Powertrain
Comment
2013
4dr SUV 290-horsepower 3.3L V6
6-speed shiftable automatic AWD
This vehicle is another example of how and why Hyundai is progressively grabbing more of the market share of vehicles out there. If I had enough room in my driveway I would have purchases this vehicle; even though I'm not a fan of CUV's or SUV's; I was really that impressed with it...and of course, with the mile I had, as well as others put on it, they would have to sell it USED!!!
2012
4dr SUV turbocharged 194hp 2.2L I4 Diesel
6-speed manual AWD
I don't give a damn how it looks so long as it goes, and it goes reasonably quietly, The audio is 'quite good'- I've been told by a friend - shame really as I've probably used it a dozen or so times. The cruise control is superb for the hundreds of miles of UK 50 mph motorway limits.
2007
4dr SUV 242-horsepower 3.3L V6
5-speed shiftable automatic FWD
I previously owned a Hyundai. I donated it to our chuch after driving it for 114,000 miles. It got some very minor repairs and ran for another 50,000 that I know of. It may still be on the road.
2007
4dr SUV turbocharged 148hp 2.2L I4 Diesel
5-speed shiftable automatic AWD
I still have my old 2002 Hyundai Accent. Never had any big problems with it.
2007
4dr SUV 185-horsepower 2.7L V6
4-speed shiftable automatic FWD
2nd Hyunday had great luck with first.
2005
4dr SUV 200-horsepower 3.5L V6
5-speed shiftable automatic AWD
I also own a 2004 Sonata and was impressed with its reliability.
Brand Reputation of the Hyundai Santa Fe: Cons
Year
Body/Powertrain
Comment
2013
4dr SUV 290-horsepower 3.3L V6
6-speed shiftable automatic AWD
There is nothing I DON'T like about this vehicle. What I least like is how people still have a stigma about the Hyundai brand when they've never taken the time to test drive one. Hyundai's have the best customer satisfaction as well as repeat customer "index" of all the brands out there and for good reason.
2010
4dr SUV 175-horsepower 2.4L I4
6-speed shiftable automatic FWD
DON'T BELIEVE they are different - a STARTER failing at 62000 miles - a JOKE. The PRICE for a Starter at the Hyundai dealer - a JOKE.
2008
4dr SUV 185-horsepower 2.7L V6
4-speed shiftable automatic FWD
Quick depreciation; still known as a "Korean" company that is behind Japan, Europe and USA in quality though reputation and word of mouth improving in past few years and part of the reasons why I purchased the Santa Fe