2007 Jeep Patriot Repair Histories
75 TrueDelta members own (or used to own) a 2007 Jeep Patriot. 33 of these members (44%) have reported repairs for their car. A total of 130 repairs to 2007 Jeep Patriots--an average of 1.7 per vehicle--have been reported.
See our lemon odds and nada odds page to see vehicles with no repairs or vehicles with more than three repairs. To see how frequently 2007 Jeep Patriot problems occur, check out our car reliability stats.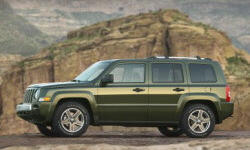 Select a problem area
Need advice about a specific car problem?
Chart based on 130 repairs.
Chart based on 50 repair trips. The repair cost chart excludes repairs made under warranty, do-it-yourself repairs, and repair trips that include maintenance.
2007 Jeep Patriot 4dr SUV
172-horsepower 2.4L I4 CVT FWD
Jeep Patriot in Ontario, Canada
Apr 2007 - May 2011
620 mi
Engine check light came on; error code P0741. Told by shop mgr. it was false alarm, system reset. Engine light came on again after picking up vehicle. Went right back to dealer and dropped off. P0741 -Bad sensor-circuit board replaced this time. Due to this and bad repaint job service mgr. retired rather than get fired - this was the last half-ass "re
22940
Replaced both front end Lower Control Arms and Outer Tierods - Ball Joints were loose.
24180
Small leak in heavy rains at grommet where rear window washer hose comes out of car body. Silicone applied around grommet for second time; this repair lasts for about 2 years max before new silicone sealant is required. Rear dome light damaged from leak - part needed to be replaced - done under extended warranty
2007 Jeep Patriot 4dr SUV
172-horsepower 2.4L I4 CVT AWD w/low range
Jeep Patriot in Oregon, United States
Oct 2007 - Mar 2010
6000 mi
The Electronic Throttle Control ("ETC") warning light came on after driving continuously for 225 miles. No noticeable effect on driving. Shut off the engine for 5 minutes, restarted it, light did not come back on. Took it to the dealership's service depar
Jeep Patriot in California, United States
Jul 2007 - Mar 2015
6000 mi
Couldn't calibrate the compass to the correct zone. Turns out it wasn't recognizing the car in park (a requirement to set the settings) unless you removed the key and reinserted it and turned on the ignition, which apparently 'reset' it. Zone is now set f The vehicle squeaks in the front end area when going over bumps. Started doing so at about 2000 miles. Service guy says that's "normal." Online forum shows that other owners of the 4x4 off-road package have same issue: may be related to the particular sho
23000
The steering is making a clunking noise, and it feels strange. I suspect the rack and pinion. The mechanic said he couldn't replicate it, it operates as normal :( Exterior door bumpguard warped, needed replacement. A stud on one of the wheels had apparently broke off. They replaced it - nice, since they could have made an argument that it was due to abuse or something. :)
24000
I asked service consultant to take a drive in my Patriot to hear the steering noise. He said it is only the turn signal reset switches making some clicking. I asked if they can stop it and he basically said no.
35000
Ticking sound from steering column. Mechanic first said he couldn't hear it - he later admitted he has a hearing problem from all the shop equipment ( duh..). They said they can't fix it, that it's mechanically fine.
39000
US $394
Water leaked into cab from map lights. Dealer said it was bad seal on sunroof, so much water it couldn't drain away fast enough. Replaced seal. Could have been there entire time, cause it hardly ever rains here.
61700
Sunroof leaking. Did last year, had it repaired but it started leaking again. The checked it out for free during 60k service, said they found some blockage of drain canals. We will see.
70000
nav-radio display gone nuts. Radio still works, just corrupted display, unreadable. Dealer says they don't repair, just replace (for over $2000). Looking for repair shop.
88000
Could not remove key. Mechanic determined that the key itself was worn out. Had to replace it and its remote at the same time, as they are integrated.
96000
Replaced two broken motor mounts.
104000
Strange, intermittent knocking sound in engine compartment/front suspension when accelerating from dead stop. Technician could not hear problem consistently enough to isolate, suggested I return later in day when problem's louder.
105000
Odd clicking/rattling noise when accelerating from stop, disappears above about 15mph. Unknown exactly what is causing it.
117000
Bad tie rods, resulting in very strange and prominent knocks and squeaks. Engine mount was bad. Replaced.
131500
Jeep had stalled twice. Was also getting an unusual Tire Pressure Monitoring System error. Dealer found battery was barely working. Replaced. This is the third battery in 5.5 years.
138000
Rack and pinion replacement due to seals going bad and leaking.
145000
Replaced both steering wheel radio controls.
150000
Fuel system Replaced battery two months ago: this is fifth battery in vehicle in little over six years. Had mechanic look for any issues; he said alternator is pumping correct voltage.
154000
Transmission and engine mounts Bearing was going out.
175000
Three engine mounts replaced.
2007 Jeep Patriot 4dr SUV
172-horsepower 2.4L I4 CVT AWD
Jeep Patriot in Pennsylvania, United States
May 2007 - Mar 2015
10000 mi
Water infiltration through rear dome light. Dealer examined vehicle and determined that water was leaking past Sirius satellite radio antenna. Removed and resealed. Problem has not returned.
15000
Rear dome light water leak returned a few months after initial repair. Dealership attempted another repair -- appears to be more effective than previous one.
49000
US $65
Rear brake rotor scored due to worn out pad. Replaced both sets of pads, right rear rotor.
51000
Lower front ball joints were severely worn. I contact Chrysler customer service for partial coverage of repair due to manufacturing defect. Chrysler authorized goodwill assistance with repair. Lubricated caliper sliders and replaced front brake pads.
72000
Rear left window was repeatedly raised and lowered during freezing temperatures. This action damaged the window regulator. Dealer replaced regulator and performed inspection for lifetimie powertrain warranty contract.
75000
Stock exhaust replaced, cat-back.
Jeep Patriot in Pennsylvania, United States
Apr 2007 - Mar 2010
4000 mi
Turn off the horn on lock since the instructions in the owners manual do not work.
5867
Reprogram PCM for a sluggishness from a stop.
2007 Jeep Patriot 4dr SUV
172-horsepower 2.4L I4 5-speed manual FWD
Jeep Patriot in North Carolina, United States
Apr 2007 - Mar 2010
10000 mi
Gear shifter does not seat all the way into 3rd and 4th gears randomly. Because it does not seat into gear fully the gears grind when the clutch is let out and then the shifter falls back to the nuetral position. Dealer believes there is a problem but Rear lift gate wasn't flush with the left rear body panel when shut. Dealer made adjustment - looks good.
2007 Jeep Patriot 4dr SUV
172-horsepower 2.4L I4 5-speed manual AWD
Jeep Patriot in British Columbia, Canada
Mar 2008 - Mar 2015
15500 mi
Clutch pedal had persistent squeak. Covered by warranty and TSB. Needed only lithium grease.
16740
Fuel cap light would not go off. Repeated shutoff & flashing did not fix it. Replace of computer module did not fix it either. A corroded wire in the fender was at fault.
60120
C $300
CV joints needed replacement.
66180
Brake work on all 4 brakes: rorors, etc.
68820
Replaced leaking seals.
70060
Ball joints were worn.
Jeep Patriot in Pennsylvania, United States
Apr 2007 - Mar 2010
12000 mi
All brake lights were not working - a wire that was not secured properly upon assembly within the steering column has worked loose and disconnected.
2007 Jeep Patriot 4-door
4-cylinder manual 2WD
Jeep in Texas, United States
Apr 2007 - Mar 2010
3000 mi
Car stalled & wouldn't stay running for more than 5 seconds on subsequest starts. No codes set. Dealer could not duplicate. Possibly related to immobilzer reader located in the steering column or the throttle body. We have to wait for it to happen again.
22000
US $10
Replaced failing/weak horn with more powerful air horns.
23000
Defective 6x9 speakers Window motor.
2007 Jeep Patriot 4-door
4-cylinder CVT AWD
Jeep in Ontario, Canada
Apr 2007 - Mar 2010
1860 mi
Satellite radio did not work properly. No sound out of right speakers. Replaced radio which did not fix problem.
3720
Try to fix satellite radio, sound out of one side only
4340
Ordered again.
5580
Fixed radio (after five repair trips)
15500
Trim damage