2007 Kia Rondo Repair Histories
91 TrueDelta members own (or used to own) a 2007 Kia Rondo. 46 of these members (50.5%) have reported repairs for their car. A total of 138 repairs to 2007 Kia Rondos--an average of 1.5 per vehicle--have been reported.
See our lemon odds and nada odds page to see vehicles with no repairs or vehicles with more than three repairs. To see how frequently 2007 Kia Rondo problems occur, check out our car reliability stats.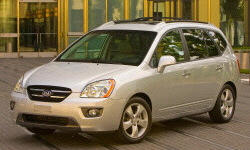 Chart based on 138 repairs.
Chart based on 48 repair trips. The repair cost chart excludes repairs made under warranty, do-it-yourself repairs, and repair trips that include maintenance.
2007 Kia Rondo
Engine not specified
Kia Rondo in Florida, United States
Oct 2007 - Mar 2010
3000 mi
somehow leaves made their way under the hood and settled near ac vents so we were getting a bad smell everytime we put the a/c on.They cleaned out the leaves and sprayed sanitizer in the area, never has happened to any of my other vehicled seems like the
2007 Kia Rondo 4dr Wagon
182-horsepower 2.7L V6 5-speed shiftable automatic FWD
Kia Rondo in Maryland, United States
Feb 2008 - Dec 2014
3000 mi
We had an initial problem with the Rondo of warped brake rotors and bad wheel alignment. A trip to the dealer fixed both. Dealer said there was a TSB or recall for the issue.
23000
US $190
Wheels needed aligning again. Cloth seats needed shampooing. Seats stain when anything, including water, is spilled on them. Brakes groan on take-off from dead stop, but no cause could be found.
33000
Check engine light came on after I noticed lots of smoke from the exhaust at start-up. Bad O2 sensor was diagnosed. Dealer had to order part, as there are 4 O2 sensors on this car, and no dealer in the area had the right one in stock. Waited a week.
59000
Sensor in Emissions system went bad. Replaced by dealer under warranty. Front brakes shuddered when stopping. Front pads were replaced (first time) and front rotors were turned.
134000
Car hesitates off-load on low-grade roads. Dealer thought it was coil-related, but did not repair due to lack of engine code and # of coils. Check engine finally came on and dealer got a code not related to coils. Did trans work, didnt help
160000
A/C stopped blowing cold air
Kia Rondo in Florida, United States
Aug 2007 - Nov 2010
14000 mi
Noise coming from air conditioning system and heard at idle. Diagnosed in January as compressor AC Dick and Hub. 3 hours in for warranty repairs. Noise returned within a week. Diagnosis is full AC compressor needs replacing. Parts on order. Will be fixed
17000
Returned to dealer at scheduled appointment in February to replace the compressor. Problem of noise fixed with new part. Appointment took 2 1/2 hours including paperwork.
23000
Passenger mirror cover broke while being used. One end of cover that makes the light come on broke. A whole new visor with lighted mirror was ordered and replaced the broken mirror during the second trip. Took two days for the part to come in. Less than one hour to replace visor.
29000
Second broken mirror mount on different side than first repair. Also fixed under warranty.
29000
Engine light came on. Auto zone read computer saying bad 02 sensor. Called and made appointment for 7 May. Took it to main KIA dealer and they diagnosed it as being a different sensor (not 02) that had a TSB on it that when replaced, the engine...
38000
When coming to a stop and tach reaches 900 rpm's, the engine revs up to about 1100 rpm's and car jerks forward and makes a clunking sound. That same clunking sound is heard while driving along, leave off the gas pedal and then apply more gas.
42000
US $35
Engine revs, car jerks forward and makes a clunking sound. That same clunking sound is heard while driving along, leave off the gas pedal and car jerks forward and makes a clunking sound. That same clunking sound is heard while driving along, leave off th Small light inside headlight housing. Owner couldn't see how to replace. Handle to lift/lower seat became very hard to move. Dealer found broken part, replaced and all is well.
42700
Black plastic cladding under engine found by mechanic half torn off. Ordered new part and put it on the next time I stopped in.
2007 Kia Rondo 4dr Wagon
162-horsepower 2.4L I4 4-speed shiftable automatic FWD
Kia Rondo in Pennsylvania, United States
May 2008 - Jun 2011
14000 mi
The emergency brake light would not activate if the brake was left on.
22000
Car shakes when stopping. Solution was to rotate tires Still shakes on braking.
36000
US $200
Pulsating brakes. Brakes replaced and Rotors shaved
Kia Rondo in Texas, United States
Aug 2007 - Oct 2013
20000 mi
Airbag light came on and stays lit. Parts have been ordered. Waiting for call from dealership.
21000
Everything was fixed same day car was taken in once new parts had arrived. Have not had any problems since.
60000
A/C controls were going haywire when on, a/c control panel was replaced under warranty.
Kia Rondo in Missouri, United States
Jan 2008 - Dec 2014
27000 mi
US $40
Emergency brake adjustment
67000
Headlight
83000
Headlight, parking light, side marker light replaced
95000
More marker lights and one parking light in front. Every bulb in the front of the cars has now been replaced. Designed to last exactly 5 years? One license plate light ordered in April, still not received and installed on 5/15/2012. Brake pads replaced, parking brake finally fixed. Original dealer could not seem to repair the parking brakes due to ____ ? Stupidity?
107000
Window regulator lift cable snapped. 4 trips needed for repair. First trip was diagnosis and part ordered. Second trip had regulator for the wrong door, 3rd trip still didn't have the right part, 4 trip finally fixed.
130300
Seat belt latch for driver's seat belt failed. I tried lubricating it in case it was just sticky and that didn't work. $175.00 for the part $110 for the labor. Came to over $325 with replacement of a license plate light, taxes. Starter connection loose. I didn't have tools handy so had to tow to the dealer.
Kia Rondo in Alberta, Canada
Aug 2007 - Dec 2014
2480 mi
diagnose problem with DVD player.
2542
Replaced faulty DVD player. Chamfered brake pads to stop brake squeel.
31300
Problem; noise from suspension on uneven road. Solution; replace worn sway bar links on front. Problem; drivers interior door panel armrest was cracked. Solution; Replace drivers door panel.
Kia Rondo in New Brunswick, Canada
Aug 2007 - Mar 2010
2480 mi
Vehicle was delivered with faulty radiator cap. Had taken the car in 5 weeks earlier as we could smell coolant - was pressure tested OK with no charge, but smell persisted until repaired this trip.
3100
Car failed to start intermittently. Dealer reprogrammed the keys to the interlock system. Reprogramming the keys did not work. Car failed to start several times over week following first visit. Returned with appointment. Dealer wanted to give me a new key only! Spoke to manager and demanded a new ignition interrupt/interlock unit. Part on
4340
Replaced entire engine immobilizer unit and antenna.
2007 Kia Rondo 4-door
6-cylinder automatic 2WD
Kia Rondo in North Carolina, United States
Dec 2007 - Mar 2010
6000 mi
Consistent pull to the right - camber not adjustable
2007 Kia Rondo 4-door
4-cylinder automatic 2WD
Kia Rondo in Florida, United States
Mar 2008 - Jun 2011
Kia Rondo computer stopped working at stop light. Dealer overnighted part from California. No problem since.