Mini Hardtop Reliability
You won't find Mini Hardtop reliability information like this anywhere else. Actual repair frequencies, not just vague dots. So you can tell how much the Mini Hardtop truly differs from competing car models in reliability.
These stats are promptly updated four times a year, to much more closely track Mini Hardtop reliability as the cars age. Others tell you how reliable the Mini Hardtop was a year ago, when the cars were a year younger and had 12,000 fewer miles on them. Only TrueDelta tells you how reliable the Mini Hardtop has been recently.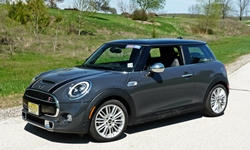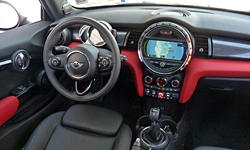 See only powertrain and chassis results
Year
Make/Model
Repair Frequency

successful repair trips per 100 cars per year

Compared to all models for the same year
2013
Mini Hardtop

42 Hardtops, 9.6 months of data per Hardtop, average 9500 miles

6

Fewest Trips

Most Trips

see reported repairs
2012
Mini Hardtop
28 Hardtops, 7.8 months of data per Hardtop, average 17100 miles

Common problem with thermostat / temperature sensor. Past model years had the same common problem over a year ago, so they're no longer reflected in the stats for those years.72

Fewest Trips

Most Trips

see reported repairs
2011
Mini Hardtop

41 Hardtops, 8.7 months of data per Hardtop, average 31600 miles

37

Fewest Trips

Most Trips

see reported repairs
2010
Mini Hardtop

33 Hardtops, 10.1 months of data per Hardtop, average 41700 miles

58

Fewest Trips

Most Trips

see reported repairs
2009
Mini Hardtop

42 Hardtops, 9.1 months of data per Hardtop, average 48600 miles

47

Fewest Trips

Most Trips

see reported repairs
2008
Mini Hardtop

28 Hardtops, 9.1 months of data per Hardtop, average 53200 miles

52

Fewest Trips

Most Trips

see reported repairs
2007
Mini Hardtop
see reported repairs
2006
Mini Hardtop
32 Hardtops, 8.4 months of data per Hardtop, average 72900 miles80

Fewest Trips Most Trips

see reported repairs
2005
Mini Hardtop
26 Hardtops, 9.9 months of data per Hardtop, average 81600 miles65

Fewest Trips Most Trips

see reported repairs
2004
Mini Hardtop
13 Hardtops, 7.8 months of data per Hardtop, average 105600 miles

* Very small sample size. Join or 13 Hardtops, 7.8 months of data per Hardtop, average 105600 miles

* Very small sample size. sign in to view
see reported repairs
2003
Mini Hardtop
25 Hardtops, 8.2 months of data per Hardtop, average 91200 miles

Includes 2002s (spring intro).82

Fewest Trips Most Trips

see reported repairs
What People Are Saying about Reliability and the Mini Hardtop
blog comments powered by Disqus
What Our Members Are Saying about Mini Hardtop Reliability and Durability
Reliability and Durability of the Mini Hardtop: Pros
Year
Body/Powertrain
Comment
2006
2dr Hatch supercharged 168hp 1.6L I4
6-speed manual FWD
3.5 years of ownership, only serious problem was a leaking thermostat housing, apparently a common defect on this vehicle. Covered under warranty. Full brake and rotor job was just performed with only 35K miles, that is my only complaint.
2005
2dr Hatch supercharged 168hp 1.6L I4
6-speed manual FWD
After the inital problems when I picked up my car, the car has been nearly bullet proof. Only routine maintenance.
2003
2dr Hatch supercharged 163hp 1.6L I4
6-speed manual FWD
So far (6 years) it has been pretty good and better than most of my other vehicles.
Reliability and Durability of the Mini Hardtop: Cons
Year
Body/Powertrain
Comment
2011
2dr Hatch turbocharged 181hp 1.6L I4
6-speed manual FWD
In two years of driving, I have not experienced any mechanical breakdowns with my MINI. Even then, I still have reservations regarding its reliability. So far, there have been two recalls on this particular year and model, one involving a failure that could result in a fire! In addition, an intermittent problem with the low oil pressure sensor and an unexplained check engine illumination has caused me to loose sleep at one point. While these have all been fixed under warranty, I worry about the out-of-pocket cost of maintaining this baby.
2009
2dr Hatch turbocharged 172hp 1.6L I4
6-speed manual FWD
60k miles and I'm looking for a new car. Love the car but it can't go woot constant repairs. 2 timing chain repairs fuel pressure pump, carbon buildup, clutch replacement, nav DVD drive.
2007
2dr Hatch turbocharged 172hp 1.6L I4
6-speed shiftable automatic FWD
Have had the car for 4 months and it has spent 3 weeks in the shop. 3 warning lights, a fog light, intermittent whippers not working, etc. Way to many issues for a new car and the service is only average at best.
2005
2dr Hatch 115-horsepower 1.6L I4
5-speed manual FWD
Too many repairs, dealer WAY too expensive.
2005
2dr Hatch supercharged 168hp 1.6L I4
6-speed manual FWD
Reliability and durability , especially during the first couple of years was spotty. A number of transmission and motor problems were experienced. 2005 models and later appear to have the vast majority of these bugs worked out.
2002
2dr Hatch supercharged 163hp 1.6L I4
6-speed manual FWD
over $2000 in repairs in 2 years, 20K miles