2004 Mazda MPV Repair Histories
72 TrueDelta members own (or used to own) a 2004 Mazda MPV. 30 of these members (41.7%) have reported repairs for their car. A total of 135 repairs to 2004 Mazda MPVs--an average of 1.9 per vehicle--have been reported.
See our lemon odds and nada odds page to see vehicles with no repairs or vehicles with more than three repairs. To see how frequently 2004 Mazda MPV problems occur, check out our car reliability stats.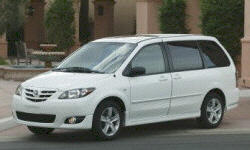 Select a problem area
Need advice about a specific car problem?
Chart based on 135 repairs.
Chart based on 77 repair trips. The repair cost chart excludes repairs made under warranty, do-it-yourself repairs, and repair trips that include maintenance.
2004 Mazda MPV
Engine not specified
Mazda MPV in Great Britain
Dec 2009 - Jun 2011
43000 mi
£225
Ongoing problem with brakes - very sharp handbrake and brakes generally vey noisy - squeaking.
2004 Mazda MPV 4dr Minivan
200-horsepower 3.0L V6 5-speed automatic FWD
Mazda MPV in Ohio, United States
Jan 2004 - May 2011
5893 mi
Performed minor interior warranty work-fixed screw, fixed floor mat holder. Also, warranty work on back bumper-replace plastic cover
12853
Check squeak in rear brakes when backing up. Mazda ordered and replaced part to repair brakes under warranty.
81451
US $690
Replaced defective mass air flow sensor; replaced coolant temperature sensor
84764
Replaced idle air control valve for stalling issue. Replace left turn signal-front bulb; To resolve oil leak-replaced oil pan gasket and front crank seal.
100000
After we arrived at our vacation destination, car began running roughly and after a short while, engine light came up. Drove about 1 hour to dealership. Required replacement of all 6 ignition coils. All-day repair job.
109000
coolant temp sensor replaced Completed Induction service / induction cleaning to correct problem
124000
Replaced 2 sway bar links($155) as advised by repair shop and dealer. Also, replaced waterpump belt ($65) at same time.
Mazda MPV in Massachusetts, United States
May 2009 - Nov 2013
74000 mi
US $10
Replaced a headlight Replaced a broken interior trim clip
77300
Replaced IAC valve
84000
replaced the O2 sensor Sway bar link replaced Replaced the front brakes (including rotors)
89000
Ball joint and control arm replaced Transmission oil cooler had a hole and needed to be replaced
101000
Replaced rear shock absorbers Replaced cooling fan control module
102300
One of the ignition coils replaced. Luckily - one of the front ones...
105700
Ball joint and control arm were replaced
Mazda MPV in Alabama, United States
Apr 2005 - Mar 2015
5000 mi
Left rear door motor went out. Replaced under warranty.
32000
US $53
Misfire when accelerator pressed.
32000
Coil bad in cylinder 4. No code on computer. Just started at cyl 4 and problem cleared. Went ahead and replaced coils/plugs for cylinders 5 & 6. MPV forum and all the good members saved me $$ and time. Thanks.
37000
Had replaced coil packs 4-6 last year or so and started noticing slight hesitation going up a hill.Had previously bought 6 coil packs and replaced the ones for cyl 1-3. Problem was solved but there still seems to be a slight problem.
58000
PCV hose leak. Replaced rubber elbow.
Mazda MPV in California, United States
Dec 2009 - Jun 2011
56000 mi
US $300
#3 coil failed and the pcv hose failed, replaced at the dealer
Mazda MPV in Oregon, United States
Mar 2009 - Aug 2011
86000 mi
US $120
Ignition coil began to fail intermittently. This was the second time a coil had started to fail within the last 18 months. Replaced all six coils. Problem seems fairly prevalent among 2004 MPVs.
Mazda MPV in Ontario, Canada
Jan 2005 - Feb 2015
23560 mi
Brakes squealing when backing up in reverse. Replaced rear brake shims
25119
CEL flashing diagnosis code P0303 cylinder 3 misfire Replaced cyclinder 3 ignition coil (AJ51-18-100A) & spark plug (AJ09-18-110)
41635
1)Driver side power window does not function. Replaced driver's side window motor and window regulator 2) No heat at idle heat only when driving. Heater valve was closed. opened heater valve
49125
CEL flashing diagnostic code P0303 cylinder 3 misfire. Fuel system check and replaced cylinder 3 ignition coil (AJ51-18-100A)
52702
CEL flashing diagnostic code P0304 cylinder 4 misfire Replaced cylinder 4 ignition coil (AJ51-18-100A)
58083
CEL flashing diagnostic code P0306 cylinder 6 misfire Replaced cylinder 6 ignition coil (AJ51-18-100A)
98028
C $142
Car stalling. idle would drop to zero when reving engine in park or when driving and taking foot of gas pedal. Replaced IAC. No charge for installation. IAC replaced by me
91544
CEL flashing diagnostic code P0302 cylinder 2 misfire. Replaced all spark plugs (ZZC2-18-110A) and cylinder 2 ignition coil (AJ51-18-100A)
98027
CEL flashing diagnostic code P0305 cylinder 5 misfire. Replaced cyclinder 5 ignition coil (AJ51-18-100A) myself
119036
CEL flashing diagnostic code P0301 cylinder 1 misfire. Replaced all spark plugs (ZZC2-18-110A) and cylinder 1 ignition coil (AJ51-18-100A)
124000
coolant dripping on driveway from water pump area. Soon after, squealing noise was coming from engine area. suspected water pump. removed belt temporarily and noise stopped. Ordered part, drained coolant, installed new pump & added coolant. Drivers side power window stopped functionng. buzzing sound when button for front left window pushed. Replaced power window modulator myself
128960
Replaced PCV hose, Idle Air Control Valve, EGR Boost Sensor & EGR Boost sensor solenoid Rough idle, car would lag when gas pedal pressed down for quick acceleration. Engine codes showed lean bank 1. Car taken to dealer for diagnostics. paid for diagnostic. PCV hose collapsed, EGR Boost sensor & solenoid found to be the problem
147840
Squeaking noise from drivers side believed to be suspension related. Driver side sway bar link had excessive play, and passenger side also had some. Replaced both links.
152100
Driver side front lower ball joint out of spec. Ball Joint replaced.
179560
Inspection found excessive play in right lower ball joint. Contributing to reported problem (clunking from front end suspension/sterring when driving).
181660
Fan motor for air conditioner cycling on and off rapidly. Replaced fan control module
182860
Right (passenger side) axle boot split. Found at oil change during 30 point inspection.
186580
Re-Re right lower control arm
195300
Water pump belt cracked. Belt replaced Clunking noise from front right. Front right lower ball joint replaced.
203940
Exhaust leak Front sway bar link broke Driver side window modulator
207700
Front exhaust Flex pipe Noise front driver side front wheel. Front wheel bearing replaced
210160
temperature gauge drops to zero. No heat. fault code P0118
210800
Car studdering (missing) fault code P0303. After air intake off to replace bank 1 coils/plugs, bad oil leak at rocker cover gasket. bank 1 colis/plugs and rocker cover gasket replaced
Mazda MPV in Illinois, United States
Mar 2009 - Sep 2012
67000 mi
US $80
Vehicle was running very roughly and CEL was flashing.
91000
Replaced bad spark plug coil. Same cylinder as previously replaced.
Mazda MPV in Washington, United States
May 2009 - Mar 2010
114000 mi
US $100
Engine misfiring. Had previously replaced two coils. Replaced 4 remaining coils. Also replaced engine coolant, changed air filter. Replaced front brake pads and turned rotors.
Mazda MPV in Moscow Oblast, Russia
Jan 2009 - Mar 2010
85560 mi
$250