Saturn Outlook Reliability
You won't find Saturn Outlook reliability information like this anywhere else. Actual repair frequencies, not just vague dots. So you can tell how much the Saturn Outlook truly differs from competing car models in reliability.
These stats are promptly updated four times a year, to much more closely track Saturn Outlook reliability as the cars age. Others tell you how reliable the Saturn Outlook was a year ago, when the cars were a year younger and had 12,000 fewer miles on them. Only TrueDelta tells you how reliable the Saturn Outlook has been recently.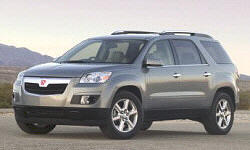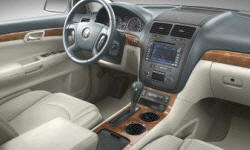 See reliability results for all
SUVs
.
See only powertrain and chassis results
What People Are Saying about Reliability and the Saturn Outlook
blog comments powered by

Disqus
What Our Members Are Saying about the Reliability and Durability of the Saturn Outlook
Saturn Outlook Reliability and Durability: Pros
Year
Body/Powertrain
Comment
2007
4dr SUV 275-horsepower 3.6L V6
6-speed shiftable automatic FWD
Have had no problems after one year of ownership.
Saturn Outlook Reliability and Durability: Cons
Year
Body/Powertrain
Comment
2009
4dr SUV 288-horsepower 3.6L V6
6-speed shiftable automatic AWD
Not a proven product, brand name is mediocre, although styling is great, I was looking for something that will last me over 10 years with minimal expenses.
2008
4dr SUV 275-horsepower 3.6L V6
6-speed shiftable automatic FWD
At 80,000 miles, had to replace throttle body. At 112,000 miles, transmission complete failure. Replaced at dealership. Cost was $4000. At 115,000 miles, purge canister valve failure. Car would not start after putting gas in. Replaced for $30 (not by mechanic) At 116,000 miles, power steering failure. Replaced power steering pump for $135. At 116,000 miles, front struts need to be replaced.
2007
4dr SUV 275-horsepower 3.6L V6
6-speed shiftable automatic FWD
See first part!
2007
4dr SUV 270-horsepower 3.6L V6
6-speed shiftable automatic FWD
Outlook quality was unknown at the time we were considering the purchase