2003 Saturn VUE Repair Histories
115 TrueDelta members own (or used to own) a 2003 Saturn VUE. 49 of these members (42.6%) have reported repairs for their car. A total of 158 repairs to 2003 Saturn VUEs--an average of 1.4 per vehicle--have been reported.
See our lemon odds and nada odds page to see vehicles with no repairs or vehicles with more than three repairs. To see how frequently 2003 Saturn VUE problems occur, check out our car reliability stats.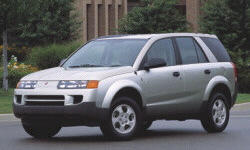 Select a problem area
Need advice about a specific car problem?
Chart based on 158 repairs.
Chart based on 90 repair trips. The repair cost chart excludes repairs made under warranty, do-it-yourself repairs, and repair trips that include maintenance.
2003 Saturn VUE 4dr SUV
181-horsepower 3.0L V6 5-speed automatic FWD
Saturn VUE in Tennessee, United States
Jan 2008 - Apr 2014
99000 mi
Car kept stalling, computer reported errors, car wouldn't start any more.
134000
US $300
Thermostat sticking open
145000
Vibration / Shaking in steering. Intermediate steering column was tightened.
146000
Car misfiring badly. Coil Pack replaced
147000
AC compressor leak
2003 Saturn VUE 4dr SUV
181-horsepower 3.0L V6 5-speed automatic AWD
Saturn VUE in Maryland, United States
Oct 2003 - Mar 2010
7992 mi
Horn came on at night & burned itself out. Airbag & horn replaced under warranty.
12023
Anti-lock brake warning light activated. Wheel speed sensor replaced under warranty.
27095
Rear suspension campaign. Front swaybar links/bushings replaced. Rear wiper motor replaced. Intermediate steering shaft replaced. Replaced worn wires (SES light, transmission failed to shift properly). Covered by warranty.
28202
SES light, transmission failed to shift properly. Transmission EPROM reprogrammed. Hazard light on dash repaired. Covered by warranty
30490
Center console bezel replaced for peeling paint. Speedometer needle jumps - wheel speed sensor & instrument cluster replaced. SES light, transmission failed to shift properly - unable to diagnose. Covered by warranty.
34501
US $280
New brake pads. Front rotors machined. Peeling cloth on sunroof shade replaced under warranty.
35154
Noisy steering column replaced. Noisy airbag coil replaced. Swaybar links/bushings replaced. All covered by warranty.
38360
Oil cooler leak repaired. Valve body gasket replaced. Oil pan leak repaired. 2 tires replaced w/ alignment.
41582
SES light, transmission failed to shift properly. Leak found in windshield. Leak causing transmission not to shift properly. Windshield replaced. Wiring harness replaced. 2 tires replaced.
49802
Horn stuck on when locking vehicle w/ keyfob. Ignition cylinder/lock replaced. Horn replaced. Body Control Module replaced. Engine cooling fan resistor replaced. New BCM makes gas gauge read short 1/8 tank.
49946
Horn stuck on when locking vehicle w/ keyfob. Sound from radio/CD player intermittent. Horn replaced twice. Radio wiring harness repaired.
50444
Horn stuck on when locking vehicle w/ keyfob. BCM replaced 2nd time. Aribag replaced. Fuel senders replaced. Fuel gauge still reads short 1/8 tank
55899
Rattle in suspension/steering wheel/gas pedal. Intermediate steering shaft replaced. Alignment & wheels balanced.
57000
intermediate steering column (through firewall) replaced for 2nd time. Suspension still rattles at low speed on uneven pavement. Slight vibration exists at 65+ mph.
66000
Replaced upper steering column / power steering motor. Still rattles & vibrates somewhat less than before.
68000
Right from wheel bearing started howling on acceleration / deceleration. Bearing replaced. Body control module failed. Interior lights stuck on, no power steering/doors/locks. Computer was replaced
Saturn VUE in Arizona, United States
May 2008 - Sep 2013
58000 mi
US $700
Fuel tank leak. Replaced tank.
81000
Tires, alignment/balance, water cooler
105700
key stopped working, they had to put in a new key mechanism
113000
needed a full a/c replace
Saturn VUE in Indiana, United States
May 2008 - Aug 2013
107000 mi
US $10
Fog light bulb burned out on passenger side, replaced.
110000
Front brakes.
121000
vehicle would not start. towed to shop. found battery cables to have corrosion
133000
Then also had rear windshield wiper motor replaced.
142000
Headlight-bright lights stalk stopped working
161000
Central cupport bearing came loose
209000
hole in condenser, freon leaked out. possibly caused by rock. dashboard light indicated problem with abs, abs sensor was replaced on rt rear wheel, also had to replace wheel bearing While wheel bearing was off, mechanic noted that part of stabilizer bar had broken
Saturn VUE in New York, United States
Oct 2007 - Mar 2009
76000 mi
US $250
Right Front Wheel Bearing.
72000
Left Front Wheel Bearing.
100000
Sway Bar Links, also engine timing belt, transmission tuneup, water pump, accessory drive belt,and spark plugs.
102000
Plastic engine cooling fan broke off a large piece. Had to replace whole unit. Left Rear Wheel Bearing.
104000
Replaced Sway Bar Links installed earlier in summer. Both were broken. Do not buy cheap after market parts for Saturns. Stick to AC Delco or original parts designed for vehicle. By the way, the second set of Sway Bar Links have also broke.
107000
Dashboard Light "Service Engine Soon" came on. After having AutoZone check codes, determined I needed a new Fuel Cap.
112000
Two Emission Sensors failed. Caused CHECK ENGINE SOON light to come on. Would not pass NY state inspection without this light being out.
2003 Saturn VUE 4dr SUV
143-horsepower 2.2L I4 CVT FWD
Saturn VUE in Tennessee, United States
May 2006 - Mar 2010
105000 mi
US $3400
Transmission replacement
90000
Engine Replacement
160000
Transmission replacement
2003 Saturn VUE 4dr SUV
143-horsepower 2.2L I4 CVT AWD
Saturn VUE in Ontario, Canada
Feb 2008 - Apr 2009
47120 mi
C $180
Catalytic converter shot and injectors clogged. Muffler also rusted out, but I went after market for that.
47740
Replaced muffler. reported a knocking sound but it was not present for the techs, could have been from the faulty muffler.
2003 Saturn VUE 4dr SUV
143-horsepower 2.2L I4 5-speed manual FWD
Saturn VUE in Tennessee, United States
Mar 2008 - Feb 2013
45000 mi
Fuel injectors replaced; valves adjusted/replaced; throttle control system repaired. No charge under dealer warranty.
45000
Ignition, throttle body.
49000
US $50
New thermostat, fixed coolant leak.
55000
Two major water leaks. Cabin air filter housing became clogged and overflowed into car via AC vents. Sunroof drains become clogged and caused leak into interior. Both fixed by cleaning them out. Both easily clogged during leaf season!
56000
I went in for an oil change. Dealer noted an oil leak in the AC compressor. Compressor was replaced under warranty.
2003 Saturn VUE 4-door
4-cylinder manual 2WD
Saturn VUE in Florida, United States
Dec 2007 - Jun 2008
78000 mi
US $2500
Known VUE problem of the timing chain tensioner breaking - which it did - causing timing chain to shatter valves and metal through the pistons requiring new engine.
2003 Saturn VUE 4-door
4-cylinder CVT 2WD
Saturn VUE in Illinois, United States
Nov 2007 - Mar 2010
28000 mi
We have had issues with the VTI transmission where the car will stall in extreme cold conditions. We have gone back to the dear regarding a noise and pull at acceleration and they keep telling us that it is normal behavior for the VTI transmission. Last