2006 Toyota RAV4 Problems and Repair Histories
146 TrueDelta members own a 2006 Toyota RAV4. 69 of these members (47.3%) have reported repairs for their car. A total of 223 repairs to 2006 Toyota RAV4s--an average of 1.5 per vehicle--have been reported.
See our lemon odds and nada odds page for more details. To see how frequently 2006 Toyota RAV4 problems occur, check out our car reliability stats.
Want to read about specific problems behind these stats? Jump to the 2006 Toyota RAV4 problem descriptions below.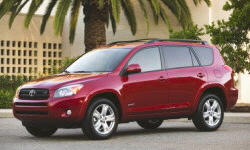 Don't infer 2006 Toyota RAV4 problem frequency from what you see on this page. Many lucky owners have had no repairs, and their cars are not shown.
Select a problem area
35% of the 2006 Toyota RAV4 repairs were to the engine, 10% to the transmission, 7% to the brakes, 21% to the suspension, 15% to the electrical or air-conditioning systems, 4% to the body and trim, and 6% to other areas of the vehicle.
Chart based on 223 repairs.
Of the 2006 Toyota RAV4 repairs that were not covered by warranty and were not do-it-yourself repairs, 9% cost less than $100, 62% between $100 and $499, 23% between $500 and $999, and 6% between $1000 and $2499.
Chart based on 66 repair trips. The repair cost chart excludes repairs made under warranty, do-it-yourself repairs, and repair trips that include maintenance.
Non-members can see only ten
2006 Toyota RAV4 problems and repair histories
.
Log in
or
join us
to see them all.
Repair costs are in local units.
2006 Toyota RAV4 4dr SUV
269-horsepower 3.5L V6 5-speed automatic AWD
Toyota RAV4 in Ontario, Canada
Date
Odometer
(in miles)
Cost
Problem/Repair Description
Aug 2006
1860
13020
0
Persistent cyclical droning/vibration noise at 60mph since delivery. 4WD computer was constantly recalibrating at that particular speed. Dealer replaced 4WD computer. TSB being issued.
87420
700
Water pump leaking.
109120
500
Steering column mid-shaft link had a knocking noise when turning. Known problem with the 2006 RAV4. Dealer had parts avail. 2hr fix.
144460
450
Rattling and occasional loud bang at rear right. Sway bar and linkage bushings worn out. Now fixed, but still has some rattling..,but the big bang is gone. Perhaps the original shocks need replacing...don't know.
148800
Toyota RAV4 in Minnesota, United States
Date
Odometer
(in miles)
Cost
Problem/Repair Description
Nov 2006
14000
20000
0
Rumble at ~60mph, determined to be 4wd computer. Passenger seat doesn't return upright after reclined without lifting up on the seat. Rear passenger side seat rattles as if it's not properly latched into place. They will be looking at it when I have the vehicle back for the other problems.
23000
0
Rumble at 60MPH fixed with new 4x4 computer. Seat return was fixed with new more powerful springs in the passenger seat. Rear seat rattle was fixed after seat was disassembled and reassembled and latch cables properly adjusted.
66700
130
Noticed hesitation during driving, then check engine light and 4wd and stability control lights came on. Scanned code, found bad ignition coil, replaced coil, all good.
74000
Toyota RAV4 in Maine, United States
Date
Odometer
(in miles)
Cost
Problem/Repair Description
Jan 2007
5000
10000
0
Radio Display issues: LCD "garbled". Radio/CDs still functioned. Toyota TSB for repair "if customer complains". During heavy rain, water ingress via fresh air intake drops into passenger footwell. Covered by Toyota TSB. Repair "if customer complains." "Clunk" after using parking brake. Covered by Toyota TSB "if customer complains".
10000
0
Window leak. Repaired with TSB - updated brake parts.
52000
0
Slow leak was identified in the water pump during routine oil change maintenance. Shop replaced pump under power train warranty. Would have been close to 8 hours of labor plus parts outside of warranty.
62000
0
The mid steering shaft had loosened so that I had a clunk when going over bumps in turns. Dealer replaced under warranty.
Toyota RAV4 in Nova Scotia, Canada
Date
Odometer
(in miles)
Cost
Problem/Repair Description
Nov 2006
5580
13640
0
Droning in the drive train between 90 and 100kph. A TSB has been issued and the fix is replacing the 4WD ECU. Part has been ordered and am waiting for a call when it comes in.
14880
0
4WD ECU replaced and droning problem gone. Radio display stopped functioning and sometimes radio would not turn off or the preset buttons would not work. Also volume control would stop working from time to time.
22320
65
Rear rotors were scored. Pads were out of alignment. Rotors were turned and pads replaced under warranty.
Toyota RAV4 in Virginia, United States
Date
Odometer
(in miles)
Cost
Problem/Repair Description
Dec 2006
6000
63000
0
CD player broke, new one ordered.
89000
0
P0355-#5 ingnition coil malfuction, and replaced
94000
0
In March, coil pack#5 replaced and this time replace coil pack #3, Oh! Toyota, what's next,coil pack #1?
114000
375
Hub bearing went bad and repaired
126500
90
2ND toyota oem battery gone bad about 3yr....
145000
Toyota RAV4 in New York, United States
Date
Odometer
(in miles)
Cost
Problem/Repair Description
Feb 2006
0
5300
0
Replaced 6 CD (Non JBL) radio due to display problem
10000
0
One day when I started the car the P/S light came on and the power steering seemed stiffer than norman. Turning the car off & restarting it right away did not stop the problem. After the car was off & restarted later it was OK. Passerger window clunks
25000
0
Windshield wiper on rear window stopped working.
Toyota RAV4 in Pennsylvania, United States
Date
Odometer
(in miles)
Cost
Problem/Repair Description
Feb 2006
0
13000
0
Glove box mechanism did not operate properly. Part ordered, it will be fully covered under warrenty
34000
0
Steering was making a knocking or popping sound in a hard turn, like when pulling out of a parking space. There is a service bulletin on the issue.
39000
0
Popping sound was fixed. Apparently there was a service notice out on the problem.
61000
900
Ignition coil on cylinder 4 failed leak in engine gasket leak in transmission seal. Ignition coil on cylinder 2 failed and was replaced 200 miles after coil 4 failed.
82000
500
All four sensors that determine the operation of the catalytic convertor failed
112000
300
Needed replacement
Toyota RAV4 in Minnesota, United States
Date
Odometer
(in miles)
Cost
Problem/Repair Description
Jun 2006
0
6000
0
Center console Rattle - Shop fixed using felt strips. Rattle significantly diminished, not entirely gone.
71000
0
Steering Column was not right - was making noise on turns. They replaced.
98000
1000
Brakes Done, New Battery, Fluids Replaced, Tire Rotation, Cabin air filter
133300
450
Sway bar replacement and rear axle seals replaced
155000
2006 Toyota RAV4 4dr SUV
166-horsepower 2.4L I4 4-speed automatic AWD
Toyota RAV4 in New Jersey, United States
Date
Odometer
(in miles)
Cost
Problem/Repair Description
Feb 2006
1000
5000
0
Cat converter was changed due to excessive sulfur smell. There was a TSB on this issue.
65000
480
Alternator went bad. Had to find and replace with a rebuilt unit.
65000
0
Check engine light came on but went off. Could not diagnose issue. Still doing this 2 months later. Only goes on for a day then back out for a while. No running issues. I think a coil is going bad
70700
50
Replaced the downstream 02 sensor after a Check Engine came on
71000
Toyota RAV4 in Virginia, United States
Date
Odometer
(in miles)
Cost
Problem/Repair Description
Sep 2006
2000
3300
0
Repair of intake cowling due to water leak in passenger side footwell.
8000
0
ECM re-programmed to fix throttle lag problem.
0
Catalytic converter replaced to correct sulfer smell problem
0
Stereo replaced due to non-functioning display/knobs.
24000
0
Toyota TSB for steering knock. Replaced the steering shaft.
33000
0
Engine idler pulley bearing was loose causing high pitched noise. Dealer replaced pulley.
67000
0
Driver's side sunvisor broke
83000
100
Rattle of the engine hood when idling.
95000