Volkswagen Beetle Reliability
You won't find Volkswagen Beetle reliability information like this anywhere else. Actual repair frequencies, not just vague dots. So you can tell how much the Volkswagen Beetle truly differs from competing car models in reliability.
These stats are promptly updated four times a year, to much more closely track Volkswagen Beetle reliability as the cars age. Others tell you how reliable the Volkswagen Beetle was a year ago, when the cars were a year younger and had 12,000 fewer miles on them. Only TrueDelta tells you how reliable the Volkswagen Beetle has been recently.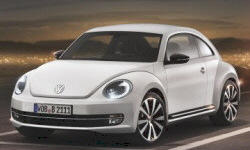 See only powertrain and chassis results
What People Are Saying about Reliability and the Volkswagen Beetle
blog comments powered by Disqus
What Our Members Are Saying about the Reliability and Durability of the Volkswagen Beetle
Volkswagen Beetle Reliability and Durability: Cons
Year
Body/Powertrain
Comment
2004
2dr Convertible 115-horsepower 2.0L I4
6-speed shiftable automatic FWD
Despite having an extended warranty the vehicle was in the shop so often it became too inconvenient to own.
2000
2dr Hatch 115-horsepower 2.0L I4
5-speed manual FWD
I bought this car as a "Certified Used". I replaced the main computer twice in the first 3 months. I have replaced 02 sensors every year, sometimes up to 3 a year. Repairs are expensive and required often.