Volkswagen Touareg Reliability
You won't find Volkswagen Touareg reliability information like this anywhere else. Actual repair frequencies, not just vague dots. So you can tell how much the Volkswagen Touareg truly differs from competing car models in reliability.
These stats are promptly updated four times a year, to much more closely track Volkswagen Touareg reliability as the cars age. Others tell you how reliable the Volkswagen Touareg was a year ago, when the cars were a year younger and had 12,000 fewer miles on them. Only TrueDelta tells you how reliable the Volkswagen Touareg has been recently.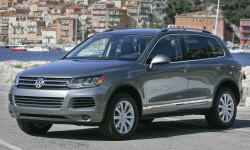 See reliability results for all
SUVs
.
See only powertrain and chassis results
What People Are Saying about Reliability and the Volkswagen Touareg
blog comments powered by Disqus
What Our Members Are Saying about the Reliability and Durability of the Volkswagen Touareg
Volkswagen Touareg Reliability and Durability: Cons
Year
Body/Powertrain
Comment
2007
4dr SUV turbocharged 310hp 4.9L V10 Diesel
6-speed shiftable automatic AWD w/low range
With so many gadgets, I worry about the reliability....and VW does get dinged for reliability in CR.
2004
4dr SUV 220-horsepower 3.2L V6
6-speed shiftable automatic AWD w/low range
There are a lot of electronic do-dads, all very nice to have but the reliability of a great number of them is/hes been less than stellar, with the majority of touaregs having to return to the dealers numerous times during their first year.
2004
4dr SUV 310-horsepower 4.2L V8
6-speed shiftable automatic AWD w/low range
Had a computer problem that took forever to get fixed; ALso spent a riduculous amount of time getting the trailer lights powered. Bottom line - although the tow limit is 7500 lbs, trying to power normal US trailers causes the computer to go haywire.