2007 Audi A3 / S3 Repair Histories
93 TrueDelta members own (or used to own) a 2007 Audi A3 / S3. 59 of these members (63.4%) have reported repairs for their car. A total of 241 repairs to 2007 Audi A3 / S3s--an average of 2.6 per vehicle--have been reported.
See our lemon odds and nada odds page to see vehicles with no repairs or vehicles with more than three repairs. To see how frequently 2007 Audi A3 / S3 problems occur, check out our car reliability stats.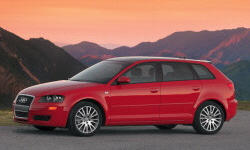 Chart based on 241 repairs.
Chart based on 62 repair trips. The repair cost chart excludes repairs made under warranty, do-it-yourself repairs, and repair trips that include maintenance.
2007 Audi A3 / S3 4dr Hatch
turbocharged 200hp 2.0L I4 6-speed manual FWD
Audi A3 / S3 in Florida, United States
Apr 2007 - Dec 2014
2000 mi
Open Sky sunshade clip broken, replaced under warranty.
5000
A/C quit working, replaced entire system.
27000
Rear opensky shade latch.
80000
US $1300
Brake job plus 75k maintenance
2007 Audi A3 / S3 4dr Hatch
turbocharged 200hp 2.0L I4 6-speed automated manual FWD
Audi A3 / S3 in California, United States
May 2007 - Jun 2011
5000 mi
Complained to dealer about mushy brakes. Dealers said normal, but still don't think so.
Audi A3 / S3 in New Jersey, United States
Jul 2007 - Dec 2014
18000 mi
US $46
My bulb-out warning light came on for my license plate lights. I changed the bulb with a bulb that is proven to work, but it still wouldn't power on. It looked to me like an electrical problem. However, Audi simply changed the bulb and it worked. Odd.
66000
License plate lights melted sockets, no longer functioning. Entire latch unit needed to be replaced, which houses the license plate lights. Part ended up back ordered for a few days.
Audi A3 / S3 in Oklahoma, United States
Mar 2007 - Apr 2013
7000 mi
Dash rattles cured.
10000
Bad right front wheel bearing replaced. intermittent CEL - noted as intake manifold flap sticking.
28000
Window switches on drivers door became sticky and intermittent.
34000
Repair sunshade latch. Also replaced roof trim (TSB). Dealer also replaced intake flapper and ignition coils (Audi TSB's), and did a complete free detail on the car.
Audi A3 / S3 in California, United States
Jan 2007 - Dec 2014
15000 mi
there was a single click noise when the steering wheel was turned. The problem was resolved and described as a loose spring in the airbag compartment.
43000
Coolant light came on two days in a row (in the 30s) when I started the car and started backing up. When I stopped the car and turned it back on, the light would not come back on.
62500
US $300
some intake valve was broken -- the engine EMS light was on. replaced valve.
91000
replaced rotors and pads. worn down.
93000
coolant warning light would go off every morning. They checked the coolant levels and everything seemed in order so they just reset the error. Seems to have fixed the problem. engine warning light went on for a week. Diagnosed as the intake valves and gaskets needed cleaning for the price of $930. Decided to try fuel additive first to try to clean it without repairs.
Audi A3 / S3 in Virginia, United States
Jul 2007 - Aug 2010
4000 mi
A button on the radio sticks. The head unit needs to be replaced. New head unit has been ordered.
16000
Radio Button sticks (needed replacement of radio).
31000
I took into shop for bad engine hose replacement/yellow check engine light.
39000
Driver side window retracted and would not adjust anymore (stayed in the retracted position).
48000
Needed small part that allowed trunk to lift properly.
48000
US $36
brake light needed to be changed
48000
Brake light cover was leaking and needed to be replaced.
Audi A3 / S3 in California, United States
May 2007 - Mar 2012
5000 mi
CD changer ate CD's and refused to eject them on the day of delivery. Rattle in rear of car. Not normal. Dealer claimed they could not duplicate. Since the sound was not horribly loud, i'm sure they felt "it was normal" CD changer replaced when part received.
44000
CEL came on. Code pulled and a throttle body solenoid was replaced.
44000
2 items brought in to be repaired prior to warranty expiring: 1. light on drivers side sunshade mirror went out; 2. front sunroof shade was sticking in the tracks; both parts ordered.
44000
Brought in car for replacement of 2 parts previously ordered. Installed. 45k service performed at same time. Installed new sunroof shade.
Audi A3 / S3 in Florida, United States
Mar 2007 - Aug 2010
5000 mi
Roof moulding strip alongside Open Sky panel was beginning to lift.
10000
Failed oxygen sensor attaching to the catalytic converter.
28000
Faulty air temperature sensor and air coolant leak.
2007 Audi A3 / S3 4dr Hatch
250-horsepower 3.2L V6 6-speed automated manual AWD
Audi A3 / S3 in North Carolina, United States
Dec 2006 - Nov 2013
5600 mi
minor, warranty-related: driver's door window rattle
15000
Buzzing noise in or around glove box, psgr seat, psgr door at low speeds. Noise was reproduced for service advisor but not consistently enough to locate without keeping the car for longer.
35000
Sunroof shade pull was cracked; known problem with design of part
45000
US $230
Air conditioning needed recharge Sunroof shade latch was broken (third time for this part)
52000
Window would not roll up; had to be guided by hand or would roll itself back down. Repaired by resetting the motor and regulator.
55000
drivers door lock switch fell off. seatback panel loose, was secured without replacement. loose wiring and clips within passenger door reported several times, finally addressed. drivers seat bolster cracking. dealer's contracted repair person unavailable so repaired elsewhere.
58000
Driver's seat bolster cracked vinyl
66000
Rear seat armrest/drink holder/pass-thru release broke off, stuck in closed position.
83000
Wheel bearings starting to fail. CV boots replaced in front.
85000
rear rotors and pads circuit board controlling third brake light failed, required diagnostic time and replacement.
Audi A3 / S3 in Florida, United States
Apr 2007 - Dec 2011
16000 mi
Clip for sunroof sunshade broken. Fixed under warranty.
24000
Daytime running light out. Will take in for repair at next scheduled maintenance.
25000
DRL socket failed. Covered under warranty/TSB. Part not available, must return to dealer for install.
28000
Rear sunshade clip and track broken. Fixed under warranty (3 visits required).
29000
Replace sunroof guide frams Remove and install roof rail (sunroof) Fixed under warranty ($1200)
37000
Roof trim strip on driver's side - detached at rear of roof and popped up. 3rd repair attempt.
38000
Installed new roof trim.
62000
US $750
Issue with the infamous Audi/VW HID bulb/ballast flickering/failure issue. Dealer replaced 2 HID bulbs and ballasts. Ballast covered by AOA, bulbs on my dime.
64500
Replaced passenger side xenon headlight assembly due to failed shutter motor on high-beam. High beams were totally inoperative. Rear passenger window stuck open.