2006 BMW 5-Series Repair Histories
123 TrueDelta members own (or used to own) a 2006 BMW 5-Series. 66 of these members (53.7%) have reported repairs for their car. A total of 232 repairs to 2006 BMW 5-Series--an average of 1.9 per vehicle--have been reported.
See our lemon odds and nada odds page to see vehicles with no repairs or vehicles with more than three repairs. To see how frequently 2006 BMW 5-Series problems occur, check out our car reliability stats.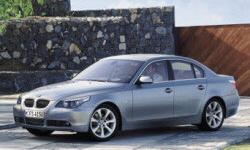 Select a problem area
Need advice about a specific car problem?
Chart based on 232 repairs.
Chart based on 97 repair trips. The repair cost chart excludes repairs made under warranty, do-it-yourself repairs, and repair trips that include maintenance.
2006 BMW 5-Series 4dr Wagon
255-horsepower 3.0L I6 6-speed shiftable automatic AWD
BMW 5-Series in Minnesota, United States
Jul 2008 - Dec 2013
23000 mi
Electronic issues with iDrive, reset
27000
Failed rear latch. Seat sensor, recall
30000
Had erratic idrive failures after car wash, found water in electronics compartment- this had caused prior hatch failure, satellite failure, etc. Known BMW service advisory to dealer, fixed appropriately.
36000
repaired windshield washer reservoir, broke when being filled in -40 weather, likely due to brittle plastic
47000
TSB announcement and routine maintenance
55000
US $321
Drivers door lock failure
58000
Air bag sensor
67000
Intake manifold leaking
71000
windshield wiper frame stuck due to salt
83000
engine light came on, air filter dirty
89000
steering rack leaking, needed to be replaced replaced shocks
92000
Starter died
93000
switch died for power door, replaced.
95000
second parking light went out one week after first
95000
replaced left wheel bearing
96000
wire broke to antennae rendering remote locking unusable.
BMW 5-Series in New Jersey, United States
Dec 2008 - Oct 2010
58000 mi
US $450
remote key stopped working. ordered a new remote key but still didn't work. dealer looked into further and found out the antenna is not working properly. replace the antenna.
62000
heater stopped working and the car was giving engine overheating warning.
BMW 5-Series in Massachusetts, United States
Jan 2009 - Mar 2010
33000 mi
BMW assist, bluetooth, and voice activation stopped working.
BMW 5-Series in Mississippi, United States
Jan 2009 - Sep 2014
48000 mi
Trunk lid would not latch properly. Latch replaced
70000
US $750
Failed coil pack
70700
Dead battery
75000
Non-functioning starter. Starter replaced Leaking valve gasket
82000
replace lift gate motor
88000
coolant leak. replace water pump
BMW 5-Series in Alberta, Canada
Aug 2008 - Dec 2014
31620 mi
US car purchased Nov 8, 2007. Entered Canada Jan 23 2007 2008-02-10 Warranty repair -Power hatch broken Warranty repair - I drive operating intermittently warranty repair - self leveling suspension warning not operational DVI (department of vehilce
35688
Same US car purchased on Nov 8, 2007. I drive module being replaced, and software being updated (Under warranty) Play in steering wheel - (Warranty I hope)- Steering box being replaced and other parts. Self leveling malfunction light on
36938
Play in steering wheel - (Warranty I hope)- Steering box being replaced and other parts. 4 > 51-71-7-065-919 2 >32-41-1-093-597 2 >32-41-1-093-596 1 > 32-10-6-780-124 1 32-10-6-780-124 steerinb box retun
38895
Still play in steering wheel (linkage from wheel to steering box now replaced) under warranty. whew. I drive controller still spins (replaced I drive screen?? and other parts)
41649
I drive controller replaced finally, and all seems to work fine now. I still get intermittent warning, self leveling suspension not working.
44826
All seems to be working, except self leveling control intermittently goes on
45260
Oil leak from Transmission. Parts ordered, and repairs under warranty to be covered, when fixed in March. Also shifter is peeling (plastic chrome) Parts on order / replaced under warranty.
49600
Rear self leveling suspension compressor was replaced under warranty Software upgrade to the transmission to harsh notchy shifting from 1st to 2nd gear.
60393
C $254
Brought in for 4x4 intermittent failure due to cold temp -20c and colder. found oil leak, etc. details to follow
68820
Extended -30C temp 2 weeks, engine check light went on and car into limp mode (max 1000rpm, max speed 10km/hr). Diagnosed as throttle body and/or oxygen sensor. Estimate $1700. Debating trading car in. Frustrated with it.
71300
Engine check light on, diagnosed problem and replace throttle body, and bank 2 02 sensor. replace microfilters. total $1396
80160
xenon burnt was burn out, and replaced for around $300 leaking raditator that required replacing tie rod and stabilizer rods required replacing
81400
burn out angel eye bulb charged 2hrs labour?
91800
Air con system stopped working at 32 degrees C outside, and fluid was streaming under car. I thought engine overheating? air con and cooling was checked all OK. Not to self - air con creates moisture when worked hard.
99200
Replacement of passenger side air bag sensor in the seat. ~ $2500 covered by BMW extended warranty
103540
windsheld washer pump had leak / replaced
2006 BMW 5-Series 4dr Sedan
255-horsepower 3.0L I6 6-speed shiftable automatic AWD
BMW 5-Series in Mississippi, United States
Feb 2009 - Sep 2011
64000 mi
Sunroof seal replaced due to excessive wind noise.
77000
US $500
Oil leak noted in drivetrain. Gasket replaced.
82300
Check engine light came on after car picked up from regular service. Sensor replaced.
99000
Part ordered to repair non-functional thigh extension on front passenger seat. Car also checked over since approaching end of warranty, and oil changed. Cost of part and repair deferred until installation (limited to warrant deductible)
99000
Installed part to repair passenger seat thigh extension.
2006 BMW 5-Series 4dr Sedan
215-horsepower 3.0L I6 6-speed shiftable automatic RWD
BMW 5-Series in Tennessee, United States
Feb 2009 - Sep 2010
45000 mi
Annual oil change, brake pads and rotors replaced
BMW 5-Series in British Columbia, Canada
Jul 2008 - Mar 2015
17360 mi
Fault computer circuit. Moisture got in and corroded a cable.
29140
Flat tire indicator sensor malfunction and would not reset.
46260
CD player lost a channel. The rest of the audio system works fine. CD player not covered by warranty. Was quoted an outrageous amount to replace.
48980
C $150
Power window sensor malfunction. Incessant warnings that power windows and safety stops have failed though the windows worked fine. Unable to turn off warning chimes. Dealer had to reload ECU programming.
51460
Starter motor on engine would not work. BMW replaced it. I was told the motor brushes had worn. I've never seen that happen on a 5 year old car before.
76260
Took the car in for routine maintenance. Was told the tie rod was worn and would need replacing. Due to cost, will wait til next time.
77500
One tie rod end was significantly worn, the other was showing signs of wear also.
81220
Actually 3 problems. 1) Emissions control pump in the fuel tank failed. 2) Radiator sprung a leak. 3) Oil filter mounting gasket between engine and filter mount (not the filter) failed.
102920
Failed electric waterpump . Repair included replace with new water pump, thermostat and cooling system flush.
2006 BMW 5-Series 4dr Sedan
174-horsepower 2.0L I6 6-speed manual RWD
BMW 5-Series in Great Britain
May 2009 - Mar 2010
7000 mi
Water ingress on headlight. Part replaced Door seals squeak. Dealer did the teflon tape fix. No audible problems from then on.
8000
6" display refused to turn on at start up. 15 minutes later was ok. Dealer said common problem and replaced the display entirely
13000
Battery monitoring cable/circuit faulty resulting in flat battery. Cable/circuit replaced.