2008 BMW 5-Series Repair Histories
260 TrueDelta members own (or used to own) a 2008 BMW 5-Series. 149 of these members (57.3%) have reported repairs for their car. A total of 469 repairs to 2008 BMW 5-Series--an average of 1.8 per vehicle--have been reported.
See our lemon odds and nada odds page to see vehicles with no repairs or vehicles with more than three repairs. To see how frequently 2008 BMW 5-Series problems occur, check out our car reliability stats.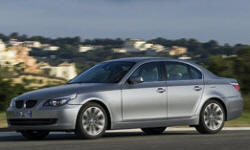 Select a problem area
Need advice about a specific car problem?
Chart based on 469 repairs.
Chart based on 115 repair trips. The repair cost chart excludes repairs made under warranty, do-it-yourself repairs, and repair trips that include maintenance.
2008 BMW 5-Series 4dr Wagon
turbocharged 300hp 3.0L I6 6-speed shiftable automatic AWD
BMW 5-Series in Pennsylvania, United States
Aug 2007 - Nov 2010
7000 mi
iPod selection would spontaneously switch to the radio.
34000
Front park distance sensor failed.
38000
Rear window latch failed. Warning light panel had to be replaced.
40000
fuel system problem related to turbocharger
2008 BMW 5-Series 4dr Sedan
turbocharged 300hp 3.0L I6 6-speed shiftable automatic RWD
BMW 5-Series in Georgia, United States
Nov 2007 - Jan 2012
19000 mi
Oil line leak from oil filter to oil cooler - replaced line. Another oil leak - oil leaking around drain plug.
37000
Cold engine runs rough, misfires. Once warm runs smoothly, but check engine light is on. Replaced oxygen sensors and hi-press fuel pump. Problem remains.
40000
New software version 32.1 uploaded, plugs cleaned, full reset of computers. Car did run much better and cold start roughness was better, but not completely fixed. Car is back at dealers for further repair.
41000
Engine light- cold start misfire/roughness, DME fault 29E0 mixture rich, tank vent valve replaced, replace fuel injectors, smoke test for leaks. Car now has not exhibited the problem over the last 1,000 miles so I consider it fixed.
49000
High pressure pump failed. This is the 2nd pump - the first was replaced as part of the rough engine start problem I was having.
88000
US $175
TPM in a wheel failed. Dealer determined which TPM sensor was bad, pulled the tire and replaced it.
98000
TPM failure. Dealer could not determine which unit in tire failed. Solution was to replace all for $800. Choose not to but had to pay $200 for diagnostic. Left Halo light not working - cost $339.04 to replace - have to remove the front bumper to get to the light! Replaced all tire TPM sensors as dealer could not determine which one failed. I paid for 3 of the 4 sensors. 5 of the 6 fuel injectors found leaking. I paid for 3 and 2 were under warranty.
98000
3 of 6 injectors leaking, including two of the new ones - replaced TPM failure light on - all 4 TPM sensors replaced because BMW dealer could not determine which individual sensor was bad
2008 BMW 5-Series 4dr Sedan
turbocharged 300hp 3.0L I6 6-speed shiftable automatic AWD
BMW 5-Series in Ohio, United States
Jul 2007 - Mar 2011
6000 mi
Gear vibration heard and felt in steering wheel. Dealer said could not find cause but acknowledged it sounded like a pinion gear whine. It could be in transmission or AWD transfer unit. The symptoms are gradually getting worse and most likely be ...
7000
The cause of the problem was determined to be "turbo rattle". A reflash of the car's software (DME) to resolve other problems (voice recognition of media system and AWD/DSC malfunction warning) also fixed the previously described vibration problem. Advertised voice recognition command to access USB/Ipod feature did not work at time of delivery. Previous trips for repair unsuccessful. A new sofware upgrade this trip fixed it. Now works perfectly. Upon car start, warning that AWD/DSC malfunction occurred. Warning would reset after driving a few feet. Recently when this occurred, the time and date display had to be reset. Reflash of DME software fixed the problem. It's all about computers now.
17000
The oil pan was replaced due to an oil leak through a mounting hole for the front differential. This is an AWD vehicle. This problem came from the factory when purchased new.
20000
The High Pressure Fuel Pump (HPFP) failed. This is a known issue with the 535 series engine (which BMW issued an extended 10yr warranty for HPFP.) I was able to drive the car to the dealer under reduced power. Fixed in one day...gave me a loaner
35000
'Klunk' when starting up. Fixed with TSB software update.
BMW 5-Series in Iowa, United States
Jul 2007 - Jun 2011
16000 mi
The car would lose all time and date as if the battery had run out of charge. All it needed was a software flash.
16000
Software flash as I was getting a problem with the clock losing time plus other things that the flash fixed.
37000
Voice recognition would respond only part of the time.
BMW 5-Series in Ohio, United States
Jul 2007 - Aug 2010
13000 mi
Car had little power and warned there was a malfunction. I was away from the dealer, if I had driven to the dealer instead of stopping it probably would not have had to have been towed. High pressure fuel pump had to be replaced.
22000
Regular maintenance turned up a problem with an intermittent fuel sensor that I was told could have could have made the car undriveable if not fixed.
29000
Oil change, halo (headlight) replaced, brakes replaced, battery replaced due to car stating there was a power outage when I would go back to car after driving it for a short period.
BMW 5-Series in Utah, United States
Jul 2007 - Mar 2015
5000 mi
Gear shift assembly defective from factory/ordered replaced under warranty Installed new gear shift assembly.
14000
Check engine light came on. Dealer could find nothing wrong, and could not replicate it.
15000
Engine malfunction reduced power/reloaded new software.
17000
Cooling fan replaced.
31000
software problem
76000
Twin turbos leak in transmission
BMW 5-Series in Nevada, United States
Jul 2007 - Jan 2011
3000 mi
Courtesy lights failed; Display indicated AWD and DSC malfunction; Date/Time reset. Cause: frequent short trips failed to fully recharge battery. Least important computers start shutting down to preserve battery life. Bought BMW battery charger.
10000
Defective High-pressure Fuel Pump. Removed and replaced with new high-pressure Fuel Pump.
2008 BMW 5-Series 4dr Sedan
360-horsepower 4.8L V8 6-speed shiftable automatic RWD
BMW 5-Series in Rhode Island, United States
Sep 2007 - Mar 2010
8000 mi
New "Sport Automatic Transmission" (SAT) not always shifting to reverse when desired. A button on lever must be pushed prior to moving to reverse (electronically controlled) but sometimes doesn't allow lever movement until 2nd or 3rd try.
2008 BMW 5-Series 4dr Sedan
230-horsepower 3.0L I6 6-speed shiftable automatic AWD
BMW 5-Series in New York, United States
Feb 2008 - Jun 2011
1000 mi
Check engine light came on exactly 2 weeks after I purchased the car at slightly less than 500 miles. Dealer repaired faulty wiring to the oxygen sensor. Also replaced oxygen sensor.
6000
Metallic ticking in the engine. Dealer performed bleeding procedure, but ticking returned within 1 week. Scheduled new appt in April and will insist that dealer replace the cylinder head, which has been reported as the cause of the noise by prior owners.
7000
After a second bleeding procedure in April, the metallic ticking sound in engine returned within one week. BMW headquarters approved cylinder head replacement. Dealer explained that BMW requires several bleedings before approving cylinder head replacement
BMW 5-Series in New York, United States
Aug 2007 - Jan 2012
1000 mi
BMW 2008 528xi- /Valve lifters were rattling- repaired /Computer showing adjustments needed-repaired
6000
Valve lifters still rattling.
9000
August 2008 new valve lifters installed. Still rattling...mid-October back into the dealer with the help of BMW regional repair rep., newer heads and hardware replaced again. No further rattling valve lifters.
40300
US $550
Rip off high price for a new battery