Chevrolet Malibu Problems and Repair Histories
698 TrueDelta members own a 2000 or newer Chevrolet Malibu. 240 of these members (34.4%) have reported repairs for their car. A total of 556 repairs to Chevrolet Malibus--an average of 0.8 per vehicle--have been reported.
See our lemon odds and nada odds page for more details. To see how frequently Chevrolet Malibu problems occur, check out our car reliability stats.
Want to read about specific problems behind these stats? Jump to the Chevrolet Malibu problem descriptions below.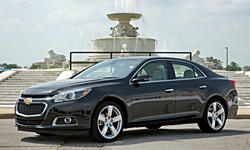 Don't infer Chevrolet Malibu problem frequency from what you see on this page. Many lucky owners have had no repairs, and their cars are not shown.
Select a problem area
20% of the Chevrolet Malibu repairs were to the engine, 6% to the transmission, 10% to the brakes, 23% to the suspension, 27% to the electrical or air-conditioning systems, 11% to the body and trim, and 4% to other areas of the vehicle.
Chart based on 556 repairs.
Of the Chevrolet Malibu repairs that were not covered by warranty and were not do-it-yourself repairs, 16% cost less than $100, 52% between $100 and $499, 18% between $500 and $999, 11% between $1000 and $2499, and 3% more than $2500.
Chart based on 183 repair trips. The repair cost chart excludes repairs made under warranty, do-it-yourself repairs, and repair trips that include maintenance.
Non-members can see only ten
Chevrolet Malibu problems and repair histories
.
Log in
or
join us
to see them all.
Repair costs are in local units.
2008 Chevrolet Malibu 4dr Sedan
252-horsepower 3.6L V6 6-speed shiftable automatic FWD
Chevrolet Malibu in Ontario, Canada
Date
Odometer
(in miles)
Cost
Problem/Repair Description
Jul 2008
0
1860
0
Small buzz coming from the door trim. Fixed by a drop of glue, very simple.
4960
0
Rear window defroster grid does not work, the ground was not connected. DIY fix: plugged in the connector.
6200
0
Radio would cut out momentarily (very infrequent occurrences). Dealer replaced the radio, so far so good. Plastic steering column shroud loose, dealer glued it. A quarter panel at the rear right side kept popping out. I fixed it myself, seems good so far. Possibly a small assembly error.
8060
0
Front door locks developed a significant clunk that occurred when opening doors. Dealer installed striker panel spacers and aligned the doors, problem fixed. On a side note - as a result of the adjustment the front doors sit a bit lower than a rear ones.
2008 Chevrolet Malibu 4dr Sedan
169-horsepower 2.4L I4 4-speed automatic FWD
Chevrolet Malibu in Tennessee, United States
Date
Odometer
(in miles)
Cost
Problem/Repair Description
0
A piece of paneling in the center console where the back 12volt plug is kept popping out when I would lift the console door. It was fixed a week later and covered by warranty with no issues. Tire wheel arch also had a missing panel plug; was replaced.
12000
0
A small piece of panel in the middle was popping out when the box in the center was opened to its fullest. Slightly annoying to have to pop it back in, but was replaced quickly and have had no problems.
Chevrolet Malibu in Manitoba, Canada
Date
Odometer
(in miles)
Cost
Problem/Repair Description
Jun 2008
0
6820
0
The brake fluid in the master cylinder started to break down about 3 months after owning the car. Come cold winter months, the brakes would squeak when depressed. Dealer changed fluid to a modified DOT3 fluid as per bulletin #PIT3779J.
16740
0
Brakes were squeaking while they were applied. The pads were tested, but still had plenty of braking material left. Shop decided that it was likely due to bad pads, so they replaced them. Squeaking has gone away.
17980
0
Brakes squeak excessively during stopping. Brought the vehicle in, and service consultant decided that brakes should be looked at. Service technician says brakes should not be squeeking like this at only 26000 km, so replaced under warranty.
22940
0
Noticeable clicking noise coming from rear when going over a bump. Dealer troubleshooted and discovered it was a rattle originating from the seatbelt mechanism. Applied some foam tape around the mechanism, and the problem was solved.
39680
360
Brake pads were low. Hadn't reached the indicator yet, and mechanic said it would have to be replaced likely within next few months. I said since the car was in, just replace the pads.
51460
0
Both driver and passenger lower ball joints had slight play. Both were recommended for repair, and as a result was repaired under extended warranty. Estimated cost would have been $1385 had I not been covered under extended warranty.
56580
1100
Driver side strut mount bearing was seizing. Loud clunks could be heard as I was steering both left or right. Since the old struts had to be removed anyway, I decided to install all new springs, struts too. No quick strut avaialable...
71300
1650
Replaced both front control arms and replaced both rear sway bars. The ball joints in the front were loose, and the bushings in the back were cracked. GM basically requires replacement of the whole control arm and sway bar kit.
89900
700
The steering column and rack were chattering causing clicking when turning. The steering column was replaced.
97340
Chevrolet Malibu in Delaware, United States
Date
Odometer
(in miles)
Cost
Problem/Repair Description
Dec 2007
0
10000
0
Driver's door latch intermittently would not let the door latch or unlatch, making it bounce or get stuck shut. The latch was replaced and all is back to normal.
2005 Chevrolet Malibu 4dr Sedan
200-horsepower 3.5L V6 4-speed shiftable automatic FWD
Chevrolet Malibu in Alberta, Canada
Date
Odometer
(in miles)
Cost
Problem/Repair Description
10
seafoamed the engine: 1/3 in the tank, 1/3 in the crankcase and a 1/3 up the vacuum line.
54560
100
Leaking rear seal on the drivers rear caliper necessitated a caliper replacement.
61380
45
replaced faulty evap canister purge valve
76880
300
Amber bulb fixture in headlight assembly started to melt and scorched the assemblies. New assemblies and led amber bulbs purchased and installed. Problem returned - headlight assembly daytime running light amber lenses caught fire. Replaced bulbs with gm 13502232 and new knock off lenses. Found GM TSB 06-08-42-004B. Also affects HHRs.
98620
0
The mass air flow sensor needed cleaning with some contact cleaner
101060
60
Replaced upstream oxygen sensors with new Bosch stuff at 150K and replaced serpentine belt with Gates micro groove
104160
100
Replaced both upstream oxygen sensors and the mass air flow sensor - mileage improve a LOT
104780
2005 Chevrolet Malibu 4dr Hatch
200-horsepower 3.5L V6 4-speed shiftable automatic FWD
Chevrolet Malibu in Hawaii, United States
Date
Odometer
(in miles)
Cost
Problem/Repair Description
Mar 2008
25000
26000
0
Steering tie rods replaced. Second time. Rear hatch struts failed. Both replaced.
33000
0
Steering rod. Again.
2005 Chevrolet Malibu 4-door
6-cylinder automatic 2WD
Chevrolet in West Virginia, United States
Date
Odometer
(in miles)
Cost
Problem/Repair Description
Dec 2007
121000
122000
600
Replace intermediate steering shaft 8-07, problem resurfaced 1-08, states known problem, repacked and advised should consider trading in, very noticable high speed vibration, common on Malibu.
2004 Chevrolet Malibu
Engine not specified
Chevrolet Malibu in Alabama, United States
Date
Odometer
(in miles)
Cost
Problem/Repair Description
Sep 2008
49000
51000
200
CD stuck in the CD-rom. Rear mirror broken.
54000
200
Both remote are not working. Changed to new ones for 100$ each with 50$ labor.
2004 Chevrolet Malibu 4dr Hatch
200-horsepower 3.5L V6 4-speed shiftable automatic FWD
Chevrolet Malibu in Tennessee, United States
Date
Odometer
(in miles)
Cost
Problem/Repair Description
Sep 2008
40000
41000
20
Long starting problem.
74700
300
Purge solenoid value replace.
77000