2009 Dodge Grand Caravan Repair Histories
50 TrueDelta members own (or used to own) a 2009 Dodge Grand Caravan. 30 of these members (60%) have reported repairs for their car. A total of 111 repairs to 2009 Dodge Grand Caravans--an average of 2.2 per vehicle--have been reported.
See our lemon odds and nada odds page to see vehicles with no repairs or vehicles with more than three repairs. To see how frequently 2009 Dodge Grand Caravan problems occur, check out our car reliability stats.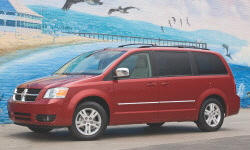 Select a problem area
Need advice about a specific car problem?
Chart based on 111 repairs.
Chart based on 30 repair trips. The repair cost chart excludes repairs made under warranty, do-it-yourself repairs, and repair trips that include maintenance.
Non-members can see only ten
2009 Dodge Grand Caravan repair histories
.
Log in
or
join us
to see them all.
2009 Dodge Grand Caravan 4dr Minivan, ext.
251-horsepower 4.0L V6 6-speed shiftable automatic FWD
Dodge Grand Caravan in Florida, United States
Mar 2009 - Oct 2011
24000 mi
SEAT FRAME
Dodge Grand Caravan in Ontario, Canada
Sep 2009 - Mar 2010
620 mi
lost brakes (going on #4 times now) Dealer can not find problem..nor will CHRYSLER CANADA fix the body damage caused by the brake loss. Now I have the reaction time to push ebrake if need be...but I DO NOT feel safe putting my family in a FAMILY van. ESP light for the 3rd time keeps on constant can not figure it out! NO BRAKE LIGHTS NOW...Family was almost taken out by a transport not stopping since he could not tell I was...As I am very afraid in this van...I was able to pull over to shoulder of road since I pay attention to traffic as well behind me... A whole slew of flashes (around 9 of them) to correct issues that should not happen anyways...another Chrysler quick fix is to re-write programs and re-flash to save from actual fixing the real issues...
Dodge Grand Caravan in New York, United States
Mar 2009 - Jun 2013
14000 mi
The van started making a 'ratcheting noise'-the noise got louder very quickly(w/in 100 miles).Took it to the dealer-they gave me another van to drive during repair. They found a bad LH wheel bearing which was replaced the same day.
23000
LH Rear caliper froze up - Dealer replaced under warranty
62000
US $220
The powered third row passenger side seat would not recline, so the seat would not stow. The recline motor was replaced
63000
The seat was fixed on the second trip. The problem was in the geared recline mechanisms, not the motor. The dealer recommended that I call Chrysler since it was out of warranty. I had to send copies of the repair orders, and I was reimbursed $500.
69000
The AC stopped blowing cold air. The unit was recharged with a dye to detect a leak The AC stopped blowing cold air - a leak was detected in the discharge hose
2009 Dodge Grand Caravan 4dr Minivan, ext.
197-horsepower 3.8L V6 6-speed shiftable automatic FWD
Dodge Grand Caravan in Pennsylvania, United States
Feb 2009 - Mar 2015
12000 mi
replace hose in a/c system
19000
replaced steering wheel clock spring, ESP and anti lock lights were on. fault successfully repaired at no charge while vehicle was in for oil change and tire rotation
50500
US $130
Lost heat output. As my wife works nearby, I had her take it to the dealer for thermostat replacement rather than drive home with no heat. Had them change the coolant also.
Dodge Grand Caravan in Vermont, United States
Mar 2009 - Mar 2015
2000 mi
The shift knob fell off because the brass insert for the set-screw became loose. On the initial trip to the dealer the insert was glued in to secure the knob until a new knob could be ordered. A new knob was successfully installed.
24000
A/C not working. A/C Discharge Line ordered. Front windshield washer switch does not return to off position after actuating (must be pulled back manually to turn washers off.) Switch ordered.
27300
Multifunction switch replaced. A/C Discharge Line replaced.
37000
Minor transmission fluid leak in area of transmission pan.
58000
I noticed an oily substance sprayed in engine compartment. Dealer found A/C Discharge Line was split. Dealer replaced line with new part number. Chrysler reimbursed because old part number was used when previously replaced under warranty.
63000
US $137
Check engine light came on, code indicated bad EGR Valve. Replaced EGR Valve. Dealer previously noticed small crack in power steering pressure hose crimp connection, and recommended replacing it as it could blow at any time. I replaced the hose.
72000
Transmission whining in all gears. Replaced defective bearings in transmission.
92000
Front suspension clunking going over bumps. Replaced stabilizer bar links.
95300
Both rear shock absorbers worn affecting ride. Replaced shock absorbers.
98700
Left power door lock functioning intermittently. Replaced left door latch assembly.
114000
Drivers side front hub bearing making growling sound. Replaced both front hub assemblies because I prefer to replaces front end parts in pairs. NOTE: Bad bearings are a known issue on these vans with an extended warranty to 90,000 miles. Front suspension clunking going over bumps. Replaced stabilizer bar bushings.
142700
Front suspension clunking going over bumps. Replaced stabilizer bar links (Moog Lifetime Warranty).
145300
Transmission cooler hoses seeping fluid. Replaced the hoses.
162300
Check Engine Light with multiple O2 sensor related codes and sudden drop in MPG.
Dodge Grand Caravan in Connecticut, United States
Apr 2009 - Mar 2010
18000 mi
Clockspring required, ordered
2009 Dodge Grand Caravan 4dr Minivan, ext.
175-horsepower 3.3L V6 4-speed shiftable automatic FWD
Dodge Grand Caravan in Colorado, United States
Jun 2009 - Sep 2014
24000 mi
Multifunction switch replaced. Wipers stuck on at mid-speed, no wash, NO turn signals.
Dodge Grand Caravan in Ontario, Canada
Mar 2010 - Jul 2013
1240 mi
Check engine light came on and intermittently flashed. Dealer determined a problem with the catalytic converter and replaced it.
5580
C $150
Rear calipers were not contacting rotors properly and rust continually built up causing poor braking and noise. Calipers removed, rotors removed and lightly turned, caliper slides lubed and everything re-assembled
15687
The rotors were warped causing severe vibration when braking at highway speed. New rotors at 25,000 km is unacceptable but what else could I expect from Chrysler brakes.
Dodge Grand Caravan in Ontario, Canada
Nov 2008 - Mar 2015
22320 mi
Air Conditioning not working.
25420
Smoke noticed coming from rear right brake. Took to dealer and all 4 four corners rotors and pads replaced.
35340
C $400
Brake pads and rotors needed replacing due to excessive rust and wear. Dealer replaced all corners just over a year ago due to a seized brake for free. This time dealer labor covered costs because we complaining about quality of last time
40580
Pulled code that cylinder 2 was misfiring. Recommended to replace all plugs, wires, and air filter. Settled on changing just the plug for cylinder 2 to verify if plug was the issue.
44640
All pads and rotors replaced again for the 3rd time in 3 years.
55140
The rear pads were left with 15% and the rotors were warped. This was the fours time in as many years this needed to be done. Dealer wanted full price for the fix so opted to bring it a private garage.
56420
Rear pads were metal to metal, frozen in the carriers and dragging on the rotors. Rotor were badly warped.
73780
Rear plastic wiper arm was broken. Replaced with new metal style.
Dodge Grand Caravan in Ontario, Canada
Mar 2010 - Jan 2012
6820 mi
Valve replaced under warranty. Vehicle loss of power and would not restart.
10046
A/C line leak repaired, recharge system. Key Fob malfunction - replace, reprogram