2009 Ford Focus Repair Histories
72 TrueDelta members own (or used to own) a 2009 Ford Focus. 29 of these members (40.3%) have reported repairs for their car. A total of 82 repairs to 2009 Ford Focuses--an average of 1.1 per vehicle--have been reported.
See our lemon odds and nada odds page to see vehicles with no repairs or vehicles with more than three repairs. To see how frequently 2009 Ford Focus problems occur, check out our car reliability stats.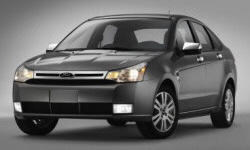 Select a problem area
Need advice about a specific car problem?
Chart based on 82 repairs.
Chart based on 18 repair trips. The repair cost chart excludes repairs made under warranty, do-it-yourself repairs, and repair trips that include maintenance.
2009 Ford Focus 4dr Sedan
140-horsepower 2.0L I4 5-speed manual FWD
Ford Focus in Florida, United States
Apr 2009 - Mar 2015
29000 mi
Interior fan speed 3 not working correctly. Part orders and installed Blend door moan. Replaced actuator. Dealer got(or order) wrong part from supplier twice Both headlights had spider cracks. Replaced.
33500
Clutch pedal return spring broke. Replaced spring. Had to keep car overnight to get parts. Repair took less them 2 hours once part arrived.
55000
Accessory belt tensioner making noise
58000
US $102
Windshield washer resevoir leaking. Replaced.
67000
Driver side door latch close indication not working. Door open chime and visual indication on constantly
Ford Focus in Washington, United States
Jun 2009 - Jul 2013
3000 mi
Multiple thin areas, corrosion spots, and dust/hair in paint. Complete repaint. Rear passenger door hung too high.
37000
Emergency brake cable squeaking as vehicle encountered bumps; known problem area with a TSB fix that had been requested twice earlier but never performed. Noisy injectors on start-up, a known minor problem; solved per a TSB part addition to the fuel rail that had been previously requested but not installed.
53000
US $50
Replaced end links for the second time since new. Factory item has plastic joint components that failed twice. I paid to have new Moog end-links with grease fittings installed, and hope these solve the rapid wear problem I've experienced.
Ford Focus in California, United States
Feb 2010 - Jun 2011
43000 mi
Diode for Cooling Fan Relay Burnt up at 38,000 miles. Warranty was for 36,000 and Ford would not cover it.
63000
US $300
Clutch Slave Cylinder
Ford Focus in Indiana, United States
Apr 2009 - Apr 2010
9000 mi
Car takes on damage from road debris on doors and dogleg. Paint strips away over time. A glaring oversight in windtunnel testing. Clear Bra material applied by Ford to prevent damage.
12000
Drivers seat fabric separating from pad. Ordered new pad. Ignition switch stiff and hesitant to return. Asked for TSB for repair...said car does not fall under TSB but will fix anyway..ordered part. Fuel injectors ticking loudly. Ordered fuel rail insulator to quiet them down. New seat fabric replaced on bottom cushion. Was told that fabric will "tighten up" when outside temps stay above freezing. Will keep you posted on this one. Ignition switch replaced. There was a TSB out on it but dealer claimed my car was not included in the TSB. They did verify the concern however and replaced it anyway. Ticking injectors "fixed" by putting foam insulator on fuel rail. Much quieter now. So far, I'm impressed with Fords quick resolution of problems..not so impressed however with how many there are on such a basic, 10 year old platform.
14000
Belt tensioner failure. Glazing belt. Ordered part. Belt tensioner and belt replaced. Just too many problems with this car with 17,000 miles on it. Does not inspire confidence. Selling car.
2009 Ford Focus 4dr Sedan
140-horsepower 2.0L I4 4-speed automatic FWD
Ford Focus in Kansas, United States
May 2010 - Aug 2010
14000 mi
There was a squeak in the rear of the car that was noticeable when going over large bumps. There was a TSB for a squeaky brake cable. The TSB called for a sleeve to be put over the cable in the problem area. This fixed the issue.
Ford Focus in Montana, United States
Jul 2009 - Sep 2012
10000 mi
During rain storms the drivers side front and rear floors got very wet, but they could not replicate it in the shop.
15000
Still leaking water during rainstorms. They said it is the front windshield leaking, but does not explain how it is getting to the back floorboards. We will see if this corrects the problem this time. They had to replace the windshield. The windshield shop put in their own brand, and Ford made them replace it with a CarLite windshield so that it maintains its warranty.
Ford Focus in North Carolina, United States
Jun 2009 - Mar 2015
24000 mi
Piece of trim near rear passenger warped and was replaced. Front passenger door sometimes needs two pulls to open.
25000
Dealer replaced latch mechanism inside of door
89000
US $50
Replaced sway bar end links
103000
rear shocks & passenger lower control arm
105000
front struts and connecting links
125500
issue with passenger cv joint
2009 Ford Focus 2dr Coupe
143-horsepower 2.0L I4 5-speed manual FWD
Ford Focus in California, United States
Jan 2010 - Mar 2015
19000 mi
Check engine light on
22000
Sync module was replaced
Ford Focus in Kentucky, United States
Jun 2009 - Dec 2010
5000 mi
Resonance problems in the exhaust that cannot be fixed. I'm very annoyed and not sure how I will proceed.
9500
Hopeless. Problems are mounting with this car and Ford has no intention of fixing any of it. I'm selling it and am done with Ford after driving only Fords for 16 years. There is an accessory noise that sounds like a clunking coffee can rolling around. Dealer says there's no fix of course. Something in the door is swinging around loose and knocking against the inside of the door and the door itself. Dealer of course refuses to fix. Clutch position sensor switch has malfunctioned causing the idle to hang even with the clutch in. Switch squeaked since new, then started popping and the idle started hanging. Dealer doesn't have a clue what they're doing and replaced the spring.
19000
Various noises previously reported still present when car sold.
2009 Ford Focus 2dr Coupe
140-horsepower 2.0L I4 4-speed automatic FWD
Ford Focus in Manitoba, Canada
Jan 2010 - Jan 2014
34720 mi
C $640
Brakes squeaking during stop, so I scheduled a pad replacement. On inspection garage advised I had plenty of life left in the pads, and the squeaking isn't an indicator of excessive pad wear at this time. Passenger-side door difficult to open from the inside, won't unlock from the outside using remote doors.
96100
Exterior door handle became uncoupled from door latch, so the car door couldn't be opened from the outside. This 'repair' was just a diagnosis. I'll need to get parts to repair.