2012 Ford Focus Problems and Repair Histories
246 TrueDelta members own a 2012 Ford Focus. 97 of these members (39.4%) have reported repairs for their car. A total of 253 repairs to 2012 Ford Focuses--an average of 1 per vehicle--have been reported.
See our lemon odds and nada odds page for more details. To see how frequently 2012 Ford Focus problems occur, check out our car reliability stats.
Want to read about specific problems behind these stats? Jump to the 2012 Ford Focus problem descriptions below.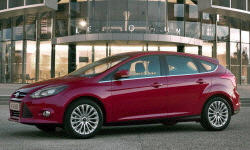 Don't infer 2012 Ford Focus problem frequency from what you see on this page. Many lucky owners have had no repairs, and their cars are not shown.
Select a problem area
7% of the 2012 Ford Focus repairs were to the engine, 28% to the transmission, 1% to the brakes, 8% to the suspension, 33% to the electrical or air-conditioning systems, 21% to the body and trim, and 2% to other areas of the vehicle.
Chart based on 253 repairs.
Non-members can see only ten
2012 Ford Focus problems and repair histories
.
Log in
or
join us
to see them all.
Repair costs are in local units.
2012 Ford Focus 4dr Sedan
160-horsepower 2.0L I4 6-speed automated manual FWD
Ford Focus in Michigan, United States
Date
Odometer
(in miles)
Cost
Problem/Repair Description
Apr 2011
0
11500
0
Loose trim on bumper was re attached
22000
0
The steering needs constant correction at highway speeds, there is a tsb for this and it requires replacement of the steering gear. The revised part carries the same part number as the old part but has a different finish on the steering gear. The front strut bearings are defective, causing grinding noises during low speed turns, had to be replaced according to tsb The keyless entry isn't reliably unlocking and locking the doors, according to the tsb, a reflash of the body computer to a new software was required. The vehicle's oil life monitor wasn't working properly. It never alerted me to change the oil in 21k miles of driving. Had to be reset and a reflash of the oil life system software.
46000
Ford Focus in Minnesota, United States
Date
Odometer
(in miles)
Cost
Problem/Repair Description
Apr 2011
0
1000
0
MFT locked up. Pulled 7.5 amp FUSE to MFT per SYNC tech support line. Dealer replaced MFT Screen & reprogrammed.
4300
0
MFT issuses.... updated to latest software, still locking up. Radio loud when reentering the car, GPS not responding, blank display.
15000
0
Headliner came loose. Replaced driver side door hinge and handle for keyless entry not working all the time.
30000
0
leak replaced ALL clutches Replace HEADLINER
40000
0
MyFordTouch control module
44000
0
The last software update resolved all MyFord Touch issues.
2012 Ford Focus 4dr Hatch
160-horsepower 2.0L I4 6-speed automated manual FWD
Ford Focus in Michigan, United States
Date
Odometer
(in miles)
Cost
Problem/Repair Description
Apr 2011
0
3500
0
Dealer performed TSB 11-10-2 to address low-speed transmission shudders, shifting flares into 2nd and the occasional tendency for the transmission to refuse to downshift upon deceleration. Piece of weatherstripping came lose on passenger side rear door and was getting stuck in door, making it difficult to close the door. Parts ordered. Dealer applied anti-rattle tape to the back of the front passenger door panel to silence what was becoming a persistent rattle in the vicinity of the map pocket.
7500
0
Replaced beltline molding that was coming loose.
11000
0
Steering gear was replaced pursuant to TSB to correct steering wander at highway speeds.
23000
Ford Focus in Washington, United States
Date
Odometer
(in miles)
Cost
Problem/Repair Description
Sep 2011
0
3000
0
Car would exhibit RPM flare at low speeds. Dealer reprogrammed ECU with latest TSB. MSFT sync system is very buggy, latest TSB applied to sync system.
21000
0
Replace clutch pack assembly, seals, other transmission parts per TSB 11-12-13 due to bad seal leaking oil and causing slippage.
26000
0
Transmission grinding between gears. Reproduced concern on test drive with tech, but Ford will not replace transmission again.
Ford Focus in New Jersey, United States
Date
Odometer
(in miles)
Cost
Problem/Repair Description
Apr 2011
0
9000
0
Steering gear replaced pursuant to TSB. Since brand new at highway speeds, there is minor steering wander that required small corrections. TSB addressed this issue. Transmission control module re-flashed to latest program. This is suppose to correct irregular shifting characteristics at low speeds under 10 mph. This was also pursuant to a TSB Front passenger door speaker booms and vibrates much more than any of the other speakers. I have the Sony system. Mechanic stated speaker was installed correctly and did not fix.
12000
0
I finally got them to replace my speaker.
13000
0
PCM updated to latest program that is suppose to address drive-ability issues with the Dual Clutch transmission. I was experiencing iradic behavior especially in reverse at times I thought the car would stall out.
19500
0
PCM, Trans control, and ABS updated to latest program pursuant to a customer satisfaction campaign.
23000
0
Body Control Module reflashed to fix intermittent keyless entry problem. REMOVED BOTH FRONT STRUT ASY'S REPLACED BOTH FRONT SPRINGS AND BEARING PLATES, REINSTALLED SPRING ASY'S, PERFORMED ALIGNMENT. ROAD TESTED HEARD NOISE IN FRONT END, INSTALLED CHASSIS EARS FOUND R/F WHEEL BEARING AND R/F AXLE SUPPORT BEARING NOISEY, REPLACED R/F WHEEL BEARING AND AXLE ASY
24000
0
REMOVED TRANS, FOUND INPUT SHAFT BEARING IN CASE BAD, REPLACED BEARING, SEAL AND ALL SNAP RINGS, REASSEM TRANS, REASSEM TRANS, RESET CLUTCH, INSTALLED CLUTCH ASY, REINSTALLING TRANS UNABLE TO SHIFT REV TO 1ST, REMOVED CLUTCH AND FOUND NOT RELEASING, REPLA
49000
0
Transmission was leaking at bell housing. Seals replaced and new software flashed.
Ford Focus in Alberta, Canada
Date
Odometer
(in miles)
Cost
Problem/Repair Description
Jun 2011
0
4960
0
Ford MyTouch system freezing up and rebooting
17980
0
Firmware update for jerky automatics transmission Low washer fluid warning light would not activate. Speakers on front driver-side door and rear passenger-side door buzz when outputting low frequency sounds. This occurs even when bass is set below zero.
21040
0
Rear cargo cover lift strap replaced
24180
0
Front-end squeak when going over bumps at low speeds. Front struts had dry/rubbing jounce bumpers. Removed front struts and removed springs from struts. Lubricated strut shaft and jounce bumper and reinstalled.
Ford Focus in Michigan, United States
Date
Odometer
(in miles)
Cost
Problem/Repair Description
Apr 2011
0
1000
0
Auto parking buttons were not connected when arrived from factory.
18000
0
Rough shifts. TCM/PCM update
37000
0
Rough shifting Passanger door handle sicks open, preventing closure. Parts inspected/replaced, lubricated.
63000
Ford Focus in Michigan, United States
Date
Odometer
(in miles)
Cost
Problem/Repair Description
Apr 2011
0
11000
0
Vehicle exhibited engine flare on decel. TSB resolved issue
Ford Focus in Michigan, United States
Date
Odometer
(in miles)
Cost
Problem/Repair Description
Apr 2011
0
0
Car said hood was open intermittently while driving even though hood was closed. Alarm also went off at night. Dealer replaced hood latch and hood latch sensor.
3000
0
Body panels were misaligned. Door would stick and it looked terrible. Service manager had to drive car back to assembly plant for fix.
3000
0
Update of MFT/Snyc due to the fact that the previous version was not stable
8400
0
Reflash of MyFord Touch. Still terrible
12000
0
Myford touch still buggy
16000
0
Self install of MyFordTouch update. Done via USB stick, and took about 50 minutes.
24500
0
Replaced clutches
2012 Ford Focus 4dr Hatch
160-horsepower 2.0L I4 5-speed manual FWD
Ford Focus in Missouri, United States
Date
Odometer
(in miles)
Cost
Problem/Repair Description
Jun 2011
5000
6300
0
gas gauge does not read properly reads full for over 150 miles same as before Dealer didnt fix it, still broken
7000