2005 Jeep Liberty Repair Histories
107 TrueDelta members own (or used to own) a 2005 Jeep Liberty. 58 of these members (54.2%) have reported repairs for their car. A total of 189 repairs to 2005 Jeep Libertys--an average of 1.8 per vehicle--have been reported.
See our lemon odds and nada odds page to see vehicles with no repairs or vehicles with more than three repairs. To see how frequently 2005 Jeep Liberty problems occur, check out our car reliability stats.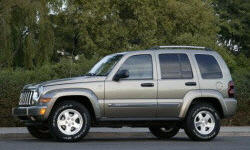 Chart based on 189 repairs.
Chart based on 85 repair trips. The repair cost chart excludes repairs made under warranty, do-it-yourself repairs, and repair trips that include maintenance.
2005 Jeep Liberty 4dr SUV
turbocharged 160hp 2.8L I4 Diesel 5-speed automatic 4WD w/low range
Jeep Liberty in Nebraska, United States
Sep 2005 - Sep 2011
2600 mi
Computer reflashed due to harsh shifting of automatic transmission (2 hours).
21800
EGR valve replaced and computer reflashed (3 hours).
25000
Reflash computer for scan tool operation (1 hour).
39200
Torque converter replaced due to manufacturer recall (1day).
54500
US $75
Alternator clutch-pulley replaced by owner. Depending on the method of replacement (special tools, impact wrench if works or disassembling alternator) could take dealer up to 2 hours.
60000
Turbo hose popped off engine causing engine to dramatically lose power close to home. Took about 1 hour to remove, clean and securely replace both hoses.
62000
Engine cooling fan clutch failed. It took 2 hrs for me to make a special tool and 3 hrs to replace the fan clutch. Maybe 3 hrs at a dealership with proper tools counting time in and out.
72000
Replaced rear Universal Joint in drive shaft. Part cost under $10.00. Took owner 2 hours to replace.
87000
Code P0069 boost correlation error between manifold sensor and nominal atmo reading in CPU. Boost read 16.5 - 16.7 before repair and 14.2 - 14.5 after repair, nominal at idle.
Jeep Liberty in Michigan, United States
Sep 2005 - May 2010
35 mi
my speed control was not turned on at the factory .
21000
replaced torque converter and front pump on transmission under warranty. Replaced the Lower ball joints per recall repaired front grill, connecting tab broke
31000
Replaced EGR valve.
35000
The driveshaft was building up torque because the splines on the yoke would not slide. Lubed the splines and fixed the problem
43000
US $100
Replaced the worn out front brake pads and rotors
45000
replaced EGR valve
48000
Replaced rear brake pads and rotors
51000
removed and cleaned boost pressure sensor
54000
Check engine light came on and got code 299. I removed the boost pressure sensor and cleaned it and reinstalled it and the check engine light went off.
57000
oil pressure light came on, replaced the oil pressure sensor
58000
code 299 again, remove boost pressure sensor and clean and engine light goes out
Jeep Liberty in Colorado, United States
Oct 2007 - Oct 2011
20000 mi
US $75
Navigation radio stopped working.
23000
Check engine light. Two fault codes for transmission control module. When reset the check engine light stayed off.
Jeep Liberty in Florida, United States
Apr 2008 - Sep 2014
50000 mi
US $52
Fixed passenger rear door handle which broke from pulling on it too hard.
51000
Blower Fan stopped working on speed 1 and speed 2. I replace a resistor that is found behind the glove box. Cost $30, before that my brother-in-law told me to check relay, which I also replaced $25. That was not the solution it was the resistor. Waste
2005 Jeep Liberty 4dr SUV
210-horsepower 3.7L V6 4-speed automatic RWD
Jeep Liberty in Florida, United States
Feb 2009 - Mar 2010
53000 mi
US $2300
Light signaled a problem with the TCM, I think 0035 and 0031. Did not address issue. After 2 weeks, driving I lost forward motion, caused by transmission failure. I was told lubrication had not been making it to some part. Was told it is common w/Liberty
2005 Jeep Liberty 4dr SUV
210-horsepower 3.7L V6 4-speed automatic 4WD, part-time w/low range
Jeep Liberty in Ontario, Canada
Sep 2007 - Oct 2014
108500 mi
C $800
Front and rear pads and rotors worn out, replaced. Rear emergency brake shoes also worn out, replaced.
117800
Bad front drivers-side wheel bearing, hub assembly replaced
155000
Replaced water pump and serpentine belt Replaced a/c compressor with aftermarket part due to clutch failure
Jeep Liberty in New Jersey, United States
Sep 2007 - Jan 2010
66000 mi
US $289
Replaced rear shocks.
68000
Replace front struts. Replace front brake rotors.
Jeep Liberty in West Virginia, United States
Sep 2008 - Sep 2014
50000 mi
US $75
Rear pinion seal was leaking. Called ChryCo and told it was NOT covered under the 7/70 powertrain warranty. Stealership wanted $140 for repair, independent shop did it for $63 + $12 for Mopar seal.
119000
AC clutch failed. Dealer said the compressor itself imploded and metal contaminated system, but doubt that - had AC clutch fail on 02 Liberty with same mileage, same symptoms, but clutch replacement not advised - got NAPA compressor.
Jeep Liberty in Newfoundland / Lab., Canada
Sep 2007 - May 2008
35692 mi
Speedometer not working and engine light came on. Repair made at the dealer under warranty by replacing a speed sensor.
Jeep Liberty in New York, United States
Oct 2007 - Nov 2014
39000 mi
Fan switch on dashboard for heating, aircondtioning,would only operate on 4th (highest setting 1,2,3, would not operate.I have extented waranty that I paid 1200 for that didn't cover that part how convienent for the dealer or chrysler.
54000
back rotors and calipers burnt up never heard them scraping or metal sound
59000
leather drivers seat worn out and tore. Waiting to hear from Chrysler if they will help with repair.
60000
US $250
Leather wore out on drivers seat then ripped leaving foam and netting. Leather seat should last way more than 5 years.
62000
Sensor in ABS System had to be replaced. Brake warning light and ABS idiot light kept coming on
69000
Blown front right speaker under warranty but still will cost money to replace
81000
Heard a bump when I was on the highway, when I got to my exit car did not move when I steped on the gas.Had the car towed to my mechanic and he turned it over to his transmission guy said torche converter was shot and I needed a transmission
84000
seems I only bought new battery 2 years agoShop said battery was stamped 2009 maybe i bought an old battery from Auto Zone. This summer cleaned terminals and greased them everything was fine?????????
85000
Both headlights went out only high beams worked. Shop said needed both new headlight bulbs.
88000
Tire pressure sensor than was leaking air. They replacd it but lights were still on that the tire pressure was low even though they checked all tire pressures SaME PROBLEM
88000
tire pressure sensor light not going off. Still has not been solved they said they ordered the part ansd have never called me to come in
89000
Air conditioner belts and clutch bearings the whole unit that is on the compressor.
89000
Radiator tank had to be replaced engine overheated had to push it to side of road let it cool and then drive to my mechanic. Whole radiator plus themostat and hoses had to be replaced.
91000
Fan working but no Heat