2007 Jeep Liberty Repair Histories
44 TrueDelta members own (or used to own) a 2007 Jeep Liberty. 25 of these members (56.8%) have reported repairs for their car. A total of 65 repairs to 2007 Jeep Libertys--an average of 1.5 per vehicle--have been reported.
See our lemon odds and nada odds page to see vehicles with no repairs or vehicles with more than three repairs. To see how frequently 2007 Jeep Liberty problems occur, check out our car reliability stats.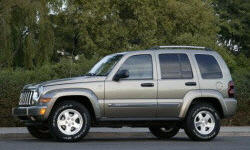 Select a problem area
Need advice about a specific car problem?
Chart based on 65 repairs.
Chart based on 24 repair trips. The repair cost chart excludes repairs made under warranty, do-it-yourself repairs, and repair trips that include maintenance.
2007 Jeep Liberty 4dr SUV
210-horsepower 3.7L V6 4-speed automatic RWD
Jeep Liberty in Texas, United States
Nov 2009 - Mar 2010
30000 mi
The driver side rear window came of the track. would no longer go up and down. problem fixed in a few hours. given new window along with internal parts.
Jeep Liberty in Texas, United States
Aug 2009 - May 2013
60000 mi
US $400
Drivers rear window regulater failed, causing replacement of window and motor mechanism for power window.
61300
Replaced right rear power window motor and glass.....This is 3rd power window failure since new. Chrysler denies any liability. This will make me never buy another Jeep.
67000
Jeep went to shop in April for a rear brake job. New pads, and rotors turned. Then after 3 days, right rear caliper piston stuck, caused pads to scorch. Took car back, they lubed caliper rails. Piston still stuck so on 2nd trip had new caliper installed.
73000
replaced rear window motor and regulator for 2 time in 3 years. Repair was made under Jeep warranty, since prior repair was made 9 months ago, and prior repair had a 12 month warranty.
81000
Passenger power window regulator broken. This is the 5th window regulator to break in 4 years. Fortunately, Chrysler recently extended the factory warranty for the power windows to 8 years/unlimited miles.
90000
The left rear power window regulator failed, for the 3rd time. Since Jeep provides a free 8 year, unlimited mileage warrranty on the power windows, dealer replaced all 4 window regulators free.
95000
Worn out water pump
2007 Jeep Liberty 4dr SUV
210-horsepower 3.7L V6 4-speed automatic 4WD, part-time w/low range
Jeep Liberty in New Brunswick, Canada
Jun 2009 - Jun 2010
20460 mi
Ordered new left rear power window regulator kit under warranty Needed new window glass since the 07 kits arenít made anymore.
Jeep Liberty in New Brunswick, Canada
Aug 2009 - Mar 2015
51460 mi
the horn came on by itself and could not be turned off except by removing the fuse. A friend made some adjustments to the interior of the steering wheel, under the airbag system, and the problem hasn't occurred again.
66360
Water was leaking in at bottom driver's side corner above fuse box and causing shorts which activated the horn. Put gaskets on the screws that hold the OEM roof rails in place. Not sure if successful yet - need it to rain to be sure.
75600
C $1200
Loud noise intermittently, coming from rear of vehicle. Rear brakes were rusted and e-brake was falling off. Completely replaced rear brakes.
76880
front passenger-side tire had a slow leak. Had dealership replace pressure sensor.
83700
One of the O2 sensors was replaced due to a P0158 OBD code. This seems to have fixed the problem.
93000
Oil light on intermittently for couple of weeks, small pool of yellow-greenish liquid on the pavement, near the front bumper on passenger side. Dealer could find no problem nor was the light on when they checked. No problem since.
96720
Front left tire pressure monitor not working. Replaced but dealer could not reset computer and advised me it would shut off on it's own after driving a couple of times. Dealer used incorrect TPM on earlier repair and it wasn't functioning correctly. This was replaced with the correct one CEL was on intermittently and computer showed a PO 456 error code. Dealer did smoke test but not smoke showed. Inspected fuel tank and a leak was found at the retaining ring on the fuel pump. Fuel pump replaced. Oil light was on. Dealer replaced the oil pressure switch.
96720
Instrument panel lights for ABS and ESP were on solid. Dealer determined rear left wheel sensor was not working so it was replaced.
97960
Vehicle failed inspection and rear upper contol arm bushing was replaced
Jeep Liberty in Quebec, Canada
Nov 2009 - Jul 2011
34100 mi
C $600
Entire rear window assembly was replaced, including window. Plastic parts failed in the mechanism causing the window to drop into the door and break.
Jeep Liberty in Virginia, United States
Apr 2010 - Jun 2011
58000 mi
US $1300
Both front CV joints needed to be replaced due to a steering wheel vibration
Jeep Liberty in Alberta, Canada
Jul 2009 - Jun 2012
13020 mi
C $1860
radio shorted and burned wiring harness window motor failed and window could not be closed transmission oil cooler line was leaking
56460
window regulator broke and replaced under manufacturer extended warranty
Jeep Liberty in Ohio, United States
Jul 2009 - Jun 2011
28000 mi
both front door windows coming off track during closing. Replaced window glass and track or fixture inside front doors. Seems to be a common problem with 2007 Liberties. Parts had to be ordered and took 2 weeks to get in. trailer lighting "module" shorted out causing running lights and turn signals to malfunction or not work correctly. Dealer replaced "module" and resolved issue.
57000
US $80
Rear window fell into door, actuator attachment to window failed. Choose to replace with an non OEM part, as the OEM parts required replacing mechanism with mechanism from previous model year Jeeps.
Jeep Liberty in South Dakota, United States
Jul 2008 - Mar 2011
13950 mi
Drivers door glass was sticking as it went up and cocking in the opening causing it to jamb and not move. Dealer ordered replacement regulator and installed it under warranty. Works fine now. Job took less than 1 hour, we were very pleased.
36000
Left rear window regulator/motor failed, glass fell into door and would not operate.
40100
US $140
Had transmission fluid drained and changed along with a new filter in the pan. This was done at the jeep dealer.
42100
Had a slight hesitation. Decided to pull the spark plugs and check conditions. They were not gapped correctly, 50 thousandths instead of the 40 they should be so I purchased new replacements and gapped them at 40. Runs smoothly now.
2007 Jeep Liberty 4dr SUV
210-horsepower 3.7L V6 4-speed automatic 4WD w/low range
Jeep Liberty in Indiana, United States
Aug 2009 - Mar 2010
43000 mi
US $350
Window feel to bottom of door. Local body shop advised me that the window motor regulator had broken but window glass still good. After calling several auto parts places, they found that there were no aftermarket replcmts. Chrysler has redesigned window motor and it would not connect to the old window glass. I had to buy new glass also.