2013 Mazda CX-5 Repair Histories
151 TrueDelta members own (or used to own) a 2013 Mazda CX-5. 56 of these members (37.1%) have reported repairs for their car. A total of 137 repairs to 2013 Mazda CX-5s--an average of 0.9 per vehicle--have been reported.
See our lemon odds and nada odds page to see vehicles with no repairs or vehicles with more than three repairs. To see how frequently 2013 Mazda CX-5 problems occur, check out our car reliability stats.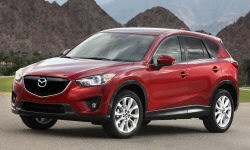 Select a problem area
Need advice about a specific car problem?
Chart based on 137 repairs.
2013 Mazda CX-5 4dr SUV
155-horsepower 2.0L I4 6-speed shiftable automatic FWD
Mazda CX-5 in Georgia, United States
Mar 2012 - Oct 2014
Tire pressure light had to be reset as it was reading a problem that was not there, tires were at proper pressure
Mazda CX-5 in California, United States
Aug 2012 - Mar 2013
2000 mi
Rattle noise coming from center of dash when car is cold. Instrument panel was removed - Center bracket was missing foam padding. Factory defect.
4000
Seat covers are coming loose. Repaired per TSB 09-035112
5000
Glove box dampener replaced due to rattle noise
7000
Driver side mirror vibrating at highway speeds. Fixed per TSB 09-002/13. Many other rattles the dealer couldn't pinpoint. Traded for a 2014.
Mazda CX-5 in Florida, United States
Mar 2012 - Dec 2014
6000 mi
Hood flutters at highway speed near windshield. Tech confirmed issue and adjusted and tightened hood.
21000
Driver's seat rail was replaced due to clunking and slight rocking motion.
2013 Mazda CX-5 4dr SUV
155-horsepower 2.0L I4 6-speed shiftable automatic AWD
Mazda CX-5 in Pennsylvania, United States
Sep 2012 - Dec 2013
Driver side mirror vibrated when driving. Dealership said no fix yet. Wait until Nov. 1st. This is a common issue.
4000 mi
US $10
Replaced defective mirror with one that also had a problem. Mazda notified, waiting for a response.
6000
Service Bulletin for mirror vibration was done. It is better but not completely fixed to my satisfaction. Just a little bothersome, I am just giving up. Not worth my time.
Mazda CX-5 in British Columbia, Canada
Mar 2012 - Mar 2015
9300 mi
Rear cargo cover would rattle when going over uneven terrain. Steering wheel cover have excess clearance on windshield wiper stalk, intermittently produces rattles going over uneven terrain
11780
Rear passenger seat latch had excess clearance with latch lock. Used electrical tape to reduce clearance between latch and latch lock. Noise has been gone since DIY repair.
35960
When transmission is cold, after shifting from Reverse to Drive, engine revs to near 3000RPM. Vehicle would lunge forward. When transmission is at normal operating temperature, rough shifting and clunking when switch from R to D.
Mazda CX-5 in Illinois, United States
Mar 2012 - Jul 2014
5000 mi
There was a rattle coming from the right front of the vehicle. Some cowl bolts needed to be tightened. There is a TSB for this. Supposed to be a permanent fix. No problems since.
25000
Trim piece (rubber/weatherstripping) that runs under the driver and rear passenger door was coming loose at the front. Dealer replaced under warranty.
Mazda CX-5 in Oregon, United States
Nov 2012 - Mar 2014
1000 mi
engine wasnt coming up to running temp.told was bad T-stat. replaced and was sent on my way. Cel came on again,checked code and same issue.waiting to hear from mazda NA to get it repaired again. repeat CEL with not coming to running temp.
3000
reflash of comp due to mil on from engine not coming to proper heat range
Mazda CX-5 in New Jersey, United States
Sep 2012 - Sep 2014
100 mi
replaced defective sirius antenna
80
Sirius satellite radio not working. Dealer diagnosed defective antenna. Dealer had to order new antenna as one was not in stock.
15000
leather drivers seatback started to separate at a seam--dealer opted to replace entire leather seatback cover instead of repairing the seam
2013 Mazda CX-5 4dr SUV
155-horsepower 2.0L I4 6-speed manual FWD
Mazda CX-5 in Pennsylvania, United States
May 2012 - Jul 2014
Driver side mirror shakes above ~35 mph (rearview and passenger side mirror are solid). They inspected it and said there was no issue. It still shakes. Update: it stopped bothering me. Not sure if it went away or I just got used to it.
Mazda CX-5 in Illinois, United States
Aug 2012 - Sep 2013
3000 mi
Rattle under the dashboard when riding over bumps. Left side of lower seat (where your butt is) was ripped upwards off the base. Lower seat trim cloth had to be replaced. Driver side mirror vibrates at 50+ MPH
4300
Seat cover replaced.
7000
Rattle from dashboard, especially from the passenger side.
16000
Symmetrical dents due to body fatigue on both sides by the hatch. Those are symmetric and look very similar on both sides. Left side dented more than right side.
16000
Driver side seat cover ripped out again from left side. New one installed. This was 2nd repair for this same problem. Driver side mirror shake at HWY speeds ~50MPH and over. Per Service Manager, special bracket was installed to remedy this.