2003 Mazda Protege Repair Histories
208 TrueDelta members own (or used to own) a 2003 Mazda Protege. 104 of these members (50%) have reported repairs for their car. A total of 380 repairs to 2003 Mazda Proteges--an average of 1.8 per vehicle--have been reported.
See our lemon odds and nada odds page to see vehicles with no repairs or vehicles with more than three repairs. To see how frequently 2003 Mazda Protege problems occur, check out our car reliability stats.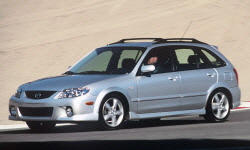 Chart based on 380 repairs.
Chart based on 200 repair trips. The repair cost chart excludes repairs made under warranty, do-it-yourself repairs, and repair trips that include maintenance.
Non-members can see only ten
2003 Mazda Protege repair histories
.
Log in
or
join us
to see them all.
2003 Mazda Protege5 4dr Wagon
130-horsepower 2.0L I4 5-speed manual FWD
Mazda Protege5 in Georgia, United States
Apr 2007 - Mar 2010
80000 mi
US $2500
replaced motor with one that has 20000 miles on it., it was a cracked head that led to all this.
82000
Bought the car, found out that it had a blown head gasket. To replace the gasket was going to cost 1100 bucks. It also needed a new clutch and pressure plate. Which was going to be another 500 bucks plus parts on top of that leaving the totol cost around
84000
3 Blown motor mounts, replaced them with upgraded ones from AWR
Mazda Protege5 in Georgia, United States
Jan 2007 - Jun 2013
75000 mi
US $40
RF wheel bearing howling loudly. Repladed DIY.
65000
Both low beam halogen headlight bulbs burned out. Metal spring clip broke while changing bulb, replacement only available from dealer.
79000
RF outer wheel bearing was making very loud noise. I removed carrier myself, but could not replace bearing as I do not own a press, so I took it to a shop where they replaced the bearing. I reinstalled carrier.
96000
Replaced front brake pads.
112000
Previously replaced front wheel saddle bearing repair did not last- either I did not properly tighten the spindle bolt (not likely, but could have happened) or the part was defective.
144000
RF wheel bearing was very noisy. Had replaced it twice already; the real problem was the hub/bearing carrier had worn and allowed the bearing to become cocked slightly- which in turn caused the bearing to fail prematurely. Replaced hub.
169000
Replace low-beam head light. Seems to be a problem area with these cars; I've replaced the head lights three times, and have heard of other owners having similar problems.
Mazda Protege5 in Michigan, United States
Jul 2005 - Jun 2014
24001 mi
Rear ABS sensor replaced under warranty.
38000
Headlight out, replaced bulb.
48000
Finish flaking off wheels. New wheels ordered. Wrong wheels ordered, so not installed. Will have to go back.
49000
Wheels finally replaced. Extra trip required so Mazda could approve use of polished wheels like those that originally came on the car. I had these swapped for regular painted alloys at time of purchase.
58000
US $80
One low-beam headlight went out, then a few days later the other one went out. Very difficult to access and remove the bulbs, which no parts shop seems to stock. So I had the dealer do it.
66000
Front left wheel bearing replaced after started making a loud noise during even the slightest turns over 20 MPH.
76000
Pads and rotors all four wheels.
77000
Repaired rust around the rear wheel openings and along the lower inner seam of the driver's door.
83000
Both headlights replaced, second time they've both failed within days of each other.
84000
Another wheel bearing. Intake air tube developed a crack, perhaps when I replaced the air filter. Caused the engine to run lean, setting off the CEL. Shop suspected this was a common problem, since the part was readily available.
86000
Alternator bearing seized up, snapping the accessory belt. Replaced alternator and belts.
92000
Repaired rust around rear wheel openings and on the lower inside surface of the driver's door.
93000
Front left wheel bearing replaced again after two years and 26,000 miles.
95000
Right rear stabilizer bar link broke. Replaced both links. Shop found worn control arm bushings. Replaced both front control arms. But clunk I've been noticing in the front end is still there.
98300
Replaced another wheel bearing, about a year old. Also replaced end links on front stabilizer bar. Clunk gone, handling tighter.
105000
Pulsation in brake pedal. Turned front rotors, replaced rear pads and rotors.
108000
Pulled over by police because one headlight was out. They were last replaced about 20 months ago, and then 20 months before that. Originals lasted five years. What gives? And why now $30 a bulb?
111300
Right rear power door lock hasn't worked in months. With the weather warmer, removed door panel, opened up lock actuator, and found broken plastic gear and travel slide. Purchased this piece on eBay for $14.
115000
Removed rust from three fenders and welds under hood, treated areas with rust converter, touched-up. Had to remove a few inches of flange from the forward edge of the left rear wheel opening. Not a complete repair.
1
Repaired deep rust on part of the underbody and inside rear wheel openings prior to sale. Right rear strut clunking, needed to be replaced when the car was sold.
Mazda Protege5 in Massachusetts, United States
Sep 2006 - Mar 2010
70000 mi
US $250
The A/C fan switch was malfunctioning.
2003 Mazda Protege5 4dr Wagon
130-horsepower 2.0L I4 4-speed shiftable automatic FWD
Mazda Protege5 in Virginia, United States
Jul 2006 - Mar 2010
34000 mi
Both coil packs were failing, causing rough idle and severe hesitation. Dealer also replaced all four sparkplugs and both ignition wires as a precaution. Failing coil packs are a known problem that affects a small but measurable number of Proteges/Protege
39000
Rattling from engine bay before engine warmed up. The heat shield had come loose. Dealer reattached under owarranty. Car died while idling at a stoplight. CEL stayed on and then turned off when car restarted. Dealer unable to diagnose and no code recorded. No charge.
2003 Mazda Protege 4dr Sedan
turbocharged 170hp 2.0L I4 5-speed manual FWD
Mazda Protege in Alabama, United States
Sep 2006 - Mar 2010
30187 mi
replace rear sway bar, end links, and bushings
54000
US $250
replaced bushing and brackets for rear sway bar
63000
replaced leaking rear struts
2003 Mazda Protege 4dr Sedan
130-horsepower 2.0L I4 5-speed manual FWD
Mazda Protege in New Mexico, United States
Feb 2007 - Nov 2011
30000 mi
US $120
Door lock actuator had internal break
2003 Mazda Protege 4-door
4-cylinder automatic 2WD
Mazda Protege5 in Massachusetts, United States
Feb 2007 - Mar 2010
69000 mi
Driving to work, car went into first gear and wouldn't shift. Had it towed to used car dealer; they installed (used/junkyard) tranny. Paid by them because it was under warranty that was offered when purchased car.
2002.5 Mazda Protege5 4dr Wagon
130-horsepower 2.0L I4 5-speed manual FWD
Mazda Protege5 in New York, United States
Feb 2006 - Apr 2011
52500 mi
US $225
Had loose front tie rod ends replaced because of noise.
55000
Replaced the EGR valve for the third time, first out of warranty. also diagnosed creaking noise in rear as worn/loose sway bar end links. Need to be replaced at next visit.
57000
Buzzing/creaking noise noticed in the front when turning steering wheel. Worn end links on front sway bar diagnosed. Also power steering pump may be at end of life. Not fixed this trip because of cost and not an immediate safety issue.
65000
Replaced broken rear sway bar end links. Also flushed power steering fluid system due to unknown contaminant. Regularly required brake service and lube also performed.
67000
Mechanic noticed that front end links are worn/loose and causing front end clunk/creak. Will repair in the future, not a safety issue.
73000
Replaced rear disc brake rotors and pads. This set only had 15k miles on them. The pad slides rust on this car causing excessive wear on rear brakes. This is 4th set of pads/rotors on rear of this car in 70k miles.
75000
Had scraping noise in rear of car after new pads and rotors installed in February. Mechanic discovered that the rear calipers were faulty and had to be replaced. Also had to replace the 3 month old rotors and pads because of premature deterioration.
75000
had to replace front pipe, completely rotted, needed new part, not just a welded repair
80000
replaced front brake pads and rotors for 2nd time, first was around 60k mi. Front struts replaced - they were badly leaking and had lost most of their rebound capabilities. Was cause severe tire wear. Had car in for tire wear and 2 alignments over past year, but they didn't figure it out til now. Shop performed rear brake maintenance. The rear brake pad/caliper slides had frozen again. Probably top problem with this car. Significant thru the panel rust on both rear wheel arches, causing the rear bumper to lose its connection points to the body. The connector has rusted away, leaving bumper to rattle in the wind. Also other rust ie bottom of all doors
82000
egr valve problem is back,car stalling and running rough. Cel was egr flow insuficient. Cleared that then threw multiple cylinder misfire.
89000
Front outer tie rods replaced, were significantly loose. Also complained of loud whining/gear noise, was diagnosed as bad driver front wheel bearing. I think it is the gear box whining. also had rust check, alignment.
89000
Sold with substantial rust.