2001 Subaru Outback Repair Histories
98 TrueDelta members own (or used to own) a 2001 Subaru Outback. 49 of these members (50%) have reported repairs for their car. A total of 212 repairs to 2001 Subaru Outbacks--an average of 2.2 per vehicle--have been reported.
See our lemon odds and nada odds page to see vehicles with no repairs or vehicles with more than three repairs. To see how frequently 2001 Subaru Outback problems occur, check out our car reliability stats.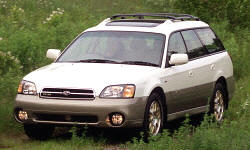 Select a problem area
Need advice about a specific car problem?
Chart based on 212 repairs.
Chart based on 110 repair trips. The repair cost chart excludes repairs made under warranty, do-it-yourself repairs, and repair trips that include maintenance.
Non-members can see only ten
2001 Subaru Outback repair histories
.
Log in
or
join us
to see them all.
2001 Subaru Outback
Engine not specified
Subaru Outback in Washington, United States
Oct 2008 - Jan 2009
75000 mi
US $250
Car died in middle of a busy street. Was told it needed new alternator, old one running at about 50 percent. Decided to sell instead.
2001 Subaru Outback 4dr Wagon
165-horsepower 2.5L H4 5-speed manual AWD
Subaru Outback in Vermont, United States
Jun 2008 - Apr 2015
119000 mi
US $160
Knock sensor was not working correctly; car frequently lit CEL. Code "P0325" came up.
120000
Front brake discs and pads.
123000
Mechanic replaced the rear-right wheel bearing that was unusually loud. Car was in for other reasons but the bearing was the only non-wear item.
124000
Radiator was leaking. Noticed it one day while parking car after a snowstorm. Green dots covered the driveway. Mechanic found radiator leaked during high-pressure testing. Dropped car off 8 AM, had loaner for the day.
128000
Front brakes were warped. Caused noticeable sharking during braking. Made appt. for oil change and to check front brakes. They were resurfaced, and now things are OK.
129000
Front-right CV boot split, causing a burning smell through the heater vents. Made appt.; fixed in a day.
136300
Belt slipping. Was tightened right then and there with no appointment needed. Junction Auto (New Haven, VT) is an excellent repair shop.
136700
Turn signal worn... kept clicking even when not used. Was replaced with one from another car.
140000
Transmission was replaced with used one of similar mileage. There was a bearing failure in the old transmission, causing a clicking sound. Exhaust heat shields rattled since first day of ownership (with 103,000 miles). Never bothered to do anything with it until transmission was replaced. Heat shields were tightened and now car doesn't rattle anymore.
144000
Oil changed. Needed both steering boots replaced because they were split. Mechanic assumed they were CV boots that needed replacing. Found out they weren't, and didn't have any of the correct ones in stock. Was told to come back 7 days. Steering boots finally arrived. Both were replaced. Four-wheel alignment also done due to taking apart steering components.
150000
Both front calipers, all four rotors, plus all brake pads had to be replaced. Front calipers were sticking, rear pads completely worn out, front rotors warped. Heat shields rattling... they were tightened. No more rattles currently. Second time in 50,000 miles of ownership I've needed to do this.
153000
Bad CV joint. Junction Auto in New Haven, VT promised loaner but said on day of repair I couldn't have one, so CV joint wasn't repaired due to time constraints. Will find different shop.
153500
Doors froze shut during cold weather. Opened driver's door and weather stripping detached on the bottom, dangling. Super glued back on.
154000
Viscous coupling binds after it's warmed up. Mechanic replaced fluid. Problem not gone but improved slightly.
159000
Speedometer and odometer stopped working, but worked while backing up. Disconnected/reconnected battery; worked then failed again. Stopped driving it for a couple hours and it apparently fixed itself. Haven't had an issue since.
160700
AWD system binds in front in sharp corners once driven out of town. Dealt with this for two years now. Dealer replaced transmission fluid but did not fix it.
162000
Replaced transmission with one that had 88K on it. Mechanic put in synthetic tranny fluid. Waited about a month to get it done due to scheduling problems on their part.
169000
Replaced oil pan for rust spots.
172300
Rust repair to make it legal for inspection in rear-right door. Half shaft needed replacing, plus a CV boot
175700
Replaced flange. Replaced radiator Oil leak Entire underside rusting, suggested I trade it in.
Subaru Outback in California, United States
May 2008 - Dec 2014
76000 mi
US $394
Replaced Rt inner axle boot (DOJ boot)
91300
The engine code identified the idle air control valve as the problem. My mechanic cleaned the idle air control valve rather than replacing it. This problem crops up every 3 years in the winter time.
100500
Difficult to read the mechanics notes, but it looks like "replaced Anful Ratro Sensor."
103000
Car gradually became more difficult to start, refusing to turn over. When it quit completely, mechanic replaced the starter.
108000
When the car refused to start, it had to be towed to the mechanic, who diagnosed a bad fuel pump. He replaced the fuel pump with sending unit. Labor was only $110, but the parts were $414 before tax.
111000
Car failed to start, on more than one occasion. Finally drove it to my mechanic, who replaced a bad crank position sensor.
113000
More than once, car failed to start once hot, and had to be push-started. Later, check engine light also went on. Mechanic kept it a week, but since the problem never recurred for him, he fixed nothing, but also charged nothing.
2001 Subaru Outback 4dr Wagon
165-horsepower 2.5L H4 4-speed automatic AWD
Subaru Outback in Connecticut, United States
Aug 2008 - Oct 2011
63000 mi
Leak in the cargo area due to "clogged drains"
72000
US $2100
Found oil leak around headgasket.
76000
replaced 02 sensor.
Subaru Outback in Alberta, Canada
May 2008 - Jun 2011
99200 mi
C $300
After requesting an alighment, it was discovered the right rear alignment parts were seized and needed to be cut out and replaced
Subaru Outback in New York, United States
May 2008 - Dec 2014
91000 mi
US $300
replaced knock sensor
103000
Replaced Timing belt, water pump. Replaced starter. Replaced engine sensor.
2001 Subaru Outback 4dr Sedan
165-horsepower 2.5L H4 4-speed automatic AWD
Subaru Outback in California, United States
Aug 2008 - Aug 2013
115000 mi
US $1100
New tie rods. 4 wheel alignment. Oil change. New CV joint Brake rotors resurfaced.
120000
Car died on road. Wouldn't restart. Tow truck driver was able to start the car. Transmission lockout switch suspected, but wouldn't replicate.
124000
Check engine light came on after a long trip over mountains, etc. No obvious failure, likely emissions related. Within a week the light went off. I should have it checked out, but likely won't unless it returns.
124000
#1 cyl misfire. Full valve adjustment. All valves were out of spec. Repair was fully successful, and the car drives like new. fuel injectors replaced.
130000
Both head gaskets replaced, heads machined. This is the third time head gaskets were replaced. First repair @45K under warranty, one side replaced, no machining. Second repair at 95k, both gaskets repaired, no machining. This repair at 130k. Resurfaced rotors and replaced pads. Cracked axle boot replaced.
131000
Half shaft replaced. This was in addition to the other side axel boot replaced in January. Two down, two to go.
141000
Routine brake job. Replaced all 4 rotors, 2 pads. Tires balanced. rotated.
2001 Subaru Outback 4-door
6-cylinder automatic AWD
Subaru in California, United States
May 2008 - Mar 2010
74000 mi
US $250
The driver and passenger window gaskets, or gussets around the side mirrors were replaced due to excessive wind noise. This is known problem with this model and year Subaru.
2001 Subaru Outback 4-door
4-cylinder manual AWD
Subaru Outback in Saskatchewan, Canada
May 2009 - Dec 2009
99820 mi
Headgasket failure. Was leaking badly on one side(driver), and the pass side was just starting to leak.
2001 Subaru Outback 4-door
4-cylinder automatic AWD
Subaru Outback in Ontario, Canada
May 2008 - Sep 2009
57660 mi
C $800
Electronic device failed and was replaced. As well rear suspension rubber bushings were replaced. Your form above assumes only one problem!
58900
rotors replaced, pad replaced Bearing in Transmission noisy. Changed transmission oil and added additive, and the noise disappeared.