2012 Volkswagen Touareg Problems and Repair Histories
40 TrueDelta members own a 2012 Volkswagen Touareg. 21 of these members (52.5%) have reported repairs for their car. A total of 41 repairs to 2012 Volkswagen Touaregs--an average of 1 per vehicle--have been reported.
See our lemon odds and nada odds page for more details. To see how frequently 2012 Volkswagen Touareg problems occur, check out our car reliability stats.
Want to read about specific problems behind these stats? Jump to the 2012 Volkswagen Touareg problem descriptions below.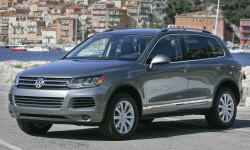 Don't infer 2012 Volkswagen Touareg problem frequency from what you see on this page. Many lucky owners have had no repairs, and their cars are not shown.
Select a problem area
49% of the 2012 Volkswagen Touareg repairs were to the engine, 7% to the suspension, 22% to the electrical or air-conditioning systems, 20% to the body and trim, and 2% to other areas of the vehicle.
Chart based on 41 repairs.
Non-members can see only ten
2012 Volkswagen Touareg problems and repair histories
.
Log in
or
join us
to see them all.
Repair costs are in local units.
2012 Volkswagen Touareg 4dr SUV
turbocharged 225hp 3.0L V6 Diesel 8-speed shiftable automatic AWD
Volkswagen Touareg in Oregon, United States
Date
Odometer
(in miles)
Cost
Problem/Repair Description
Jun 2012
0
0
Steering wheel shimmy
18000
0
EGR Temperature Sensor Replacement.
19000
Volkswagen Touareg in Washington, United States
Date
Odometer
(in miles)
Cost
Problem/Repair Description
Nov 2011
0
7000
0
Glow plug light started blinking. Dealer replaced fuel pump control module.
11300
0
Blinking glow plug light - previous repair did not fix. Dealer replaced in tank fuel pump.
25000
Volkswagen Touareg in Oklahoma, United States
Date
Odometer
(in miles)
Cost
Problem/Repair Description
Dec 2011
0
11000
0
Check engine light was on.
30700
0
Interior trim clips broke.
43000
Volkswagen Touareg in Illinois, United States
Date
Odometer
(in miles)
Cost
Problem/Repair Description
Nov 2011
4000
11000
0
Rear door electric lift was malfunctioning
24000
0
Key fob got stuck in ignition
26000
Volkswagen Touareg in Pennsylvania, United States
Date
Odometer
(in miles)
Cost
Problem/Repair Description
Nov 2011
1000
5000
0
Orange "Check Engine" light came on (constant, not flashing). I was told I could continue to drive the car. The problem was the AdBlue (diesel additive) pump which was replaced under warranty,
16000
Volkswagen Touareg in New Jersey, United States
Date
Odometer
(in miles)
Cost
Problem/Repair Description
Apr 2012
0
0
Emission control light on. Was reset by dealer and so far has not reappeared. Difficult to remove key fob from ignition after turning off car. Apparently need to pause for a second, wait for a click and then remove. Rear view mirror fell off while car was parked overnight- fell straignt down and damaged Nav screen. Dealer repaired/replaced damaged parts under warranty
1000
0
Emissions control light came on again (had come on in May and sales dealer chose to reset rather than investigate). Readings showed EGR sensor was defective and needed replacement. Emissions control light on now for the third time (car has only 600 miles on it). Dealer did extensive testing, determined that EGR system needed replacing, perhaps was wired incorrectly or had defective solenoid. Lemon law here we come
Volkswagen Touareg in Ontario, Canada
Date
Odometer
(in miles)
Cost
Problem/Repair Description
Nov 2011
620
1240
0
Audio system had random static pop noise (bang from speakers). Dealer replaced amplifier.
1860
0
Fender flares (dealer installed parts) began to separate from the body. Apparently this problem has resulted in an installation / design change by VW. Update: after over two months I am still awaiting parts from Germany to complete the fix.
11160
0
Dealer obtained new fender flares and adhesive (2+ month wait for new adhesive from Germany!). Dealer body shop removed old, misaligned flares and installed new flares. 3 weeks later (June 24, 2012) and new flares are separating from body
19520
0
Intake runner flap sticking. New part installed. Under warranty.
25400
0
Fender flares again. Started separating very slightly. Took back to have more glue applied behind the flares.
33460
0
Remote controlled windows would go up, but not go down except for driver's door. Replaced a module. Shop drained battery and couldn't get brake lights working. Battery replaced, but brake lights took two more days. All is good now.
37200
Volkswagen Touareg in Maryland, United States
Date
Odometer
(in miles)
Cost
Problem/Repair Description
Feb 2012
0
0
Check engine light came on. Dealer found code for AdBlue system but could find no problem. Reset and no problem since.
32000
Volkswagen Touareg in Virginia, United States
Date
Odometer
(in miles)
Cost
Problem/Repair Description
Mar 2012
0
1000
0
Check engine code appeared. Software update required.
16000
2011.5 Volkswagen Touareg 4-door
turbocharged 6-cylinder diesel automatic AWD
Volkswagen Touareg in Great Britain
Date
Odometer
(in miles)
Cost
Problem/Repair Description
Sep 2012
36000
38000
0
Car would not start because key would not work to unlock steering & handbrake. Dealer has no idea what happened as it suddenly kicked back to life when putting the dash back in, said it was probably a fuse malfunction, have as much idea as I