2001 Volvo V70 Engine Problems
152 TrueDelta members own (or used to own) a 2001 Volvo V70. 64 of these members (42.1%) have reported engine repairs for their car. A total of 172 engine repairs to 2001 Volvo V70s--an average of 1.1 per vehicle--have been reported.
See our lemon odds and nada odds page to see vehicles with no repairs or vehicles with more than three repairs. To see how frequently 2001 Volvo V70 problems occur, check out our car reliability stats.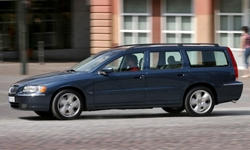 Chart based on 470 repairs.
2001 Volvo V70 4dr Wagon
turbocharged 247hp 2.3L I5 5-speed shiftable automatic FWD
| | | |
| --- | --- | --- |
| 76000 mi | US $1518 | Faulty oxygen sensor causing Check Engine light to be on. Replaced sensor. Leak in radiator. Replaced Radiator. |
| 87000 | | rough idle and occasional stalling - dealer could not recreate problem - cleaned throttle body under warranty severe rough idle and frequent stalls and hesitation at speed. extreme rough idle and frequent stalls and hesitation at speed - Mass Air Flow sensor replaced |
| 91000 | | Misfire caused by bad coil packs on two cylinders |
| 96000 | | Check Engine Light on due to clogged crankcase ventilation system. replaced oil separator and crankcase vent hoses. |
| 101500 | | Engine missing severely with intermittent 'check engine' light. Dealer replaced bad ignition coil. |
| 105000 | | Replaced front hydraulic engine mount (rubber split and hydraulic fluid leaked out) and lower transmission torque mount (torn bushing). |
| 114000 | | Engine coolant thermostat failed. Replaced. |
| 117500 | | Emissions fault code set due to faulty oxygen sensor. Replaced both upstream and downstream sensors. |
| 133000 | | Replaced bad ignition coil |
2001 Volvo V70 4dr Wagon
turbocharged 247hp 2.3L I5 5-speed manual FWD
| | | |
| --- | --- | --- |
| 176000 mi | US $1100 | Purge valve leaking |
| 200000 | | Car threw a code, traced to MAF sensor. |
| 217000 | | Throttle body intake hose disconnectd |
| 241000 | | Vehicle shows "Engine System Service Urgent", new electronic throttle module installed, message returned several days later. Currently waiting on new throttle position sensor assembly. |
| 244000 | | See June 2010 response, "Engine System Service Urgent" Message |
| 264000 | | Boost was coming on late, power was down slightly. Replaced turbocharger control valve, issues resolved. |
| 267000 | | Replace ignition coils |
2001 Volvo V70 4dr Wagon
turbocharged 197hp 2.4L I5 5-speed shiftable automatic AWD
| | | |
| --- | --- | --- |
| 95000 mi | US $400 | Replaced an exhaust bracket assembly. |
| 96000 | | Upgraded transmission software to improve shift points. |
| 128000 | | replaced engine mount |
| | | |
| --- | --- | --- |
| 79000 | US $185 | Owner noted engine movement, noise upon acceleration. Removed and replaced RH lower engine mount. |
| | | |
| --- | --- | --- |
| 88000 | US $384 | Catalytic converter code ECM-4801 was present. Cause unknown, but all five ignition coils had cracks in them and were suspected. Coils were replaced. #5 above is true, but code problem still not fixed: CEL returned after fix (cat ruined?). |
| 94000 | | Exhaust manifold gasket replaced, emissions test (passed) Thermostat replaced, antifreeze replaced. |
| 107000 | | Diagnosed intermittent fluctuating idle that briefly drops to 500 rpm then jumps to 900 rpm before stabilizing at 700 rpm. Crankcase pressure test found clogged PCV system and dirty throttle body. Declined repair at this time. Will DIY later. |
| 136000 | | Erratic idle and surging due to clogged PCV box and vacuum hoses, dirty intake manifold & throttle body. PCV system and intake/throttle body components cleaned or replaced as needed. |
| 136000 | | Car went into limp mode w/CEL and ENGINE SYSTEM SERVICE URGENT msg. Codes showed electronic throttle position sensor error. Cleaned MAF and throttle body--problem returned within 50 mi. Replaced throttle body with used part. Fixed. |
| 137000 | | CEL on; DTC catalytic converter efficiency code. Catalytic converter no longer functioning and was replaced with a new aftermarket catalytic converter. |
| 156500 | | Car was running rough, intermittent no-start. Scanned and found code for turbo control valve. Replaced valve with new one. |
| 162000 | | Gradual coolant loss caused low coolant warning every 6 to 8 weeks. Pressure test found slight leak around upper hose at radiator. Possible crack in radiator or hose. Declined repair--will DIY later. Coolant mix/level adjusted. |
| 164000 | | Intake cam shaft seal failed with major loss of engine oil. Leaking oil saturated timing belt, which required replacement of belt, tensioner, and idler pulleys. Changed oil and filter. Car was towed to shop ($75). |
| 177000 | | Thermostat sticking open; replaced. Had routine maintenance (oil change, etc) performed while car was in shop. |
| 184700 | | Front crank seal leaking; replaced under warranty |
2001 Volvo V70 4-door
turbocharged 5-cylinder automatic AWD
| | | |
| --- | --- | --- |
| 71920 mi | C $100 | Exhaust Resonator rusted. Removed Resonator. |
| 80600 | | Exhaust manifold had come loose. Retightened and all is good. |
| | | |
| --- | --- | --- |
| 177000 | US $3800 | Burned exhaust valve |
2001 Volvo V70 4-door
turbocharged 5-cylinder automatic 4WD
| | | |
| --- | --- | --- |
| 91000 mi | US $200 | engine running rough, fixed. |
2001 Volvo V70 4-door
turbocharged 5-cylinder automatic 2WD
| | | |
| --- | --- | --- |
| 87000 mi | | Electronic Throttle Module failed, as it does 99.9% of the time with this model of Volvo. |