Acura RDX (2015) vs. Acura MDX (2015) Features
Can I get heated seats? Do I have to get a sunroof? Find out what you need to know about Acura RDX and Acura MDX features right here.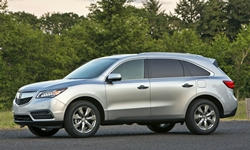 Features Comparison: Acura RDX vs. Acura MDX
Model Year
2015
2015
2015
2015
Model
RDX
MDX
MDX
MDX
Trim
Base
Base
Technology
Advance
Engines (show)
Transmissions (show)
Drivetrains (show)
Tires (show)
Audio Systems (show)
Accessories (show)
Brakes, Airbags, and Other Safety (show)
Cargo Management (show)
Climate Control and Infotainment (show)
Exterior (show)
Instruments, Lights, and Mirrors (show)
Powertrain (show)
Seats and Interior Trim (show)
Suspension, Wheels, and Tires (show)
Option Package Contents
Technology Package
Features
Media drive
Traffic + travel information
Navigation system
Fog lights
Xenon HID headlights
Telematics service, such as OnStar
DVD-Audio-compatible player
Power liftgate
Surround sound
Voice control for nav and audio
ELS, 410W, 10 speakers (with subwoofer)
Entertainment Package
Features
Entertainment system, ceiling-mounted
Heated second row seats
Sunshades, second row
AC power outlet
HDMI port
ELS, 529W, 11 speakers (with subwoofer)
What Our Members Are Saying about the Available Features of the 2015 Acura RDX
None of our members have yet commented on the available features of the 2015 Acura RDX.
What Our Members Are Saying about the Available Features of the 2015 Acura MDX
2015 Acura MDX Available Features: Cons
Year
Body/Powertrain
Comment
2014
4dr SUV 290-horsepower 3.5L V6
6-speed shiftable automatic FWD
The 2014 MDX does not come with Power Folding Mirrors in the US! They are available in Canada, but Honda refuses to sell this option in the US! Beware if you have to part this car in a tight garage! I almost did not purchase this car for this reason.