Chrysler 300 Problems and Repair Histories
456 TrueDelta members own a 2000 or newer Chrysler 300. 149 of these members (32.7%) have reported repairs for their car. A total of 407 repairs to Chrysler 300s--an average of 0.9 per vehicle--have been reported.
See our lemon odds and nada odds page for more details. To see how frequently Chrysler 300 problems occur, check out our car reliability stats.
Want to read about specific problems behind these stats? Jump to the Chrysler 300 problem descriptions below.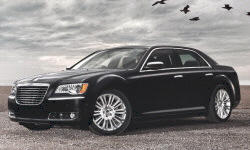 Don't infer Chrysler 300 problem frequency from what you see on this page. Many lucky owners have had no repairs, and their cars are not shown.
Select a problem area
19% of the Chrysler 300 repairs were to the engine, 9% to the transmission, 9% to the brakes, 21% to the suspension, 22% to the electrical or air-conditioning systems, 13% to the body and trim, and 7% to other areas of the vehicle.
Chart based on 407 repairs.
Of the Chrysler 300 repairs that were not covered by warranty and were not do-it-yourself repairs, 21% cost less than $100, 44% between $100 and $499, 19% between $500 and $999, 15% between $1000 and $2499, and 2% more than $2500.
Chart based on 117 repair trips. The repair cost chart excludes repairs made under warranty, do-it-yourself repairs, and repair trips that include maintenance.
Non-members can see only ten
Chrysler 300 problems and repair histories
.
Log in
or
join us
to see them all.
Repair costs are in local units.
2006 Chrysler 300 4dr Sedan
340-horsepower 5.7L V8 5-speed shiftable automatic RWD
Chrysler 300 in California, United States
Date
Odometer
(in miles)
Cost
Problem/Repair Description
Mar 2006
0
15000
9
Brakes squeal at stops when the pads are warm. Dealer could not replicate the issue.
Chrysler 300 in Alabama, United States
Date
Odometer
(in miles)
Cost
Problem/Repair Description
Sep 2006
0
3000
0
Paint flaked off driver side on bumper towards back.
3000
0
Paint defect - small area of paint (1/4" long, 1/32" wide) on driver side rear bumper not bonded well and flaked off. Repaired with touch-up paint (under warranty).
11000
0
Rear driver side window would roll down but not back up without assitance. Was told be dealer that the regulator had to be replaced. When getting an oil change, mechanic noticed fluid on rear axle. Suggested having it looked at, dealership said differential was over filled and that was seepage. While checking the possible fluid leak at the axle, the dealership noticed a transmission fluid leak at a connector. Was repaired. Rattle in the headboard, somewhere near center or slightly towards back seat on the driver side. Dealership could not locate where it was coming from at the time.
Chrysler 300 in New York, United States
Date
Odometer
(in miles)
Cost
Problem/Repair Description
Nov 2005
2000
4600
0
AC cold and then on long trips & hot days, it freezes up TSB 24-012-05 Reprogrammed ATC Repair successful.
5400
0
New wiper switch ordered, turn signal was activating wipers. Repair successful.
8000
0
Turn signal stalk had to be replaced as wipers would go on when signaling
10300
0
Transmission leak replaced o-ring to electric connector on transmission repair successful!
11000
0
Right rear window would not go down ordered a regulator and replaced, repair successful.
12000
0
Remote start does not shut down on over rev dealer checking into it with somebody. Dealer reprogrammed remote start module. Repair successful!
13500
0
Noise coming from under car. Replaced Sway bar link noise still there ordered tie rod ends parts on national back order!
14000
0
Noise coming from under car after inspection both tie rod ends need replacing. At 14,000 miles seems to be a quality issue of the part lots of people getting them replaced as they were on national back-order.
14500
0
Tie rod ends replaced problem solved.
15000
0
Replaced outer tie rod ends. Reprogram Remote Starter.
16000
0
Sill Cladding replaced!
2006 Chrysler 300 4dr Sedan
340-horsepower 5.7L V8 5-speed shiftable automatic AWD
Chrysler 300 in Alberta, Canada
Date
Odometer
(in miles)
Cost
Problem/Repair Description
Jan 2006
3720
9920
0
Transmission fluid leak at base of dipstick rod connecting to transmission. Dealer tightened and topped up with transmission fluid.
13020
0
Auto up on power window not consistently working. Dealer reprogrammed something, but it seems the problem is still occuring infrequently. Does not cause a big problem as the window will still close by holding the switch in the up position.
19840
0
Slightly rough transmission upshift when easing up on the gas during accelleration as transmission is shifting from 1st to 2nd or 2nd to 3rd.
30380
200
Rattle in sunroof. Dealer removed headliner to tighten brackets and reinstalled. Repair was successful on 1st trip.
36580
410
Temperature sensor that sends signal to engine controller and automatic Heating and A/C went bad. Part was replaced and repair was successful.
41540
700
Plug into transmission for electrical components was leaking and had to be repaired Replaced left tie rod due to slack (movement)
62000
2006 Chrysler 300 4dr Sedan
250-horsepower 3.5L V6 5-speed shiftable automatic RWD
Chrysler 300 in Ontario, Canada
Date
Odometer
(in miles)
Cost
Problem/Repair Description
Sep 2006
32240
35340
0
Car made noise and vibration in turns or whenever hitting sharp bumps. (Drive up/down driveway to sidewalk transition.) Initially blamed this on brake "lubrication" but ended up tightening the rack and replacing 2 tie rod ends. A/C control panel head all lights burnt out. Needed replacement. Transmission shudders between 70-100 km/h. Fluid added and told to "watch for more wear." Passenger side fog light delaminated.
38440
0
A/C control head was replaced. with another defective unit. i'm too bothered to return so we'll call it a success. next time i'm in i'll mention it and see if it gets fixed correctly. Replaced fog light.
44640
190
Transmission still shudders. Told to pay $250 to change fluid even though it is covered under TSB. I declined the repair. Was charged $84. Will go to a more reputable dealer.
47740
0
Good dealer Replaced the Transmission torque converter under warranty. Charged $250 for transmission service as it was due. Problem fixed!
62620
441
Had a problem with rattling over bumps. Eventually turned to looseness in steering. Diagnosed as bad inner tie rod ends. Dealer replaced steering rack under ext warranty. Transmission shudders on partial lock up of torque converter. Happens generally under light acceleration around 80 km/h. Originally replaced torque converter. This time around they reflashed the computer. A/C control head had no lights working. Dealer replaced in dash unit. (3rd time for this to be replaced)
71920
189
Transmission Shudder is back. Was told that to correct the shudder would require a tune up and cleaning of injectors. Could not/would not do any further repair without $200 cash for the tune up.
83700
1880
R&R upper control arms both sides as the factory pressed the balljoints in. Joints are not serviceable. Code P0404 Egr valve required replacement. Required a lot of labour but part was easy to do.
86180
249
Car pulled to left and still rattled over bumps. Changed out Stabilizer links on both side front. Still rattles..
89900
0
Wheels making a creaking sound, related to lugnuts required replacement.
96720
1050
Replaced Tension Strut (Lateral arms) on both sides as well as outer tie rods, both sides. Second time in 3 years these 4 parts required repair! While changing tie rod ends, the brake dust shield separated from the car due to corrosion. Dealer did not accept responsibility until I fought for it. I paid parts, they paid labour.
108500
420
Transmission shudders on partial power application around 60-85 km/h. Caused by Torque converter shudder
126480
15
Used engine cleaning product to remove shudder at 80 km/h. Seafoam added to gas tank and engine ran over 5500 rpms cleaned out valves and caused shudder to quit!
128340
0
Rear caliper pins sticking
2005 Chrysler 300 4-door
8-cylinder automatic 2WD
Chrysler 300 in Michigan, United States
Date
Odometer
(in miles)
Cost
Problem/Repair Description
Sep 2005
12000
40000
0
drivers seat stopped moving
2005 Chrysler 300 4-door
6-cylinder automatic 2WD
Chrysler 300 in Queensland, Australia
Date
Odometer
(in miles)
Cost
Problem/Repair Description
Apr 2007
5580
6200
0
air con fails when used for more than 3 hours continuously on hot days - CHrysler TSB exists with solution for same but dealer unaware of TSB until I pointed it out to them. Parts not to hand so had to order in from Singapore. Told "7 to 10 days" and to c
14260
0
air con control bezel replaced